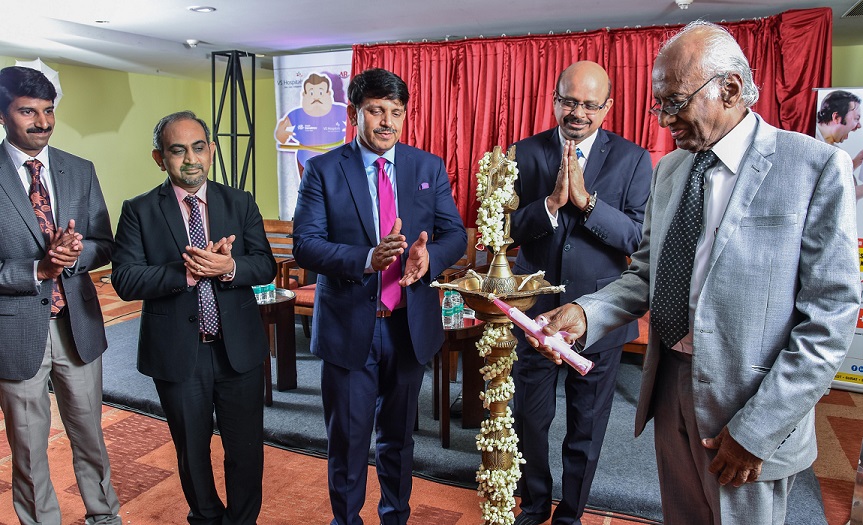 (From Left to Right)
1. Dr. Perungo, GI & Bariatric Surgeon, VS Hospitals
2. Dr. Sanjay Patolia, Bariatrics & Surgeon and Vice Chairman, Asian Bariatrics
3. Dr. Mahendra Narwaria, Robotics & GI Surgeon  and Chairman, Asian Bariatrics
4. Dr. S. Prakash, COO, Star Health Insurance
5. Dr. Subramanian, Chairman, VS Hospitals

Chennai, March 30, 2018: VS Hospitals today announced that it has entered into a strategic tie up with Ahmedabad-based Asian BariatricsHospital pioneers in the field of Bariatric surgery (weight loss surgery) to set up an exclusive Center for Bariatric & Metabolic Surgeries in Chennai.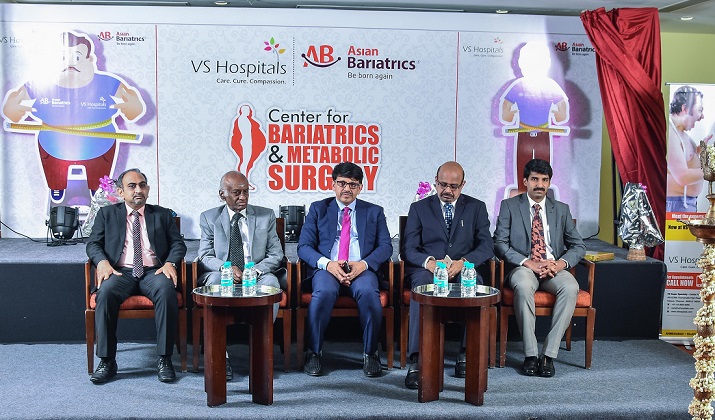 The center will offer a holistic approach to obesity and its related problems.  Many non-communicable diseases such as hypertension, diabetes mellitus, malignancies, migraine, metabolic syndrome, Polycystic Ovarian Disease (PCOD),infertility,knee and joint pain, depression, sleep apnea, acid peptic disease, rheumatoid arthritis and gout are associated with obesity.
Diabetes and obesity have been rising to epidemic levels, particularly among youth. As per a recent survey, India has 7.5 crore obese and five crore morbidly obese people. India has eight crores of Type 2 diabetics, and 25% of them are morbidly obese. Another worrying statistic is that 9.5 % of India's adolescent population is overweight and 5 % is obese. This is the enormity of the problem at hand.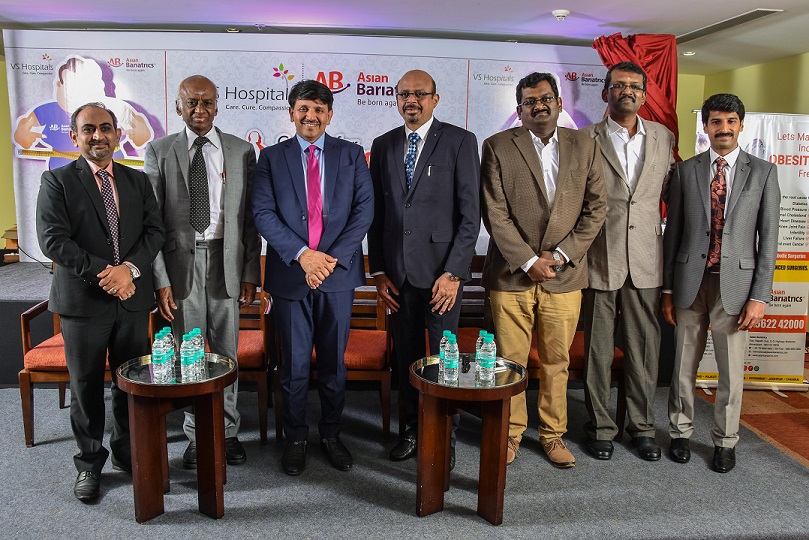 Commenting on the partnership Dr. Subramanian – Chairman, VS Hospitals said, "Indiais ranked number three in terms of obesity in the world.The major challenges to fighting obesity in India are lack of awareness about causes of obesity and type 2 diabetes. This strategic tie-up with Asian Bariatricsprovides a great opportunity for us to expand and upgrade our medical offerings for Obesity, Diabetes and Cosmetic Surgery in Chennai "
Speaking at the event, Dr.S.Prakash, COO, Star Health Insurance said," Bariatric Surgery is not just a cosmetic surgery, it is more an essential surgery (metabolic surgery) which offers multiple benefits to morbidly obese individuals. We, from Star Health Insurance, have done an extensive study across the country on the benefits of Bariatric Surgery and included it under Health Insurance cover since April 2015.  It is proved that patients undergoing Bariatric Surgery have good control of Diabetes Mellitusand Hypertension are expected to be free from degenerative joint diseases and its complications."
"Bariatric surgery is not only for obese people. It is fast becoming a lifeline for people suffering from uncontrolled diabetes. World over one person dies of diabetes related complications every second. When people cannot control diabetes through diet, exercise or medication surgical intervention at the right time will help them reduce or even get cured from diabetes and its related complications." said Dr.MahendraNarwaria, Robotics & GI Surgeon &Chariman, AsianBariatrics.
Dr Sanjay Patolia, Bariatrics& GI Surgeon and Vice Chairman, Asian Bariatricssaid "In the metabolic surgery which is also called LaproscopicIlleal Interposition with diverted sleeve gastrectomy, the stomach size is reduced by around 40% and small intestine rearranged in a way that body is enabled to produce maximum hormone GLP1 which optimizes beta cells of pancreas to produce more insulin. This automatically helps in better sugar control"."
"Having performed more than 6500 successful surgeries, we have wonderful results to showcase over time. A good percentage of the patients we see at our Ahmedabad hospital are from South India and hence setting up a center in Chennai will help serve this part of the country better." added Dr.Narwaria.
Dr.Perungo, GI & Bariatric Surgeon, VS Hospitals also spoke at the event.
About VS Hospitals:
VS Group of Hospitals started as a mere  30 bedded nursing home in 2004 and has today transformed into  a 175 bedded tertiary care hospital spread over three units in Chennai – a trusted healthcare provider for not only the people of Chennai but across the country and beyond. Founded by India's senior most medical oncologist Dr.S.Subramanian, VS started off as one of the earliest providers of comprehensive cancer care in this part of the world. Over time, VS has extended its offerings to include Orthopaedics, Neurosciences, Medical and Surgical Gastroenterology, Hepato-Biliary, Bariatric Surgery, Minimally Invasive Laparoscopic Surgery, Urology (including Transplant services), Cosmetic Surgery, Plastic Surgery, General Surgery,  Gynaecological Surgery, Emergency Care and Critical Care.
Built on the tenets of patient centricity, VS offers an integrated healthcare delivery system that provides a collaborative environment for highly skilled and continuously trained healthcare professionals to utilize state of the art infrastructure, technology and equipment to deliver affordable healthcare with utmost care and compassion. VS plays an active role in patient education, preventive healthcare and patient support programs.VS endeavours to make the world a happier, healthier place to live in. For more information visit www.vshospitals.com
About  AsianBariatrics Hospital:
Asian Bariatrics, Super Specialty Hospital is the only stand-alone specialty institute in India that deals with all ailments related to obesity and gastrointestinal tract. Finding a solution for a rising displeasure is only innate for humans. AB credits itself as being experts in delivering a healthy and well to do life. Patients leave the premises with a promise of a better life and not just a good surgery.
Obesity is life threatening and most people are not aware of this fact and thus it is taken very lightly. It is paramount that right treatment is made at the right time.
Offering the Best in Innovation, Quality, Care and Technology for patients is what drives AB.. Asian Bariatrics, Super Specialty Hospital is committed to offering a well taken care of environment. Unlike traditional hospitals, patients recover in a relaxing environment under personal attention from a proficient medical team. The facility has a limited number of rooms which offer all amenities required for an all-round recovery.  Post-Surgery strong follow-up system along with dieticcare, helps the patients in achieving the desired results. AB has centers in Ahmedabad, Hyderabad, Rajkot and Surat. For more information visit www.asianbariatrics.com