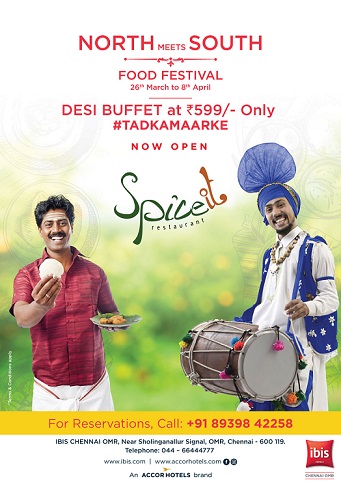 Chennai, 26th March 2018 :  Spice It, the all-day dining restaurant at Novotel ibis Chennai OMR opens doors with a very interesting food festival, designed to capture the interest and imagination of every resident of OMR.  Labeled "North Meets South", the desi buffet festival is open for both lunch and dinner and expected to tickle the palettes of executives and residents on the busy, arterial OMR.
Several IT companies, engineering colleges, premium shopping arcades abound on OMR, drawing a huge foot fall, probably unrivalled in any other major artery of Chennai. Gated communities too crowd this bustling thoroughfare, housing several hundred families both from North and South India. Thus, this festival is bound to attract this hugely appreciative, well-known, experimental foodies of the city.
Thus North Meets South Food Festival will offer a spread designed to interest both the segments in equal measure. While one half of the buffet will present hugely popular North Indian menu, the other half will excite with an interesting array of South Indian delicacies. Each day of the festival will witness two new Chef's Special dishes from each part of the nation, thus bringing in a variety for each day of the festival. Besides, LIVE Counters will offer varieties of dosas and parathas on a daily basis. Thus both North and South Indian diners will experience a daily changing, non-repeating, interesting spread at an unbelievable tariff of Rs. 599/- nett per person.
With interesting entrée and yummy starters, move on to exciting main courses to the accompaniment of dosas or parathas … or other Indian breads and rice of your choice. And round off with exciting desserts to complete your gastronomic voyage.
Now is the time to indulge yourselves and your family to the pleasures of the palette. For lunch or dinner, as per your convenience. Book your table today. Call +918939842258
ABOUT NOVOTEL
Novotel, AccorHotels offers every guest the freedom to fully enjoy their stay.
Novotel Hotels, Suites & Resorts provide a multi-service offer for both business and leisure guests, with spacious, modular rooms, 24/7 catering offers with balanced meals, meeting rooms, attentive and proactive staff, kid areas, a multi-purpose lobby and fitness centers. Through PLANET 21, AccorHotels' sustainable development program, Novotel commits to Man and the Planet. Novotel has over 480 hotels and resorts in 58 countries, ideally located in the heart of major international cities, business districts and tourist destinations.
ABOUT IBIS
Ibis, AccorHotels' economy brand, promises modernity, comfort and service at the best price.
The brand innovates constantly to offer its guests even more modernity, comfort and availability.  It created revolutionary bedding concept Sweet BedTM by ibis; welcoming, designer common areas and the modern food and beverage offer, ibis kitchen. It also cultivates the spirit of service that drives each of its employees. Ibis is recognized across the world for its quality, reliability and commitment to the environment.  It was created in 1974 and is now the European leader in economy hotels and the fourth hotel chain in its category worldwide with over 1,000 hotels and 140, 783 rooms in 65 countries.
.
ACCORHOTELS IN INDIA
AccorHotels operates a network of nine distinctive brands with over 8,500 rooms spread across 45 properties in 22 key destinations in India. Underpinned by operational excellence and embracing its European heritage, AccorHotels is uniquely placed as the only international hotel group with brands that span across all segments, from its internationally acclaimed luxury Sofitel, Fairmont, Pullman, Swissôtel and Grand Mercure brands; as well as the popular Novotel and Mercure midscale and boutique brands alongside the much-prized economy brands including ibis, ibis Styles.