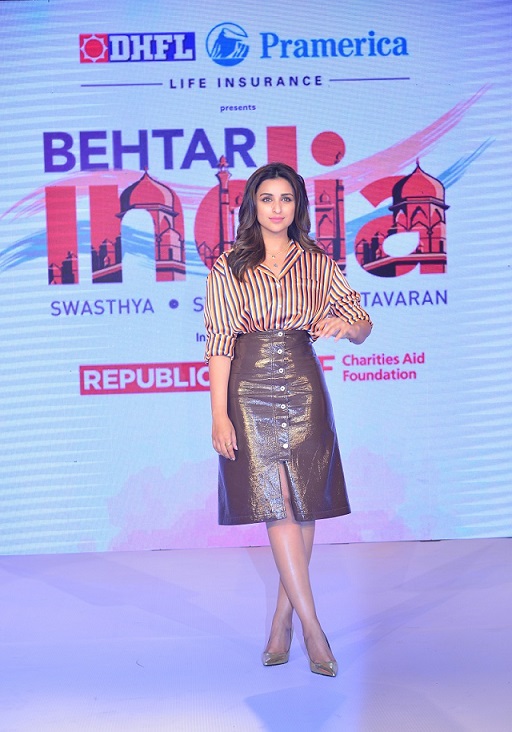 Mumbai / Chennai, April 10, 2018: DHFL Pramerica Life Insurance Company Limited (DPLI) announced the launch of the Behtar India campaign today. With this, the unique campaign catalyzing progressive change towards a sustainable India has embarked on its second year. Launched last year, the campaign supports the community to step forward and help itself in achieving better health, hygiene and environment standards. The eight month long campaign will focus on three main pillars– Health, Hygiene and Environment (Recycling).
'Behtar India' is a social innovation that rallies to get different segments of the society together to work towards making their cities cleaner, greener and healthier. The unique format not only supplements the government's efforts to provide promotive as well as preventive healthcare to the community, but also ensures quality curative healthcare and behavior change in the fields of hygiene and environment.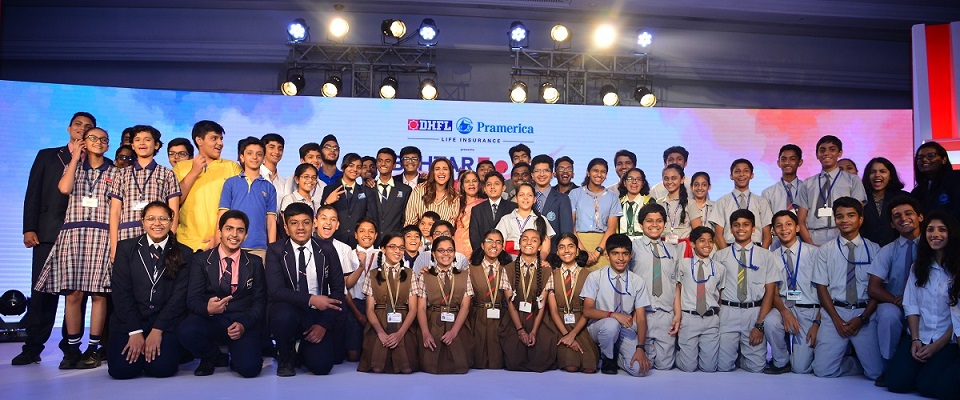 Sharing her thoughts Renowned Film Actress and Campaign Ambassador, Parineeti Chopra said, "It is important to spread the message of better health, hygiene and the importance of recycling within communities to make the world a better place to live in. It is a matter of great responsibility for me to take up this initiative and affect social change. I would like to congratulate, DHFL Pramerica Life Insurance, the organizers of 'Behtar India' and Arnab Goswami – an influencer like him can bring about massive positive changes. I appeal to everyone to come forward and be a part of this campaign so that this message reaches to as many people as possible. "
Mr. Anoop Pabby, MD & CEO, DPLI said, "Through this campaign, we intend to bring together some of key sections of the society like schools, children, corporates & ordinary citizens under a unified platform. While, for 'Behtar Vatavaran', we intend to inculcate recycling as a habit, starting with paper and e-waste, for 'Behtar Swachhata', we would identify a dirty public area in the city and clean it up and for 'Behtar Swasthya', we shall be spreading Dengue awareness and also distribute Dengue Protection kits.
On association with Behtar India, spokesperson of Republic TV commented, "We are proud to be associated with Behtar India and be a platform which promotes change makers who are determined to create a sustainable environment, and provide health and hygiene to our communities that need it the most. With this campaign we are sure to achieve solutions by bringing together communities and sharing the power of change with the citizens of our country."
The initiative is a contest for schools and students, a CSR and an employee engagement window for companies, social service for individuals, an amplification tool for the municipal corporations and for the under-privileged children, it is an opportunity to receive free health benefits.
Last year, the 'Behtar India' campaign reached out to 11,00,000+ students across 200+ cities and was able to plant 1,50,000 trees. Under the 'Behtar Swasthya' initiative, more than 59,000 Dengue protection kits were given out to under-privileged students.
About DHFL Pramerica Life Insurance (DPLI)
DPLI is a joint venture between DHFL Investments Limited (DIL), a wholly-owned subsidiary of Dewan Housing Finance Corporation Ltd. (DHFL), one of India's largest housing finance companies (the second largest in the private sector) and Prudential International Insurance Holdings, Ltd. (PIIH), a fully owned subsidiary of Prudential Financial, Inc. (PFI), a financial services leader headquartered in the U.S. DPLI represents the coming together of two renowned financial services organizations with a legacy of business excellence spread over decades.
DPLI has a pan India presence through multiple distribution channels which have been customized to address the specific insurance needs of diverse customer segments. The Company is committed to providing protection and quality financial advice to its customers. For further information on the Company, please visit HYPERLINK "https://urldefense.proofpoint.com/v2/url?u=http-3A__www.dhflpramerica.com&d=DwMFAg&c=qwStF0e4-YFyvjCeML3ehA&r=M5oBBsE5wksQijuJsgp_vA&m=ucVcy3CbvbN7ndXkSviXBGyRO3jkrjvYXlFvmqNIcEY&s=SxJeLR7LWeB2hT4lVcri8UOCFzL7-fUnxXDgyi81cyc&e="www.dhflpramerica.com.
About DHFL
DHFL was founded in 1984 by Late Shri Rajesh Kumar Wadhawan with a vision to provide financial access for Indians to own a home of their own. Today, led by Mr. Kapil Wadhawan, CMD, DHFL, the company is CARE Triple A rated and reckoned as one of India's leading financial institutions with a large presence across the country, in addition to representative offices in Dubai and London.
Throughout its years of growth, DHFL has stayed true to its core vision of financial inclusion, especially to the low and middle income customers across India. The company's wide network, coupled with insights into local customer needs, has enabled the company to provide meaningful financial access to customers even in India's smallest towns. With a strong business foundation, an extensive distribution network, proven industry expertise and a deep understanding of the Indian customer, DHFL is a respected and trusted financial services company in India with a concerted focus towards enabling home ownership to the low and middle income customer. For further information, please visit HYPERLINK "https://urldefense.proofpoint.com/v2/url?u=http-3A__www.dhfl.com&d=DwMFAg&c=qwStF0e4-YFyvjCeML3ehA&r=M5oBBsE5wksQijuJsgp_vA&m=ucVcy3CbvbN7ndXkSviXBGyRO3jkrjvYXlFvmqNIcEY&s=l51qtDIxO1udjqdjHPaR8DUnaaBZRBVPHcp6Wkr_4Ts&e="www.dhfl.com.
About PFI
PFI*, a financial services leader with $1.334 trillion of assets under management as of June 30, 2017, has operations in the United States, Asia, Europe and Latin America. Prudential's diverse and talented employees are committed to helping individual and institutional customers grow and protect their wealth through a variety of products and services, including life insurance, annuities, retirement-related services, mutual funds and investment management. Prudential International Insurance Holdings & Prudential Financial Inc. of the United States are not affiliated with Prudential Plc, a Company incorporated in the United Kingdom. In the U.S., PFI's iconic Rock symbol has stood for strength, stability, expertise and innovation for more than a century. For more information, please visit HYPERLINK "https://urldefense.proofpoint.com/v2/url?u=http-3A__www.news.pramericafinancial.com&d=DwMFAg&c=qwStF0e4-YFyvjCeML3ehA&r=M5oBBsE5wksQijuJsgp_vA&m=ucVcy3CbvbN7ndXkSviXBGyRO3jkrjvYXlFvmqNIcEY&s=DFPsYm1yYhxz-60hxdzXSkCIFwGkwLwGWbGu4n8xMgI&e="www.news.pramericafinancial.com.
*Pramerica and the Rock Logo are proprietary service marks and may not be used without the permission of the owner.
For more information, please contact:
Varun Chopra – varun.chopra@ketchumsampark.com l +91 9811241427
Jayashree Maji – jayashree.maji@ketchumsampark.com l +91 9818760566
Smita Agarwal – HYPERLINK "file:///C:\\Users\\pc1\\AppData\\Local\\Microsoft\\Windows\\Temporary%20Internet%20Files\\Content.Outlook\\A931N2SN\\smita.agarwal@ketchumsampark.com" smita.agarwal@ketchumsampark.com l +91 7767036889