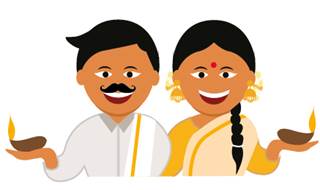 Tweet in Tamil #புத்தாண்டுநல்வாழ்த்துக்கள், Malayalam #വിഷുആശംസകൾ or English #HappyPuthandu #HappyVishu  to activate the special emoji

13th April 2018: As Tamilians and Malayalis prepare to ring in the new year with the festivals of Puthandu and Vishu around the corner, Twitter is adding to the celebrations by rolling out a special emoji. The first ever emoji for Puthandu and Vishu will go live on 14th April at 9 am and will be available until 15th April. Various celebrities, including critically acclaimed actor Mohanlal (@Mohanlal), will join in the celebrations by wishing people a Happy Puthandu and Vishu.
Embeddable Tweet: https://twitter.com/TwitterIndia/status/984705774738796544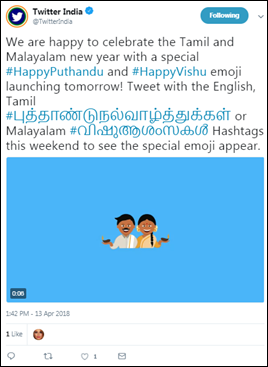 To encourage more people to join in the celebrations in their own language, people can Tweet with the following Tamil, Malayalam and English hashtags #HappyPuthandu, #புத்தாண்டுநல்வாழ்த்துக்கள்,#HappyVishu, #വിഷുആശംസകൾ and the emoji will appear. The emoji is designed to represent people celebrating Puthandu and Vishu by holding diyas, symbolic of the welcoming of prosperity and happiness during the year.
Commenting on the launch, Keya Madhvani-Singh, Head of Entertainment Partnerships, Twitter India, said: "People visit Twitter to see what's happening around the world and what everyone is talking about. We want to encourage more people to know about the diverse cultures in India, join in the celebrations and celebrate in their own language. We're excited to celebrate Puthandu and Vishu with a special Twitter emoji which will be activated through English, Tamil and Malayalam hashtags."
The new emoji adds to the number of customized emojis Twitter has created to celebrate cultural festivals in India, including significant moments such as Ganesh Chaturthi, Guru Nanak Jayanti, Ambedkar Jayanti and Diwali.
About Twitter (NYSE: TWTR)
Twitter, Inc. (NYSE: TWTR) is what's happening in the world and what people are talking about right now. On Twitter, live comes to life as conversations unfold, showing you all sides of the story. From breaking news and entertainment to sports, politics and everyday interests, when things happen in the world, they happen first on Twitter. Twitter and Twitter Lite is available in more than 40 languages around the world. The service can be accessed at twitter.com and mobile.twitter.com (Twitter Lite), on a variety of mobile devices and via SMS. For more information, visit about.twitter.com or follow@TwitterIndia. For information on how to download the Twitter and Periscope apps, visit twitter.com/download and periscope.tv.