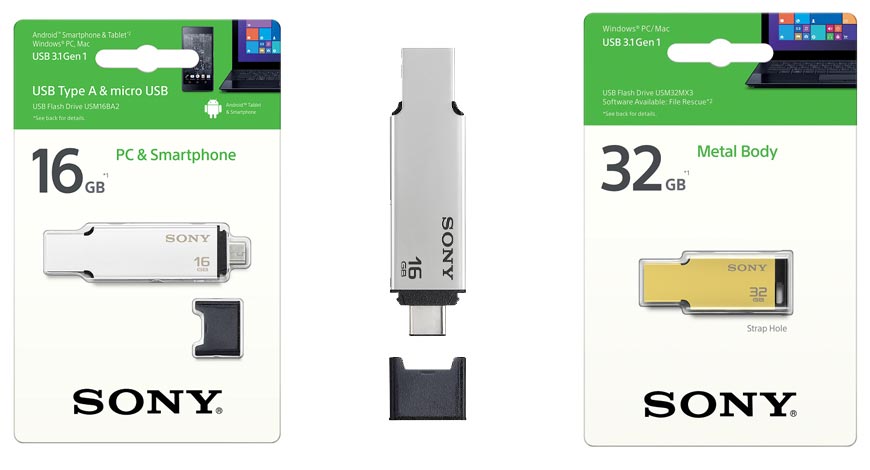 USM-BA2, USM-CA2, USM-MX3 series

Metallic and anti-corrosive superSpeed 3.1 Gen 1
Compact, sleek and have metal body design
Enhanced compatibility with dual-port bridge
USM-BA2 will be available exclusively on Flipkart
Chennai, 10th May 2018: Keeping in line the existing data sharing demands, Sony India today launched the all new Made in India USB Flash Drive with USM-BA2, USM-CA2 and USM-MX3 for blazing data sharing and transfer.
Metallic and anti-corrosive superSpeed 3.1 Gen 1
All three models are metallic, anti-corrosive and compliant with superSpeed 3.1 Gen 1 which helps transfer large media files to one's PC in seconds for effective workflow. These USB Flash Drive are a reflection of Sony's commitment to bring fast and durable devices to fulfil all consumer requirements.
Compact, sleek and have metal body design
The sleek design with metal body delivers style at an affordable price while also being durable enough to protect any data. Additionally, the USB Flash Drives compact built makes them best to use in tight spaces and also provide access to adjacent ports easily.
The USM-MX3 series are tiny size handy USB Flash Drive with matte-finished parts making it easy to firmly grip the USB Flash Drives with fingers. This latest series is also equipped with strap-hole and matte plastic grip for convenient carrying.
Enhanced compatibility with dual-port bridge
The USM-BA2 series and USM-CA2 series are on-the-go USB Flash Drive. Catering to multiple device transfers the USM-BA2 series is equipped with dual-port bridge with both Micro USB and USB Type-A ports. The USM-CA2 also supports dual-port bridge which is equipped with both USB Type-C™ and A ports for compatibility with a wide variety of device. Commission
The USM-BA2 series is further compatible with Windows® PC, Macintosh®, AndroidTM smartphone and Tablet all equipped with USB Type-A port. Whereas the USM-CA2 series is compatible with Windows® PC, Macintosh® AndroidTM Smartphone and Chromebook Pixel equipped with USB Type-C / Type-A port. These USB Flash Drive are also four times faster than USB 2.0.
USM-BA2 will be available exclusively on Flipkart and USM-CA2 and USM MX3 will be available across Sony Center.
| | | | | |
| --- | --- | --- | --- | --- |
| Model | Capacity | Availability | Colour | MRP |
| USM-BA2 | 16GB, 32GB, 64GB and 128GB | 12th May'18 | Silver | Rs.950, Rs.1285, Rs.1959, Rs.6400 |
| USM-CA2 | 16GB, 32GB, 64GB and 128GB | 12th May'18 | Silver | Rs.1200, Rs.1800, Rs.3900, Rs.9210 |
| USM MX3 | 16GB, 32GB, 64GB and 128GB | 12th May'18 | Gold | Rs.850, Rs.1800, Rs.3500, Rs.5840 |
About Sony India Pvt. Ltd.
Sony India is one of the most recognized consumer electronics brand in the country, with a reputation for new age technology, digital concepts and excellent after sales service. In India, Sony has its footprint across all major towns and cities in the country through a distribution network comprising of over 12,000 dealers and distributors, more than 250 exclusive Sony outlets and 25 branch locations. Sony India also has a strong service presence across the country with 340 service outlets. Manned by customer friendly and informed sales persons, Sony's exclusive stores 'Sony Center' are fast becoming the most visible face of the company in India. A distinctive feature of Sony's service is its highly motivated and well-trained staff that provides the kind of attentive and sensitive service that is rare today.
For more details, please visit: www.sony.co.in