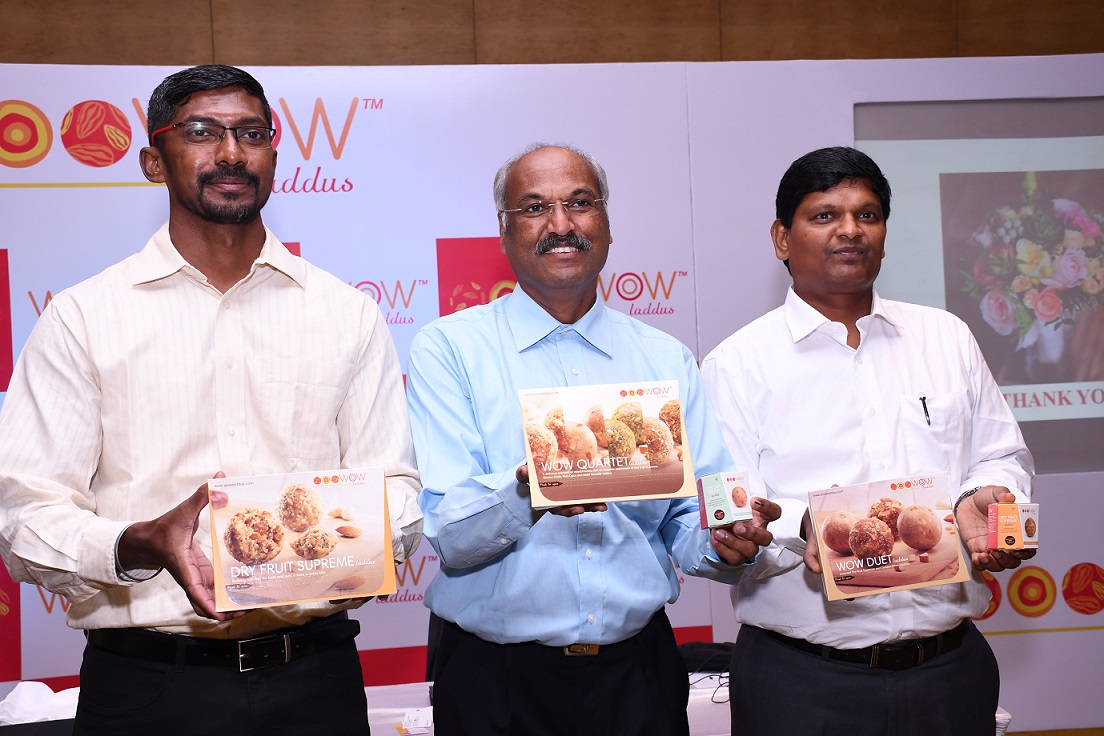 (L-R) Arul Nambi: Co-Founder & CTO, WOW Laddus,Murali Cherat: Founder and Managing Director, WOW Laddus and  Ramakrishnan Dhamodaran: Co-Founder & CEO, WOW Laddus showcasing the products during the Press Conference.

Targets revenues of around Rs. 100 Croresin 3 to 4 years' time.
More than 50% of revenue to come from exports
Chennai, 16th May 2018:
WOW Laddus – a Chennai Based Food Start up that manufactures and sells Laddus, is all set to ramp up its operations across the globe. The company is looking to make fresh investments that will help achieve revenues of Rs.100 Crores over a period of 3 to 4 years. The company will be targeting over 50% of the revenue through exports alone. In order to achieve this, company is looking to VC Funding to accelerate the growth in India and their presence globally.
WOW Laddus is in the business of manufacturing Laddus. This renowned Indian delicacy has been taken to the global market through a high focus on nutrition and completely different consumer experience.
Currently, the company has three manufacturing units across India. With the additional investment the company is looking to setting up 5 more manufacturing plants in major metros and Tier-1 cities in India like Mumbai, Delhi NCR, Kolkata, Hyderabad etc. With this, the company targets to reach 2000 outlets that will be selling this premium specialty laddus.
MuraliCherat, Founder & Managing Director, said, "we are excited with the positive response received for our products in India and abroad. We are confident of leveraging this response to further developing special recipe based laddus to cater to the global audience."
Promoted by three engineers with IIT/IIM background and global patents, this Start-up has used technology and management expertise to deliver even a single box of laddu in the homes of people in the USA, UK through eCommerce. With repeat purchase increasing in double digit from more than 50 retail outlets across USA, company is enjoying consistent growth in export revenue. The management also envisages setting up manufacturing units in overseas location at frugal cost due to their proprietary technologies. Their R & D center in Charlotte, USA is dedicated for developing products for the mainstream market.
Dhamodaran, Co-Founder & CEO, said, "with all these developments, the consumers will have the luxury of getting even a single box of laddu delivered within 24 to 48hrs anywhere in India or in the USA/UK. These laddus can be stored in room temperature, the consumers can enjoy the crunchy and juicy laddus, which will be missing if refrigerated. Soon, with the advent of fintech, consumers will be able to get WOW laddus from vending machines using mobile or other payment options in India and Overseas."
WOW laddus can be gifted with pride as each range comes with international quality of packing. The company claims that more than 36% of the orders from Amazon in the USA is from non-Indians.
About WOW Laddus:
Wow Laddus is two-year old Food Start-up, from idea stage to commercial journey.  Founders, Murali Cherat, Dhamodaran Ramakrishnan and Arul Nambi bring with them rich global corporate experience along with IIT/IIM educational back ground and about nine global patents granted.  The company has three manufacturing units in India.  The company plans to have around 100 smart manufacturing plants across the globe to produce laddus to suit each geography, market segment and taste palette. With the plans to make Laddus from India to be consumed the way chocolates are consumed across the world, the company plans to achieve this by complimenting their framework-based R&D with technology to disrupt both manufacturing and marketing globally.