L-R – Prince Manvendra SIngh Gohil, Goodwill Ambassador, AHF; P. Kousalya, President, Positive Women's Network; Prashanti Tiwar, Feminist (Victim of sexual assault at UNFPA India); Dr. Divya Mithel, Medical Officer, AHF JCC Clinic, Mumbai; Sister Daise Therese, Administrator, Jyothis Charitable Trust; Luke Samson, Founder, SHARAN; Dr. V. Sam Prasad, Country Program Director, AHF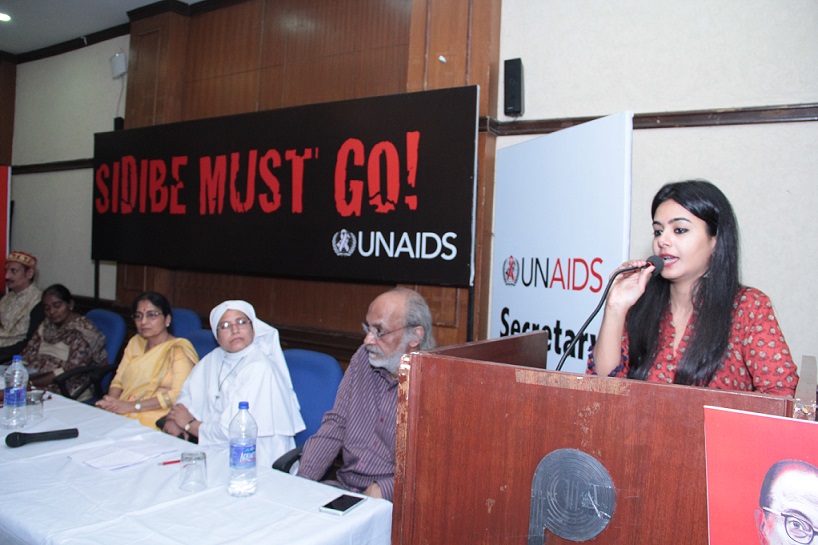 Prashanti Tiwar, Feminist (Victim of sexual assault at UNFPA India) addressing media at Press Conference calling for Michel Sidibe to step down in New Delhi today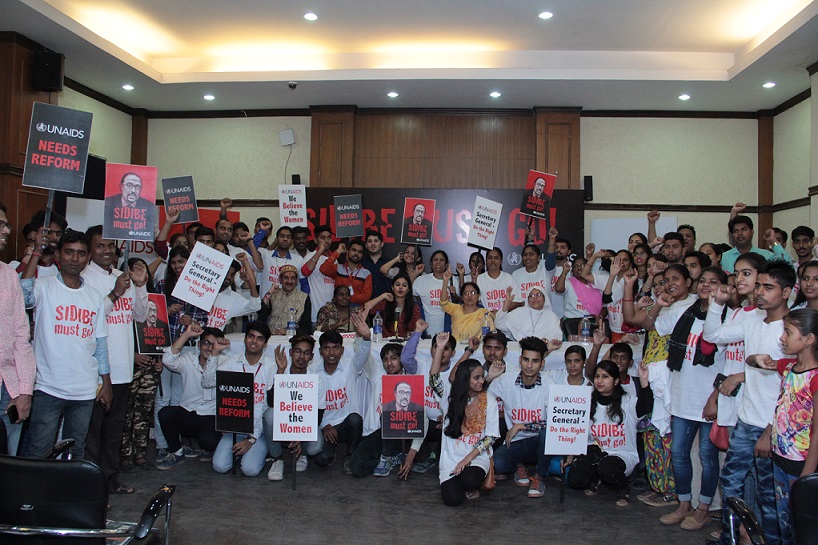 Indian Civil Society Organisations demand immediate resignation of Mr Michel Sidibe, Executive Director, UNAIDS following the mishandling of a sexual harassment case as a call to action for structural change at the UN

NEW DELHI/ CHENNAI (17 May, 2018) –About 100 women's rights activists from civil society and community-based organisations, along with volunteersworking in non-governmental organsationsassembled at the Press Club of Indiato demand the immediate resignation of Mr. Michel Sidibé, Executive Director of the Joint United Nations Programme on HIV and AIDS (UNAIDS)following his mishandling of sexual harassment allegationsbrought forth by afemale colleague against Sidibé'sformer deputy director.
In a wide-reaching protest, more than 40 civil society organisations working in India on various global and national projects expressed their solidarity in demanding the immediate resignation of Mr. Sidibé by endorsing and signing a joint statement, which was sent to the office of the UN Secretary-General Mr.António Guterres.
In recent months, the scandal surrounding UNAIDS received global attention from a number of prominent news outlets, including multiple stories by The Guardian, CNN, The Lancet, and AFP. These stories detail Mr.Sidibé's actions and his attempts to vilifyMs. Martina Brostrom, one of several women who has spoken publicly about alleged cases of sexual misconduct within UNAIDS.
From the media reports, it is apparent thatMr. Sidibé was protecting his former deputy,Mr.Luiz Loures(the alleged assailant) and conducted a flawed internal investigation which took almost a year to complete. The questionable findings nullified Ms. Brostrom's claims and amounted to victim-blaming instead of ensuring justice.During the investigation, Mr. Sidibéalso approached Ms. Brostromand offered her a promotion in an attempt to persuade her to withdraw the complaint against his deputy.  All efforts by the victim to secure justice were stalled and thwarted by Mr. Sidibé and eventually the investigation was closed, while Mr. Loures was permitted to complete the remaining months of his employment contract.
The Indian civil society representatives say they view Mr. Sidibé's actions as completely inappropriate, unacceptable andas a misuse of power and position.  Mr. Sidibé's conducthasundermined the trust that women across the world had placed in him – that their dignity and rightswould be protected.  As a consequence of willful and culpable actions, Mr. Sidibé has forfeited the moral authority to lead UNAIDS and must resign in an effort to mend the credibility of his organisation.
Emblematic of the #MeTooUN turmoil which has seen allegations of sexual harassment surface across several UN agencies, the press conference also witnessed a testimony from an Indian woman, Ms. Prashanti Tiwari.Sheis pursuing a case against a former UNFPA chief who has been accused of sexual assault.  Ms. Prashanti sharedher story of astruggle with a protracted case which so far has had no positive outcomes.  There have been serious attempts to influence, instigate, and delay all efforts to resolve the case by UNFPAleadership.Thus in both cases,the misuse of diplomatic status and immunity associated with higher positions in the UN system is evident.
Indian civil society and community-basedorganisations have taken a stand of"ZERO TOLERANCE"on sexual assault, molestation or rape in any form against women in the Indian development sector and/or civil society.
"Women are often looked down upon as a commodity across the world and face attempts of sexual abuse on a day-to-day basis in the community and workplace.  I am surprised as to how Mr. Michel Sidibécould protect such actsand pursue and sabotage any attempt to ensure justice to a victim who was his colleague," said Ms. P Kousalya, President, Positive Women's Network (PWN+)."Mr. Sidibé has to go and we demand a change of leadership, a cleansed redressal system, and a WOMAN LEADERto head UNAIDS."
Prashanti Tiwari, feminist and victim of sexual assault at UNFPA India said, "More and more women today are becoming a victim of sexual assault and sexual harassment at the hands of the UN and its many agencies who have been misusing their power and special privileges while exhibiting blatant misogyny and contempt for victims. Despite such cases of sexual assaults becoming pervasive, there still exists a culture of impunity that allows such heinous crimes. I have been a victim of sexual assault by the country representative of UNFPA, Diego Palacious, and have been fighting to get justice while facing aggressive retaliation from UNFPA staff.But after too much dismay, I have learned there are no means or mechanisms to hold such perpetrators accountable or prosecute them, when the UN itself becomes the protectors of such violators. When the UN starts sheltering and harboring them like UNAIDS and UNFPA have been doing, it gives them a way to commit further crimes of this nature and still escape scot-free."
"As an LGBT rights and human rights activist, I am concerned about the recent issue of sexual harassment allegations, which was tolerated by the head of UNAIDS. I am more concerned because a renowned international agency like UNAIDS, which has always advocated for equality and protection of vulnerable and marginalised populations– such as women and sexual minorities –now gives off a feeling of insecurity. If allegations are made, then it's fair and just to execute an investigation in the interest of those who trust organisations like these," said Prince Manvendra Singh Gohil, Ambassodor for India Cares.
Dr. V. Sam Prasad, Country Program Director for India Cares said, "It can only be viewed as a blatant act of injustice, as Mr. Michel Sidibé protected a heinous act using his powers,including putting all efforts towards delaying the processes and intimidating whistleblowers. Sidibé has set a bad precedent for the UN. To see that a woman is no more safe and protected even to work in the UN system is utterly deplorable.  It prompts one to be vigilant and closely monitor the workplace environment where there is direct interaction with senior leaders in the UN system. We need trustworthy leaders who can foster safety and equity for women in the workplace including all UN bodies working in India. Mr. Michel Sidibé has to go!"
Below are the links to news reports on the UNAIDS scandal:
18/1/18 – The Guardian – Sexual harassment and assault rife at United Nations, staff claim – https://goo.gl/gWDsGU
25/1/18 – The Guardian – Senior UN figures under investigation over alleged sexual harassment – https://goo.gl/3fVfLs
3.       7/2/18 – The Guardian – UN 'grossly mishandled' inquiry into alleged sexual assault, say campaigners (Code Blue open letter) – https://goo.gl/uNp7bx
AIDS Healthcare Foundation (AHF), the largest global AIDS organization, currently provides medical care and/or services to over 900,000 clients in 39 countries worldwide in the US, Africa, Latin America/Caribbean, the Asia/Pacific Region and Eastern Europe. To learn more about AHF, please visit our website: www.aidshealth.org, find us on Facebook: www.facebook.com/aidshealth and follow us on Twitter: @aidshealthcare and Instagram: @aidshealthcare
For further information, you may contact
DR V. SAM PRASAD, COUNTRY PROGRAM DIRECTOR  – +91 8467889989
Vinni Gautam – + 91 9868702134
The following is a copy of the statement released by Indian civil society at the press conference on May 17:
Joint Statement
This statement is jointly drafted and signed by Indian civil society organisations, to put on record the ever-growing concern about the safety and security of women in the work place and callous, culpable attitudes and proceedings meted out to women in distress.
This statement comes specifically to highlight the ongoing protests against Mr. Michel Sidibé, Executive Director of UNAIDS who purportedly was encouraging nepotism and defending his deputy, who was accused of sexual harassment by a female employee at UNAIDS.
We, the Indian civil society representatives, have come together to voice the highest level of dissatisfaction on the lack of transparency and integrity by UNAIDS leadership in carrying out the internal investigations into deputy director's conduct, which resulted in a flawed and biased outcome.
The UNAIDS leadership, which is expected to do the right thing by protecting the rights of diverse communities, including women, has failed in upholding the truth and encouraged an internal culture of "VICTIM BLAMING." This investigation can only be viewed as lopsided, inappropriate and guided by vengeance.  We condemn the actions, the processes and the outcomes which were influenced by a personal vendetta from the highest office of UNAIDS.
World over, civil society organisations representing the oppressed and the poor affected by HIV/AIDS have looked at UNAIDS as the last resort to ensure protection of their rights.  It is a state of much despair that the highest office of UNAIDS under Mr. Sidibé's leadership acted unjustly to cover up allegations of sexual harassment. The above actions by someone like the Executive Director of UNAIDS can only be viewed as despicable abuse of power.
Such conduct warrants for Mr. Sidibé to step down immediately and thereby restore any credibility that is remaining in UNAIDS. We as members of Indian civil society demand immediate voluntary resignation of Mr. Michel Sidibé so that the honour and dignity of women who are victims of sexual assaults and abuse is restored.
"SIDIBÉ MUST GO"
Signed in Solidarity
AARJU FOUNDATION, THANE, MAHARASHTRA
ADARSHA RURAL HEALTH AND ECONOMIC DEVELOPMENT SOCIETY, VIJAYAWADA, ANDHRA PRADESH
ARK FOUNDATION, NEW DELHI
AWARD, WEST GODAVARI, ANDHRA PRADESH
BADLAAV SAMITE, INDORE, MADHYA PRADESH
CARE AND SUPPORT SOCIETY, MOKOKCHUNG, NAGALAND
COMMUNITY AWARENESS AND DEVELOPMENT FOUNDATION, DIMAPUR, NAGALAND
CREATOR'S CHARITABLE ORGANIZATION, EAST GODAVARI, ANDHRA PRADESH
DRUG USERS UNION – MEGHALAYA
EK JEEVAN HAMARI PRERANA, NEW DELHI
EMPOWER INDIA, TAMILNADU
ESPOIR SOCIETY, NAGALAND
GRAMEEN VIKAS SANSTHAN, MAU, UTTAR PRADESH
HEPATITIS COALITION OF SIKKIM
HUMANA PEOPLE TO PEOPLE INDIA, NEW DELHI
HUMSAFAR TRUST, MUMBAI
INDIA CARES, NEW DELHI
INDIAN DRUG USERS' FORUM, DELHI
JYOTISH CHARITABLE TRUST, KALAMBOLI, NAVI MUMBAI
KEKHRIE FOUNDATION, KOHIMA, NAGALAND
KOHIMA USERS NETWORK, KOHIMA, NAGALAND
KRUPALAYA, VILLUPURAM, TAMILNADU
LAKSHYA TRUST, VADODARA, GUJARAT
NETWORK OF NAGA PEOPLE LIVING WITH HIV & AIDS, NAGALAND
NORTH EAST HEPATITIS, AIDS AND TUBORCULOSIS TREATMENT ACTIVIST GROUP, NORTH EAST
POSITIVE WOMEN'S NETWORK, CHENNAI
PRIYA RURAL DEVELOPMENT AND SERVICE SOCIETY, GAZIPUR, UTTAR PRADESH
PRODIGALS HOME, DIMAPUR, NAGALAND
RAKSHANA, CHIRALA PRAKASAM, ANDHRA PRADEH
RURAL CARE MINISTRIES, GUNTUR, ANDHRA PRADESH
RURAL ENVIRONMENT AND EDUCATION DEVELOPMENT SOCIETY, GUNTUR, ANDHRA PRADESH
SAMARITAN SOCIETY OF MIZORAM
SANGA MITHRA DEVELOPMENT ASSOCIATION, VISAKHAPATNAM, ANDHRA PRADESH
SEVA KENDRA CALCUTTA, KOLKATA, WEST BENGAL
SHALOM, AIZAWL, MIZORAM
SHARAN – SOCIETY FOR SERVICE TO URBAN POVERTY, NEW DELHI
SOCIETY FOR PARTICIPATORY INTEGRATED DEVELOPMENT, NEW DELHI
SOUTH INDIAN HARM REDUCTION NETWORK, CHENNAI
SWARGIYA KANHAI SHUKLA SAMAJIK SEVA SANSTHAN, VAISHALI, BIHAR
TRIPURA STATE NETWORK OF POSITIVE PEOPLE, AGARTALA, TRIPURA