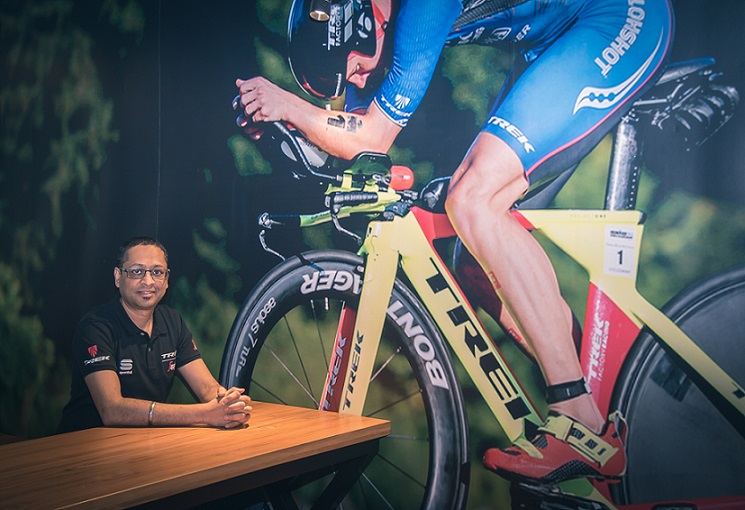 Treklaunches Customized Finance Program – zero Down Payment* on its bicycles in India

Chennai, May 28, 2018:TREK, one of the world's leading bicycle manufacturers has tied-up with Bajaj Finance Limited to make its global products easily accessible to consumers across demographics, regions and lifestyles in India. The American manufacturerhas come-up with an innovative consumer finance program that will offer ZERO Down Payment and NO-COST EMIto consumers buying TREK products from its authorized retail stores across India.
Trek, that already has more than 26,000 consumers across India; recently launched its 100% subsidiary operations. Known as the most technologically advanced bicycling company in the world, Trek currently offers 42 bicycle models across Road, Mountain, and Hybrid categories along with a wide range of Trek and Bontrager parts, accessories, merchandise, and riding gear and is available in 19 stores across Delhi, Mumbai, Bangalore,Chennai, Hyderabad, Ahmedabad, Ghaziabad, Goa, Haldwani, Indore, Ludhiana, Mangalore, Nagpur, Nashik, Patiala andVisakhapatnam.
On the tie-up, Navneet Banka, Country Manager, Trek Bicycle India said, "India is a key market for Trek and we are excited to bring the most technologically advanced bicycles in the world through our subsidiary operations in the country. Our focus is to grow this segment by providing a great buying and ownership experience, while promoting the sport of leisure and competitive cycling in India. This customized finance programwith Bajaj Finance Limited will provide consumers a NO-COST option to buy the products they love; pay in easy monthly installments and simultaneously use the bike to stay fit in a fun & social way."
Also, speaking on the association, Manoj Madan, Business Head, Bajaj Finance LTD – Lifestyle Finance, "The synergy aims to provide a frictionless purchase experience by offering variety of bicycle models along with convenience of availing finance for the same. This is a step toward making technologically advanced bicycle available for customer with a convenient payment option. The initiative reinforces our commitment of increasing the affordability and catering the aspirational needs of the customers."
Below is a summary of the finance scheme:
6by0 scheme*

0 down payment.
Pay entire amount in 6 EMIs for bike invoice price between INR 25,000 to INR 35,000
10by2 scheme*

20% down payment (or 2 months down payment).
Pay rest amount in 8 EMIs for bike invoice price between INR 35,001 to INR 75,000
12by4 scheme*

33% down payment (or 4 months down payment).
Pay rest amount in 8 EMIs for bike invoice price INR 75,001 and above
For more information, please visit https://www.trekbikes.com/in/en_IN/
Note to the editor
The total market size in India is 16.3 million cycles per year. The premium segment has been growing at the rate of 25-30% in the past 5 years and is projected to grow at a similar rate over the next 5 years.
About Trek Bicycle
Trek Bicycle is a global leader in the design and manufacture of bicycles, riding gear, merchandise, accessories and parts. Trek believes the bicycle is a simple solution to many of the world's most complex problems and is committed to breaking down the barriers that prevent people from using bicycles more often for transportation, recreation and staying fit.