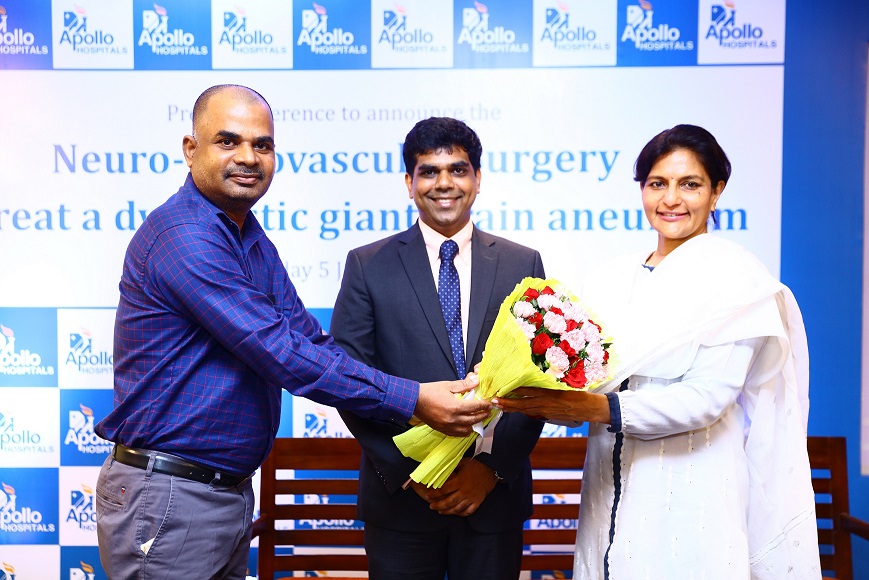 Ms.Preetha Reddy, Vice Chairperson, Apollo Hospitals Group seen along with patient Mr. Veerapandian and Dr. Srinivasan Paramasivam, Sr. Consultant Neurosurgeon and Head of Neuroendovascular surgery at Apollo Hospitals

Chennai: 54 year old Veerapandian, from Vembangudi, Tanjavur currently working in Dubai as software Engineer developed mild headache and drooping left eyelid 10 days ago. He was diagnosed with a large aneurysm in the brain, Dr. Srinivasan Paramasivam, Senior Consultant Neurosurgeon performed a Neuro-Endovascular Surgery to treat the dysplastic giant brain aneurysm that would have ruptured causing severe brain injury and even death.
Veerapandian had developed, headache, drooping of left eyelid along with double vision that required immediate medical attention. Doctors in Dubai diagnosed him with a large aneurysm in the brain. The patient came to Apollo hospitals from Dubai for the condition requiring immediate neuro surgical care. A brain aneurysm is a bulge or ballooning of a blood vessel in the brain. The aneurysm can leak or rupture, causing bleeding into the brain (hemorrhagic stroke). Most often a ruptured brain aneurysm occurs in the space between the brain and the thin tissues covering the brain. This type of hemorrhagic stroke is called a subarachnoid hemorrhage. A ruptured aneurysm quickly becomes life-threatening and requires prompt medical treatment.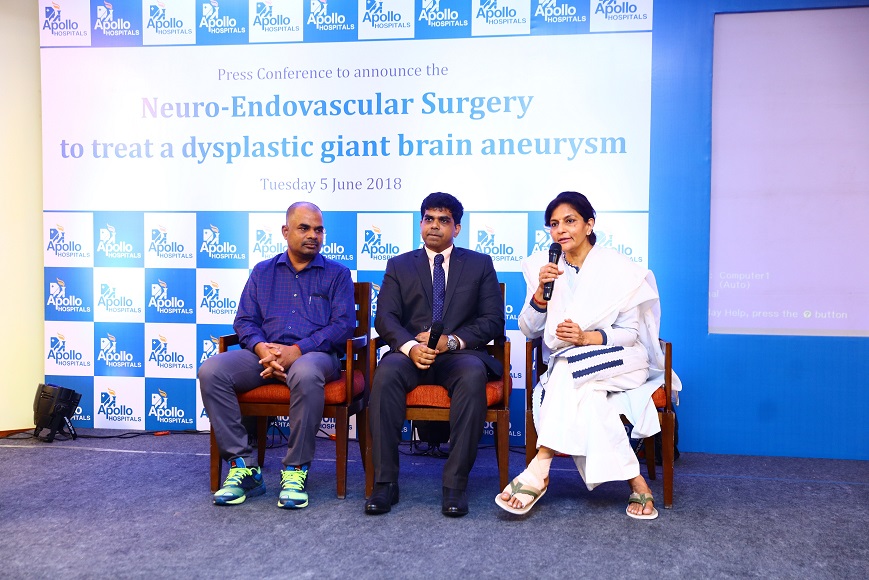 Dr. Srinivasan Paramasivam, Sr. Consultant Neurosurgeon and Head of Neuroendovascular surgery at Apollo Hospitals, said, "Digital subtraction angiography, was done for detailed evaluation of this condition and to make an accurate analysis. The patient had a Dysplastic Giant aneurysm (Ballooning of the blood vessel of the brain) that was partially clotted and pressing on vital structures of the brain. This aneurysm was unusual in location, large in size and irregularly shaped. It was at a branch point of a blood vessel at the base of brain and located above and behind the left eye."
In general, dysplastic aneurysms at branching points are very difficult to treat, moreover he had drooping of the eyelid due to pressure effect. Further, being on the left side, it puts the left brain that controls ones speech and right side hand leg movement at risk. This aneurysm in any standard is considered to be one of the difficult ones to treat.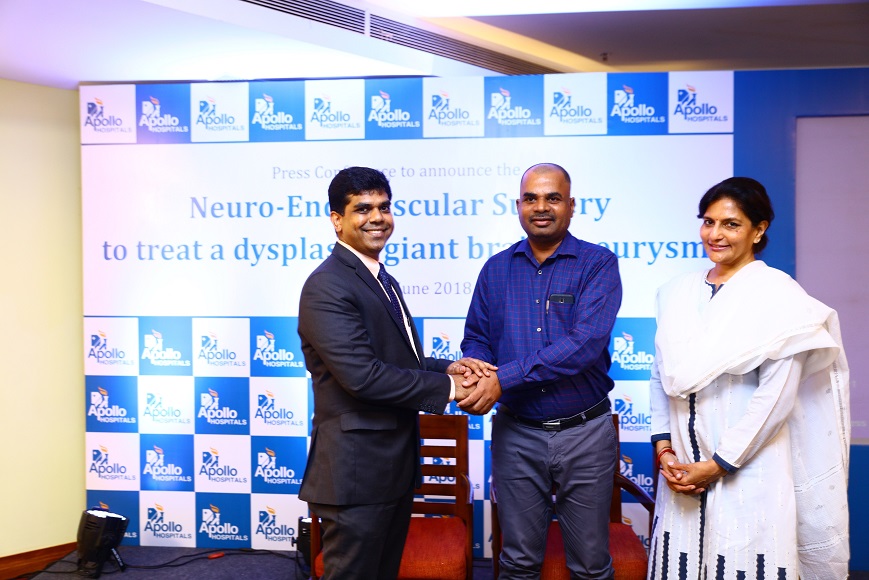 Dr. Srinivasan Paramasivam, also added "In the past such aneurysms were treated by open surgery that involves a bypass of blood vessel followed by trapping, which is associated with higher risk of morbidity. With a support of Biplane cathlab at Apollo Hospitals Chennai we designed a unique treatment strategy. The strategy involved multipronged approach to the aneurysm from right and left side of the brain, using flow diverter (not designed for blood vessel bifurcation aneurysm) and coils."
The patient was prepared for the procedure with blood thinning medications. On 16th of April, 2018, he underwent the procedure that lasted for about 3 hours. Following the procedure, the patient was stable and recovered from his headache. He was discharged from the hospital on the fourth day of treatment. He was reviewed at one month after surgery, his left eye drooping recovered and he has recovered completely to get back to his job and resume normal activities. He did not have to undergo open surgery and had relatively short hospital stay of 4 days.