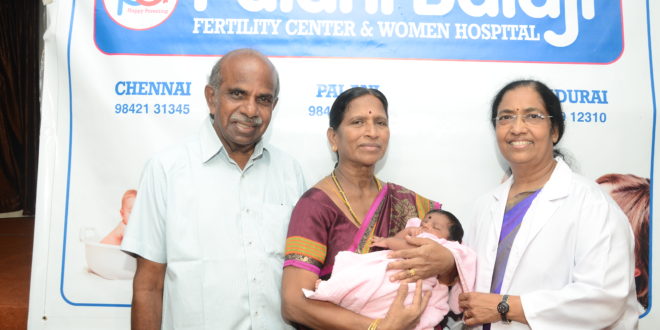 Chennai,  June, 2018: Palani Balaji Fertility Center, Chennai today announced that for the first time in Tamil Nadu, they had successfully conducted an effective specialized fertility treatment to a 63 year old woman who desperately wanted to have a child. The team led by Dr. D. Senthamarai Selvi, Managing Director and Chief Infertility Specialist, Palani Balaji Fertility Center announced that the mother had successfully undergone In vitro fertilization and embryo transfer and had given birth to a healthy girl baby weighing 3.25 kg.
The couple, Senthamilselvi (63) and Krishnan (71) from Gopichettipalayam had approached the center about two years back and sought help to have a child of their own. The couple had been married for 42 years were childless. They cited that they had undergone infertility treatment at various centers with unsuccessful outcome.
Explaining about the complications on having a pregnancy in this age, Dr. D. Senthamarai Selvi, Managing Director and Chief Infertility Specialist, Palani Balaji Fertility Center said, "The patient along with her husband approached us 2 years ago for infertility treatment. She had already reached menopause, 10 years back, but expressed her desperate hope to have a baby inspite her age. After preliminary diagnosis, we found that the patient is suitable to become mother".
Further Dr. D. Senthamarai Selvi added, "Earlier, the woman was put through extensive psychological and medical counselling before preparing her for the procedure. And, for the past two years she had undergone specialized infertility treatment at our center. During the treatment, a combination of IVF and embryo transfer procedure were done successfully with special medical care. With our years of experience in infertility treatment, we were successful in delivery her precious child".
During the treatment, it was found that the patient was a diabetic and she was treated for the same before the IVF was started. The couple was made to undergo a series of tests, which revealed that the patient had an unexplained infertility, but her uterus was healthy. As they were found fit to undergo IVF, the procedures were started.
As it was a high-risk pregnancy, she was kept under continuous medical supervision by a team of medical experts. However, she delivered a healthy 3.25 kg girl baby successfully.