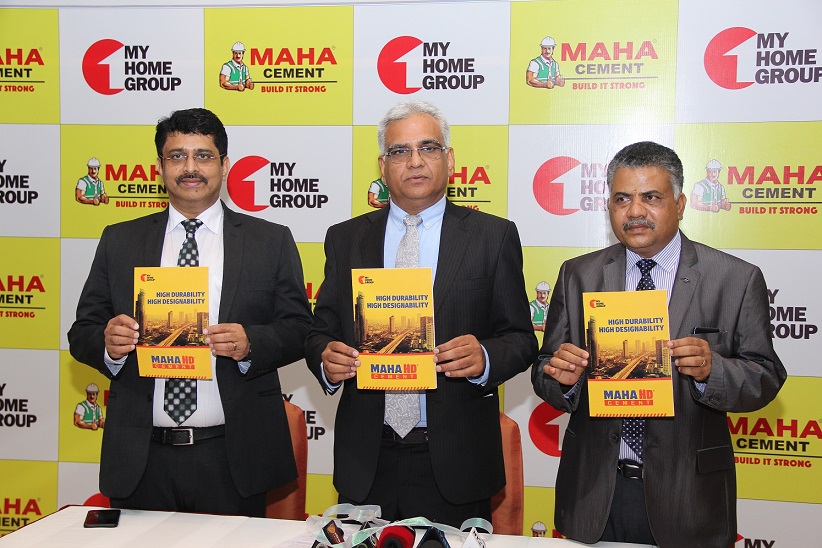 Chennai, 12th June, 2018: My Home Industries, a flagship business unit of INR. 40billion My Home Group, has expanded on their product line under the Maha Cement brand with the launch of the MAHA HD+ Cement. My Home Industries' Managing Director, Mr. Ranjith Rao Jupally together with leadership team of the company launched the new cement product at a press conference today.
MAHA HD+ – manufactured using superior quality of Clinker with very low levels of detrimental components like Magnesia, Sulphur, Alkalies and Chloride – is a breakthrough product innovation from the production team of My Home Industries and reinforces the company's strong commitment in building an avenue for sustainable construction in the industry. It also has highly reactive phases of calcium silicates, which improves strengths over time and gives unbeatable durability to the structure. Since it is manufactured by mixing special mineral admixtures, it has superior technical properties compared to other regular cement.
"We are committed to bring forth more innovative products in the future," said Mr. Ranjith Rao Jupally, MD, My Home Industries. "The market is changing and the demand for more quality product to support the construction industry in India is growing. Therefore we believe the launch of the new MAHA HD+ is timely and will bring positive effects to the construction landscape and beyond."
The new cement improves concrete's characteristics; improving its workability and cohesiveness, lowering heat of hydration therefore reducing surface cracks, increasing later strength, corrosion and sulphate resistant properties, as well as lowering the alkali content. These characteristics lead to concrete that will provide greater protection of embedded steel and ideal for coastal constructions. The low alkali content also eliminates the risk of alkali-aggregate reaction and reduces the environmental impact of concrete mixture with cement.
Commenting on the launch of cement, Mr. Vijay Vardhan Rao, President – Marketing, My Home Industries said, "MAHA HD+ is the new innovation from My Home because it exhibits good durability, long term strength and high resistance to difficult environment constructions. The excellent properties make this the preferred choice of cement for all types of residential to large infrastructure projects and projects exposed to seawater environment. It is very useful where concrete is exposed to difficult environments such as waste water treatment and marine applications."
About My Home Industries Pvt. Ltd.(MHIPL):
The company had set up its first cement plant in Mellacheruvu in Nalgonda district in Telangana which is now having an annual production capacity of 3.2 million tonnes. In 2009, the company set up a cement grinding unit in Mulkalapalli in Visakhapatnam district of Andhra Pradesh, with an annual capacity of 2 million tonnes. In 2013, Sree JayajyothiCements was added as a 100% subsidiary of MHIPL. With the commencement of fourth cement unit in Tuticorin of Tamilnadu, the installed capacity of My Home Industries Private Limited has gone up to 10 million tonnes per annum, making it one of the largest cement producers in South India. It is the most modern cement plant with a six stage inline calciner pre-heater technology. We have the most advanced separate grinding technology from Loesche, Germany implemented at our plant. The company has ambitious plans to expand its capacity rapidly in the near future.
A 50:50 joint venture with CRH plc, Ireland, My Home Industries Private Limited has built a formidable reputation by way of winning prestigious national awards for quality, reliability and energy efficiency. CRH plc is an internationally reputed group, having presence in 31 countries with a turnover of euro 27.56 Billion in 2017. CRH is the second largest building materials company in the world.
Some Facts about MHIPL
Total Capacity: 10 Million Tons per Annum
Plants: Tuticorin (TN), Nalgonda (Telangana), Kurnool (AP) & Vishakhapatnam (AP)
Markets Covered: Tamilnadu, Telangana, Andhra Pradesh, Odisha, Karnataka, Kerala, Bihar W. Bengal & Maharashtra. Exports to: Srilanka, Bangladesh
For Further Information, Please Contact: Chandralekha /Prem : 9884048889/9003165681