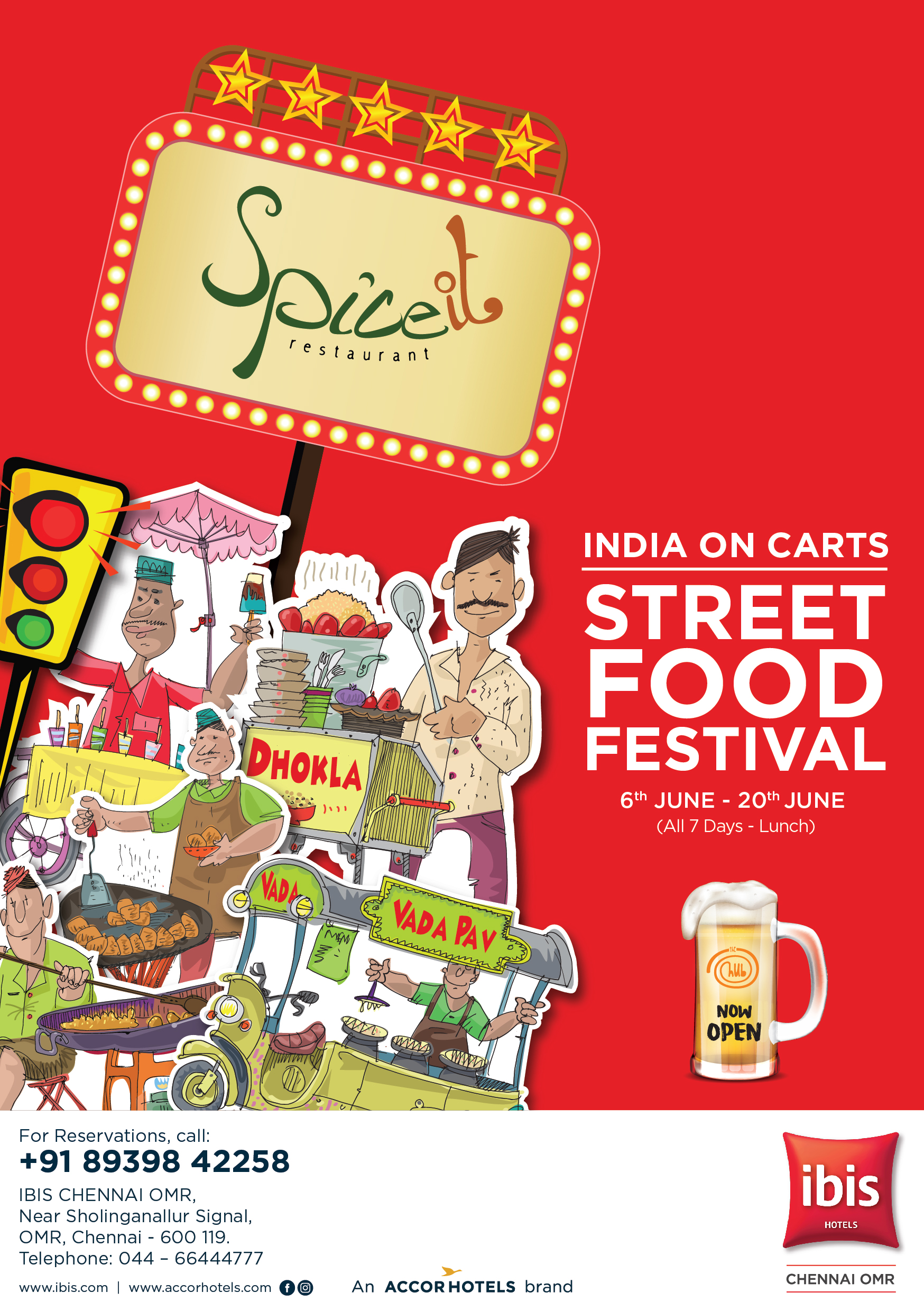 Chennai: Craving for the delicious and served-on-the-spot yummy street food dishes is but a natural phenomenon in man.  However, more often than not, concerns of hygiene do prevent us from having a go at it when we see it on the streets! To cater to this palate, Spice It, the all-day diner at ibis Chennai OMR, is dedicatedly holding a lip smacking Street Food Festival, bringing us the local flavours & spices of Chennai andfrom across the countryfrom 6th June to 20th June for lunch buffet, Monday to Sunday at an amazing price, worth trying for.
The exhaustive and enticing menu includesSalads with cut fruits and veggies along with Steamed Sweet Corn, Chick Pea Sundal,Channa Dal Sundal, Moong Dal Sundal. Starters Chicken 65, Chilli Chicken, KaruvepillaiMeen Roast, KasimeduMeenVaruval, Vegetable Pakoras, Masala Dal Wada, Cut MirchiPakoda, Veg Manchurian, Spring onion and Vegetable Cutlets. Chaat DahiPapdi Chat, Bhel, Dhokla, Dahi Samosa Chat, Chinese Bhel, DahiPoori, Vada Pavwith the Main-course offering MurghkiParchey, TawaMacchi, Dahi Kebab, Masala Atkulu, Dosa (Kheema/ Potato masala), Chole – Batura, Maggi- Egg or Veggies,  and Kothu Paratha ( Chicken / Veg).
Not to miss out on this hygienic street food offering, please do call or watsapp at 8939842258 for reservations.
Venue: ibis Chennai OMR
            Rajiv Gandhi Salai IT Expressway Sholinganallur,
            Chennai, Tamil Nadu 600119
ABOUT ACCORHOTELS
AccorHotels is a world-leading travel & lifestyle group and digital innovator offering uniqueexperiences in more than 4,300 hotels, resorts and residences across 100 different countries.With an unrivaled portfolio of internationally renowned hotel brands encompassing the entire rangefrom luxury to economy, from upscale to lifestyle and midscale brands, AccorHotels has beenproviding savoir-faire and expertise for more than 50 years.In addition to its core hospitality business, AccorHotels has successfully expanded its range ofservices, becoming the world leader in luxury private residence rental with more than 10,000stunning properties around the world. The Group is also active in the fields of concierge services, co-working, dining, events management and digital solutions.Relying on its global team of more than 250,000 dedicated staff, AccorHotels is committed tofulfilling its primary mission: to make every guest Feel Welcome. Guests have access to one of theworld's most attractive hotel loyalty programs – Le Club AccorHotels.AccorHotels plays an active role in its local communities and is committed to promoting sustainabledevelopment and solidarity through PLANET 21 Acting Here, a comprehensive program that bringstogether employees, guests and partners to drive sustainable growth.
From 2008, the AccorHotels Solidarity Endowment Fund has acted as a natural extension of theGroup's activities and values, helping to combat the social and financial exclusion experienced by themost disadvantaged members of society.Accor SA is publicly listed on the Euronext Paris Stock Exchange (ISIN code: FR0000120404) and onthe OTC Market (Ticker: ACRFY) in the United States.For more information or to make a reservation, please visit accorhotels.group or accorhotels.com. Orjoin and follow us on Twitter and Facebook.