Exceptional comfort lasts from the beginning through the end of the day
First and only water gradient contact lens; featuring an increase from 33% to >80% water content from core to surface, approaching 100% at the outermost surface[i],[ii]**
Highest breathability* (oxygen transmissibility) of any daily disposable contact lens[iii]
Delivers exceptional comfort from beginning to end of day – Feels like nothing

MUMBAI: Do your eyes often feel tired or do your contact lenses feel dry at the end of your long day? A new era of eye comfort is now within reach thanks to the new DAILIES TOTAL1® water gradient contact lenses. These unique daily disposable contact lenses were launched today by Alcon, the global leader in eye care and a division of Novartis. The lenses have a built-in 'water gradient,' an engineering breakthrough that helps make them so comfortable, nine out of ten DAILIES TOTAL1® contact lens wearers agreed that the lens is so comfortable they didn't feel anything.[iv]
Discomfort is a common complaint among contact lens wearers – 44% of all contact lens wearers experience discomfort, dryness or red eyes.[v],[vi] Discomfort, at 48%, is the number one reason cited for discontinuing the use of contact lenses.6 This statistic is important considering 31% of contact lens wearers in the Asia/Pacific Rim alone stop wearing their contact lenses each year.[vii] People also lead busy lives – the average consumer spends more than 16 hours per day on all kind of activities – work, household chores, caring for others, or leisure activities – leaving no room for a contact lens that is uncomfortable.[viii]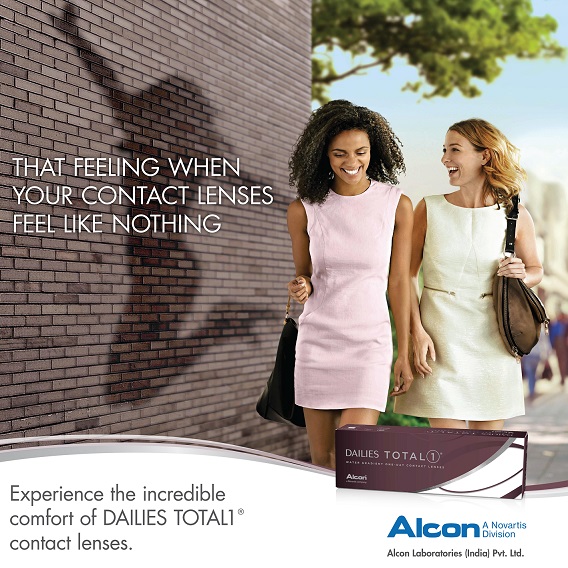 Survey results showed that contact lens wearers preferred DAILIES TOTAL1 water gradient contact lens over their regular brand by a ratio of 13 to 118. The survey results also showed that:
85% of subjects said DAILIES TOTAL1 water gradient contact lenses felt comfortable at the end of the day
93% of subjects said that their vision felt clear at the end of the day after wearing all day17.
"DAILIES TOTAL1 contact lenses truly offer consumers a remarkable wearing experience – once you try them on the eye, you'll realize the difference," saidPanchali Upadhaya, Country Business Unit Head – Vision Care from Alcon India. "They are the contact lenses you actually can't feel when wearing them and they maintain that high level of comfort all day. DAILIES TOTAL1 contact lenses can easily stand up to the test of very long days."
During a clinical study, patients rated DAILIES TOTAL1 contact lenses an average of 9.6 out of 10 for insertion comfort, and 9.2 out of 10 for end-of-day comfort.[ix] DAILIES TOTAL1 contact lenses are specifically designed to address contact lens discomfort – they have the highest surface lubricity[x] (or smoothness) and the highest breathability (or oxygen transmissibility) of any leading daily disposable contact lens,3 delivering exceptional comfort that lasts all day.
"Our R&D Team developed DAILIES TOTAL1 contact lenses with two main goals in mind: reduce friction with the delicate tissues of the eye and provide the same level of comfort at the end of the day as when the lenses are first inserted into the eye that morning," said Dr. Arindam Dey, Head of Clinical Development and Medical Affairs, Alcon India. "Thanks to a totally new approach to contact lens comfort, our development teams were able to deliver these high-performing, water gradient contact lenses, which are designed to meet the needs of wearers' demanding lifestyles in today's world."
Water Gradient Difference
The water gradient of DAILIES TOTAL1contact lenses has a water content that transitions from 33% at the core to over 80% at the surface; approaching 100% at the outermost surface.1,2** They maintain 100% of initial lubricity ('wettability'), even after a full day of wear.[xi]
The human eye blinks about 14,000 times per day, meaning the eyelid slides over the front of the cornea (and the contact lenses) roughly once every six seconds. Lubricity helps to minimize friction with the delicate tissues of the eye[xii] and at the surface of DAILIES TOTAL1 contact lenses, the lubricity reduces this friction and helps provide the breakthrough comfort of the lens.[xiii]
Maximizing the flow of oxygen
DAILIES TOTAL1 contact lenses are made out of the material, delefilcon A, used because of the high amount of oxygen it allows through to the eye. Eyes need oxygen to stay healthy. Without enough oxygen, eyes can experience such symptoms as end-of-day discomfort, dryness and redness.[xiv],[xv] In addition, the water gradient, with a lower (33%) water content at the core of the lens than at the surface, enables more oxygen to flow through the lens, which is important for healthy contact lens wear.[xvi] DAILIES TOTAL1 contact lenses offer the highest oxygen transmissibility of any daily disposable contact lens on the market.[xvii]
About Alcon
Alcon is the global leader in eye care. As a division of Novartis, we offer the broadest portfolio of products to enhance sight and improve people's lives. Our product touches the lives of more than 260 mn people each year living with conditions like cataract, glaucoma, retinal diseases and refractive errors, and there are millions more who are waiting for solutions to meet their eye care needs. Our purpose is reimagining eye care and we do this through innovative product, partnership with eye care professionals and programs that enhance access to quality eye care. For more information, visit www.alcon.com.
[i] Thekveli S, Qul Y, Kapoor Y, et al. Structure-property relationship of delefilcon A lenses. Lens Anterior Eye. 2012; 35(Supp1):e14.
[ii] Angelini T, Nixon R, Dunna, et al. Viscoelasticity and mesh-size at the surface of hydrogels characterized with microrheology. ARVO 2013. E-abstract 114872.
[iii] Based on the ratio of lens oxygen transmissibility; Alcon data on file, 2010.
[iv]Based on a survey in Europe of 24 ECPs fitting 280 patients in DAILIES TOTAL1® contact lenses. Alcon data on file, 2012.
[v] Third Party Industry Report Europe, 2010
[vi] Rumpakis J. New data on contact lens dropouts: An international perspective. Rev Optom. 2010:147(1):37-42
[vii] Rumpakis. J (2010 Nov 1) Curbing the Dropout Rate. Retrieved from http://www.clspectrum.com/articleviewer.aspx?articleID=104962 (link is external)
[viii]Alcon data on file, 2008
[ix] A clinical study with 80 patients; Alcon data on file, 2011
[x]Based on critical coefficient of friction measured by inclined plate method; significance demonstrated at the 0.05 level; Alcon data on file, 2011
[xi]Alcon data on file, 2011
[xii]Based on laboratory measure of lenses before wear; Alcon data on file, 2011
[xiii]Brennan N. Contact lens-based correlates of soft lens wearing comfort. Optom Vis Sci. 2009; 86: E-abstract 90957
[xiv]Alcon data on file, 2012
[xv]Dillehay, Eye & Contact Lens 33(3): 148-155, 2007
[xvi]Alcon data on file, 2010
[xvii]Alcon data on file, 2011
18Perez-Gomez I, Giles T. European survey of contact lens wearers and eye care professionals on satisfaction with a new water gradient daily disposable contact lens. Clin Optom. 2014