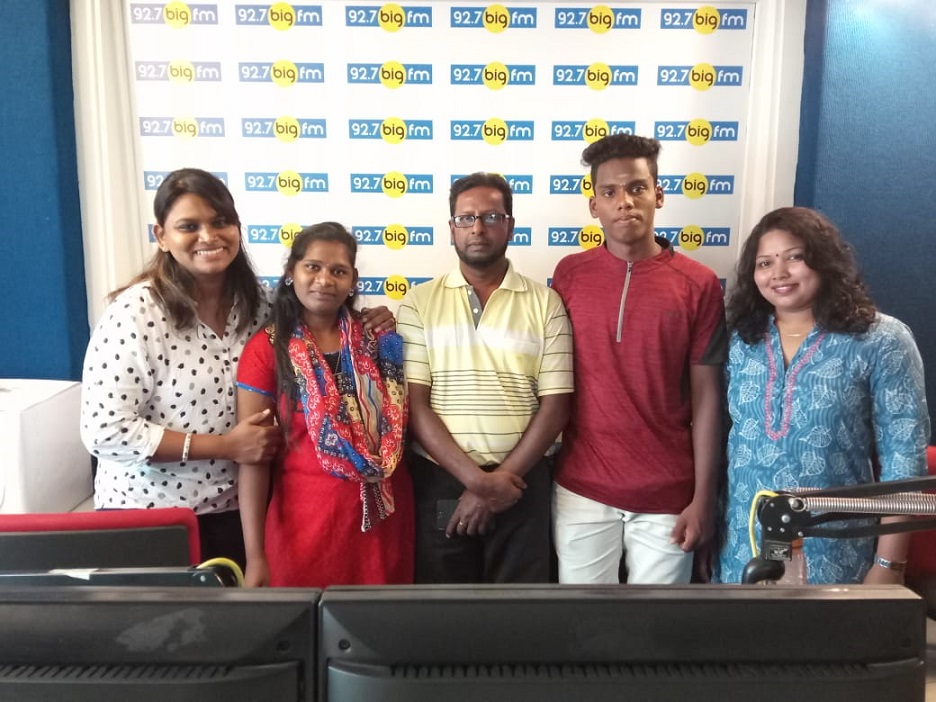 92.7 Big Fm created awareness for world day against child labour with Mj Mruthula Big Fm, Jayasudha rescued student, Thangaraj coordinator from SCSTEDS , Surya rescued student and Michelle Baxter Manager at CRY

Chennai, 13th June,2018:BIG FM, one of India's largest radio networks in association with CRY Foundation raised awareness about the superseding issue of violation of child rightson World Day against Child Labour. BIG MJ Miruthula, who has consistently been involved in addressing social issues of our society in the past, led the campaign by sensitising people about this rising concern.
On World Day against Child Labour, BIG MJ Miruthula along with members of CRY Foundation spread awareness on her show UllaeVeliyae between 11-2pmabout how child labour has been a major concern as it damages, spoils and completely destroys the future of innocent children. She threw light on various methods of rescuing children from it and how can one motivate them towards education. BIG MJ Miruthula also interacted with a few victims who were rescued from child labour when they were young sharing their personal experiences with her. Jayasudha and Surya were 10 and 12 years respectively when they were rescued and are now pursuing education while Thangaraj is a football coach at Slum Children Sports talents Education Development Society (SCSTEDS) who is closely associated with CRY now and works  towards rescuing children in Vyasarpadi.
Commenting on the initiative, BIG MJ Miruthula says, "The problem of child labour is not just a matter of concern in India but also in many other developing countries. It is an epidemic and a social evil.Through this awareness campaign with CRY, it is understood that there is still a significant number of children in India who work at different places such as restaurants, mechanic workshops or as newspaper delivery boys. It is disheartening to see child labour still prevail in the county. While children are the hope and future of the nation, it is our responsibility to secure them and help them lead a normal and a carefree childhood.As part of 92.7 BIG FM we hope to urge many more people to eliminate this pressing issue of child rights violation."
Speaking on the initiative, CRY spokesperson says, "There are lack of volunteers and monitoring boards to follow-up with the team and help raise awareness to solve this burgeoning issue of child labour. With this collective initiative of BIG FM and CRY Foundation, we are hopeful of reaching out to a wider demographic and further receive more and more support from people in eradicating child labour from our country."