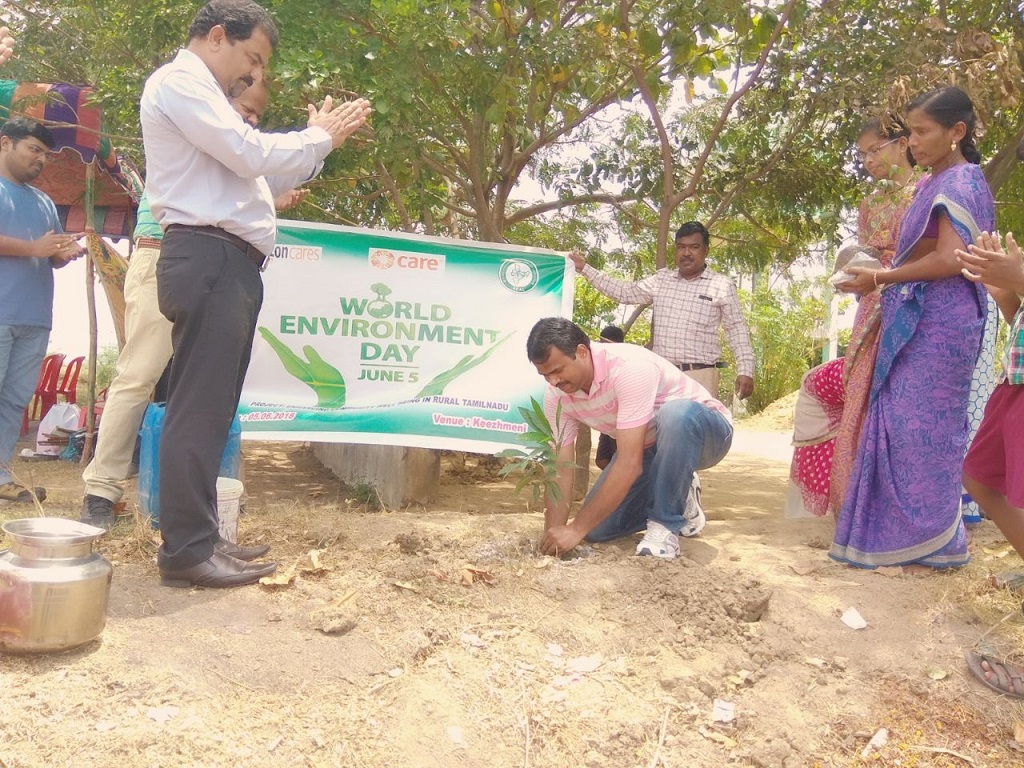 Rolls out environmental awareness and protection campaign for more than 200 people across its Community Centres in Tamil Nadu

Chennai, June 14th, 2018: In line with its constant efforts to conserve the ecosystem it operates in, Amazon Cares the CSR initiative of India's largest online marketplace, Amazon India, rolled out a campaign across its Community and Resource centers to celebrate World Environment Week 2018. Under the campaign, Amazon Cares conducted various initiatives from June 05th – June 10th to create awareness on environment conservation in the communities close to its Fulfillment centres.
In an endeavor to initiate impactful change,Amazon Cares in partnership with its implementation partner Cooperative for Assistance and Relief Everywhere (CARE India)organized an awareness rally on on pollution and other environment-related issues.They educatedover 200 members of the local community in the villageof Kizhmeni Village,Thiruvallur Districton the importance of conservation of energy resource, methods of proper waste management and discussed the hazards of pollution. This was done through short movies, poster making competitions and fun games. The activity was followed by a sapling plantation in the village.
Commenting on the same, Vasanthi, Principal of GOvt school village – Kizhmeni said "We need to constantly create awareness and motivate action towards the protection of our environment. The World Environment Day gives us an opportunity to dedicate time and attention to do so. With the experience of Amazon India and the focus of our local community, I believe we can build a sustainable effort towards creating a better future for our children."
Amazon India started the Amazon Cares – Community and Resource Centers initiative with the vision of 'Creating opportunities and transforming lives'. The programs are designed to impact and enhance the lives of the local community in the areas of education, livelihood, environment, women empowerment, health and sanitation.  The online marketplace uses its resources and infrastructure of innovation and technology to support India's development. Besides, Chennai, Amazon has conducted similar activities across India like awareness rallies, sapling plantation, lake restoration, village clean up, etc. across India ranging from Sonipat, Manesar, Tauru in Haryana to Ludhiana, Maharashtra, Ahmedabad, Hyderabad and Bangalore.
About Amazon Cares
Amazon believes that the most radical & transformative inventions are often those that empower others to unleash their creativity and pursue their dreams. Amazon Cares demonstrates the philosophy of being 'good neighbours' through the activities undertaken in areas where our employees and customers live. The Company imbibes this philosophy to empower and engage its employees, customers, sellers, local communities and other stakeholders in its contributions to create opportunities and transform lives. Amazon Cares currently runs several programs such as Gift a Smile that is transforming & enabling new ways of giving and Amazon in the Community that is empowering local communities with tools & services that enable them to create opportunities for their growth.
About Amazon
Amazon is guided by four principles: customer obsession rather than competitor focus, passion for invention, commitment to operational excellence, and long-term thinking. Customer reviews, 1-Click shopping, personalized recommendations, Prime, Fulfillment by Amazon, AWS, Kindle Direct Publishing, Kindle, Fire tablets, Fire TV, Amazon Echo, and Alexa are some of the products and services pioneered by Amazon. For more information, visit www.amazon.com/about.