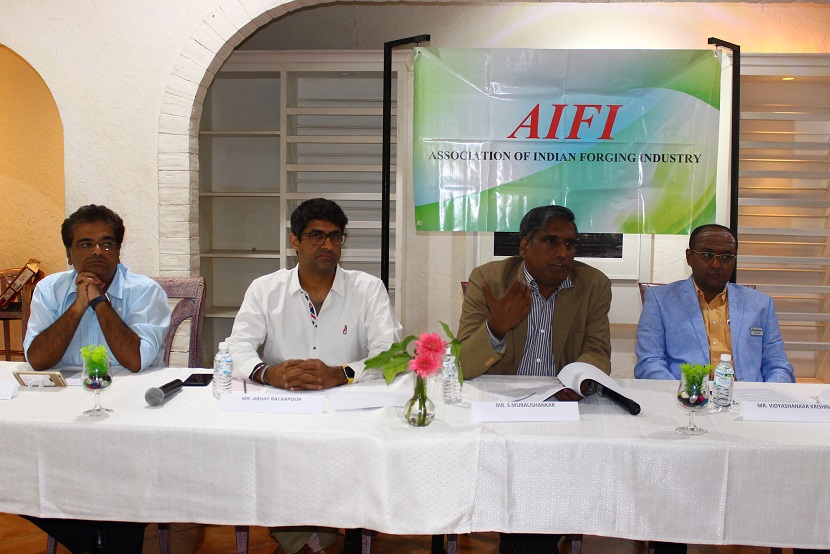 Backed by surge in auto sales and renewed thrust on infrastructure development.
Indian Forging Industry has registered a growth of more than 10% in FY 2017-18.
Indian forging industry's estimated production stands close to 24 Lakh MT in FY 2017-18providing employment to approximately 100,000 people in the country.
India to host Asia's biggest forging congress – 7thASIAFORGEMeet 2019India

Snapshot: Indian Forging Industry
·   Total Installed Capacity: 38.5 Lakh MT
·  Region wise installed capacity breakup (in million metric tonnes) – North: 12.58 | South: 5.36| West: 18.07| East: 2.49
·   Estimated turnover: INR 31,189 crore including INR 7,797crore contributed from exports
·   Overall production of forgings:23.9 Lakh MT
·   Region wise contribution to overall production (in metric tonnes) – North: 8.11| South: 3.28| West: 11.5 | East: 1.52
·   Forging clusters, number of units and their cumulative turnovers:
ü Western India: Rajkot, Pune & Mumbai – 141 units | Rs. 12,500 crores
ü Northern India: Ludhiana, Faridabad & Ghaziabad – 146 units | Rs. 9400 crores
ü Southern India: Chennai, Bangalore, Hyderabad& Coimbatore – 75 units | Rs. 3700 crores
ü Eastern India: 22 units| Kolkata & Jamshedpur – Rs. 2,214 crores
The data and statistics is based on the survey conducted by AIFI covering 378 forging units during FY 2016-17
Chennai –July, 2018: The Indian automobile sector is currently driving in growth lane in the new fiscal year with robust sales growth across all vehicle categories;The forging industry has opened year 2018 on a robust note. Compared to usual trend of low production during April-May in a fiscal year, 2018-19 has witnessed a continued higher demand during the first quarter. The surge in auto sales especially, the commercial vehicle and tractor sales has resulted inan improved demand / growth for Indian forging industry.
According to the latest SIAM report, the commercial vehicle segment, which recorded smart growth since the past few months, grew by 82.79percent in the new fiscal year (April and May 2018).The passenger vehicles segmentrose by 6.35 Lakh units to 7.06 Lakh units in April – May 2018. In the tractor segment domestic sales for April – May 2018 were 1.51 Lakhunits registering 31.08 % growth.
Sharing his thoughts Mr. S Muralishankar,President of Association of Indian Forging Industry, said,"Indian Forging Industry is one of the key players in the auto component manufacturing sector and a major contributor to the Government's Make in India initiative. The growth in the new fiscal can be attributed to the surge in sales of vehicles across all segment in the last quarter which is continuing in the new fiscal across all categories. It has provided a strong impetus to the forging industryand as a result, the demand for forgings has been on the rise both in domestic market. The export of forging has also witnessed an increase in demand from both Europe and North American markets. Backed by these strong demands the forging industry is likes witness to a growth of more than 10% in the new fiscal year."
Another key aspect is Government's big push for infrastructure growth which has definitely created positive economic sentiments amongst the business community. Many global OEMs and Tier-I players are setting up purchasing offices in India and looking at procuring high standard quality products. This will open doors for lots of Indian manufacturers. Also, several auto OEMs are looking at India as a base for exports to the other Asian, African and even European markets which will push the growth forauto component industry as well.
India gears up to host 7thAsia Forge Meet 2019
Association of Indian Forging Industry (AIFI) has always been at the forefront of undertaking proactive initiatives targeted towards improving the business environment for its members,thereby contribute to increasing their competitiveness through mutual co-operation and understanding of all parties concerned. In over 52 years, AIFI has had the opportunity to host International Forging Congress (IFC) 1990 in New Delhi, 2nd ASIAFORGE Meet 2008 in New Delhi and International Forging Congress in 2011 in Hyderabad. Over 550 delegates from the Asian Forging community participated in the ASIAFORGE 2008, whereas 1000 delegates across the globe have participated for IFC 2011. Keeping this in mind, AIFI will be hosting the Asia's biggest forging congress -7thASIAFORGEMeet 2019 Indiaduring 18-22 January 2019 in Chennai, Tamil Nadu.
This forum intends to bring together the entire forging industry and other allied industries on a common platform to share, demonstrate, network, exchange ideas, understand the latest trends worldwide, benchmark their company with the industry stalwarts and being updated on latest developments in forging technologies.
Mr. Abhay Raj Kapoor, Convenor-7th AFM 2019 India, stated 'We are targeting to gather around 750 delegates across India, China, Japan, South Korea and Taiwan in one platform, apart from suppliers all over the world. Till date, we have received confirmations from more than 40 sponsors out of which almost 50% are foreign sponsors. The organizers have been off to a great start and we are looking forward to maximum participation from the forging industry.'
Key Challenges and Concerns:
Despite the industry witnessing growth in the recent past, there are few concerns which seems to hamper the overall growth in the long run like the rising steel prices and demand supply gap, oil prices, government's thrust on electric vehicles and technology upgradation & modernization.
Steel Prices and demand supply gap: The forging industry in India has been showing a growth trend since last one year. However, there seems to be a huge demand supply gap which exists which is not being met by the steel manufacturers in India.Some of the reasons that can be attributed to the demand supply gap are: -major players reeling under high debts, lower coal production by Coal India Ltd.  as compared to the demand and gap in the quality standards to meet the higher level of demand in the automobile and significant rise in prices of graphite electrodes, an immensely vital raw material for steel manufacturers.
Forging industry is also concerned over the continuous rise of steel prices in India and living under constant fear that if this trend keeps on going like this, then it will defeat the 'Make in India' project and China will get a competitive edge in the world steel market, which as of now is the biggest steel exporter. The steel prices have inflated by around 25.5% in the last one year.
The price of steel has gone up to Rs 47,740 per tonne. The price for the same was Rs 38,000 per tonne in November 2017. Even though the global steel prices also witnessed immense the quantum influences was not this high.
Modernization: Compared to the European, Japanese & American counterpart and companies from China, Korea and Taiwan the technology & automation levels is much lower (Barring a few bigger forging companies). According to a recent survey of the Indian Forging Industry, about 70% of the forging units in India are MSMEs who need to upgrade their technologies. For this, the industry needs huge government support in terms of further interred subvention &technology upgradation fund.
 

Segment

Typical consumption of forging per vehicle (in Kgs)
Passenger Vehicles
180-200 kgs
M&HCVs
400-420 kgs
LCVs
200-250 kgs
Tractors
250-300 kgs
Electric Vehicles: Threat to Forging Industry: Another key issue concerning the future of the industry is Government's renewed focus on electric vehicles and better to a deduction to eliminate petrol/diesel cars by 2030. Situation seems to be fluid and it require the Government to draw a clear road map for the same. The introduction of EVs will have an adverse impact on Indian Forging Industry as 60% of the forging units are into manufacturing of auto components and majority for engine and transmission related application.  Internal Combustion Engines (ICEs) have approximately 2000 moving parts as compared to only 20 moving parts in Electric Vehicles. Electric Vehicles do not have engine and transmission parts completely. It only comprises steering components, suspensions and axles out of the forged auto components.  As a result, on an average 40-50% of demand for forged auto components would decline resulting in job losses and unit shutdowns.
The need of the hour is aggressive and assertive political action that will provide a level playing field to Indian manufacturers to become competitive in the global platform and other relevant policy reforms to foster ease of doing business.
"Despite the overall business environment looking up and anticipating good demand the industry is still faced with challenges in steel pricing, steel availability and impact due to GST implementation issues and technology upgradation, Govt focus on electric vehicles etc. The forging units need support from the Government by aggressive assertive political action in solving the above issues.", concludes Mr. K Vinoth Kumar, Chairman-Southern Region, AIFI.
Any regional challenges please mention (southern specific)
Even though the power fluctuation is improved in Tamilnadu, Still the quality of power is bad.
The minimum wages has been increased by 2300 with effect from Jan 2018 and it is a steep price of 27%
The state government's support to the industries in Tamilnadu need major improvement. There is too much of delay and bureaucracy in clearing proposals.
Snapshot: Indian Forging Industry
India is the 3rd largest manufactures of forgings in the world, after China and the European nations (led by Germany).
Source: Euroforge
The forging industry has emerged as a major contributor to the Indian manufacturing industry. As per the recent survey conducted by the forging association, the installed capacity has increased from 38.5 Lakh MTin 2016-17 to 39.4 Lakh MT in 2017-18with overall production of forgings increased from 23.98 Lakh MT to 25.24 Lakh MT.
 Scale-wise Classification of forging units                                    Domestic Sales vs Exports
Regional Data:
There are approximately 75 forging units in the Southern Region (Chennai-29, Bengaluru-16, Hyderabad-10, Coimbatore-9, Others-11). The 75 units accounts for an annual turnover of Rs. 4039 crores and a total installed capacity of 3.28 Lakh MT. The Southern Region accounts for 61% of average capacity utilization. It is observed in a recent survey that the Southern region forging units are more engaged in cold closed forging as compared to the rest of the country. 35% of total installed capacityaccounts for cold closed die forging. The survey also depicts that 100% forming process is adopted only in this region.