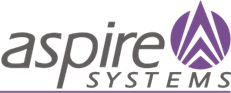 Ranked 35 this year, the company enters the Top 50

Chennai, July 03, 2018: Aspire Systems, a global technology services firm, has been ranked 35 in this year's 'India's Best Companies to Work for in 2018' study commissioned by the Great Place To Work® Institute India in association with The Economic Times. This is the ninth consecutive year that Aspire has been featured in the study, and this time Aspire is among the top 50.
The eleventh edition of the pan-India study conducted by Great Place to Work Institute studied more than 600 organisations across the country. To rank the companies, the study took a two-pronged industry-proven research methodology approach: A 'Trust Index', based on anonymous employee feedback, and 'Culture Audit', that covers the entire employee lifecycle.
Mr. Dinesh Kumaran, Director-HR, Aspire Systems said, "We are delighted to have been named ninth time in a row as one of the top 100 companies to work for in India. This recognition proves our unwavering commitment to the welfare of our employees in every step of their employment with us. We thank all Aspirians who have worked together as one team in this enriching journey over the last two decades."
Commenting on Aspire's continued recognition, Mr. Gowri Shankar Subramanian, Chairman and CEO, Aspire Systems said, "It gives us immense pride and happiness that we have entered the Top 50 this year. I thank the HR team members for the crucial role played by them in integrating our various teams further to our acquisition of Goyello earlier this year. I thank & congratulate every Aspirian, this a win for all of us."
About Aspire Systems:
Aspire Systems is a global technology services firm working with some of the world's most innovative enterprises and independent software vendors, helping them leverage technology and outsourcing in Aspire's specific areas of expertise. Aspire's offerings include Product Engineering, Enterprise Solutions, Independent Testing Services and IT Infrastructure & Application Support Services. The company currently has over 2.300 employees and 150 customers globally. The company has a growing presence in the North America, Europe, Singapore, India and Middle East.
For further information, please visit: www.aspiresys.com
About Great Place to Work® Institute:
Great Place to Work® Institute is a global research, consulting and training firm that helps organizations identify, create and sustain great workplaces through the development of high-trust workplace cultures. They serve businesses, non-profits, and government agencies in 45 countries on all six continents. Great Place to Work analyses the practices of more than 5,500 companies each year and has identified nine program areas that differentiate the best companies. It established itself as an independent entity in India on 21st May 2007, with Prasenjit Bhattacharya serving as its CEO. Great Place to Work in India is committed to a vision of making India a great workplace