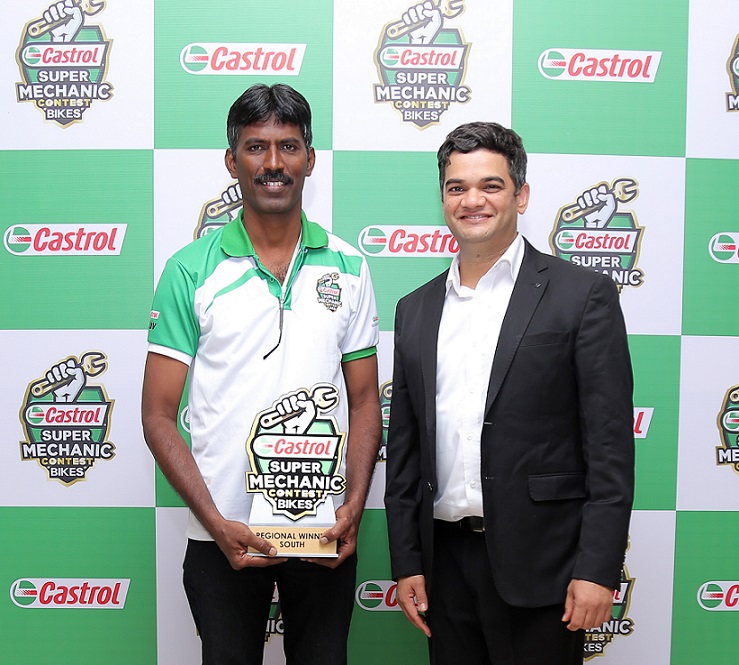 ~ JP Rajakumarfrom Tirunelveli one of the qualifiers for All India Final~
~Over 100,000 mechanics register to participate from across the country~

Chennai, July06, 2018 – JP Rajakumar,Ravish S andRatan Khanda emerged on top in the closely contested Castrol Super Mechanic regional semi-final for bike mechanics held in Bangalore. The winning trio will be competing with 21 other champion mechanics representing seven other regional semi-final winners for the coveted title of Castrol Bike Super Mechanic.  The three national winners will represent India at the Castrol Asia Pacific Bikes Super Mechanic contest to be held in Thailand in November 2018.
The Bangalore regional semi- final event witnessed keen contest by over 180 qualifying mechanics selected from the one lakh mechanics who had registered to participate from across the country. The regional qualifiers competed in theory and practical rounds, which tested their skills and knowledge about two-wheelers as well as lubricants. The participants also attended a training session on bike repair and maintenance. One of the highlights of this year's event was the interaction between mechanics who had already participated in last year's event, sharing their experience and tips with the first time participants.
Commenting on the event, Kedar Apte – Vice President Marketing, Castrol India said, "I would like thank the mechanics for their trust, support and overwhelming response to the Castrol Super Mechanic Contest this year. Compared to last year, we have seen an increase of 50% in the overall participation and this really encourages us to make this a bigger and better event. Through the Castrol Super Mechanic programme, we aim to provide a platform where mechanics can showcase their knowledge and skills and also support them in updating them on the latest trends and technologies emerging for bikes and lubricants.
"Celebrating his win, Ratan Khanda said, "I vowed to win this year after missing out last year & prepared hard this time. I have to thank my seniors & teachers for preparing me for this. I would like to thank my parents in this moment of happiness."The All India finals of the Castrol Super Mechanic Contest will be held in Mumbai with the national winners representing India at the Asia & Pacific Castrol Bike Super Mechanic contest.
About Castrol India Limited
Castrol, one of the world's leading lubricant brands, has a proud heritage of innovation and fueling the dreams of pioneers. Our passion for performance, combined with a philosophy of working in partnership with manufacturers, has enabled Castrol to develop lubricants and greases that have been at the heart of numerous technological feats on land, air, sea and space for over 100 years. Castrol is part of the BP group and serves customers and consumers in over 140 countries in the automotive, marine, industrial and energy production sectors. Our branded products are recognized globally for innovation and high performance through our commitment to premium quality and cutting-edge technology.
Website: www.castrol.co.in
Tw handle: @Castrol_India