Left to right: Mr. Abdul Muktadir, Chairman & Managing Director, Incepta Pharmaceuticals, Sri. Jayesh Ranjan, IAS, Principal Secretary, IT, Electronics & Communications Dept. Government of Telangana, Sri. K T Rama Rao, Hon'ble Minister for IT Industries & Commerce, MAUD & NRI Aff­airs, Dr. KV Surendranath, USP senior vice president, Global sites & Dr. Salah Kivlighn, Ph.D., Senior Vice President, Global Strategic Marketing and Program, USP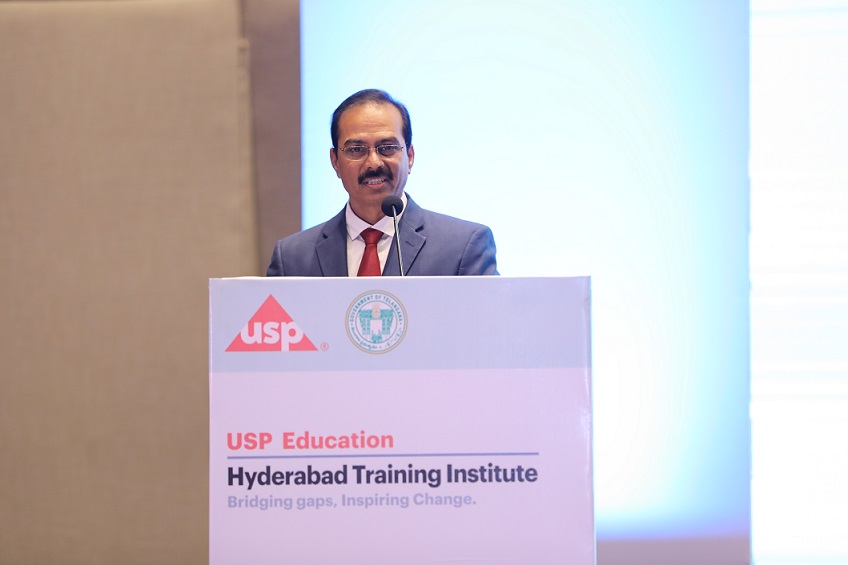 Dr. KV Surendranath, USP senior vice president, Global sites speaking at the launch of USP Hyderabad Training Institute

Government of Telangana formallyrecognizes the training institute's role in advancing the quality of medicines manufactured in India
USP is investing more than USD $1 million in establishing the training institute
Chennai– July, 2018: A new training institute was recently launched to help prepare recent university graduates and pharmaceutical professionals to contribute to a culture of quality in pharmaceutical manufacturing. The launch event for the USP Hyderabad Training Institutewas a collaboration between USP – an independent, scientific non-profit organization that sets quality standards for medicines, dietary supplements, and food ingredients – andthe Government of Telangana. The two parties signed a formal memo of understanding at the event to promotethe training institute to help prepare the pharmaceutical workforce for industry best practices to support a culture of quality in pharmaceutical manufacturing.
The Hyderabad Training Institute is designed to help bridge the gap between university programs and industry best practice, with intensive hands-on training aligned with regulatory guidelines and international medicines quality standards. The inaugural program starts in July and will be held at thenew USP facility inside the campus of G. Pulla Reddy College of Pharmacy, Hyderabad.
The agreementwas signed by ShriJayeshRanjan, principal secretary, IT, Electronics & Communications Dept.Government of Telangana and Dr. KV Surendranath, USP senior vice president, Global sites in the esteemed presence ofShri. KT Rama Rao, Honorable Minister for Industries & Commerce, IT E&C, MAUD, as well as other senior government officials and senior leaders from USP.
The Telangana government has identified skill development as a critical component of its work to propel the growth of the life sciences sector in the state."Telangana Government is developing the world's largest pharma city, medical devices park and also expanding the most successful life sciences cluster – genome valley 2.0 for rapid growth of pharma and life sciences industry in Hyderabad, and help reemphasize Telangana's position as a leader in Life Sciences," said Minister KT Rama Rao. "Under the aegis of the State's Life Sciences Vision Group, we are working on skilling programmes focused on various aspects and I strongly believe this collaboration with USP to impart training on quality, data integrity and regulatory aspects is an extremely important one," added Minister Roa, noting the USP Hyderabad Training Institute can help expand workforce capacity for these roles.
"The pharmaceutical industry needs the right set of skilled workers so that people throughout the world have access to the affordable, quality medicines they need," said DrKV Surendranath, USP senior vice president, global sites. "Establishing this training institute is a first step, and we hope to follow up with additional training institutes around the world," added Surendranath. "We are grateful forthe Government of Telangana's commitment to raise awareness about this specialized training, and how it can help industry professionals be ready to fully contribute to a culture of quality in pharmaceutical manufacturing," noting the program's alignment with India's National Skill Development Mission.
USP is investing more than USD $1 million in establishing the training institute, including building a state-of-the-art laboratory and classrooms at the G. Pulla Reddy College of Pharmacy.The organizationworked closely with government, policy makers, pharmaceutical and healthcare industry experts to develop the training programs offered by the institute. Faculty will include a broad array of experts in the field, as well as guest lectures from USP senior scientific staff and experts in industry and regulation.
To start, the training institutewill offer courses on quality control, quality assurance, and research and development, ranging from seven to eight weeks. The courseswill provide both theoretical and hands-on training designed to help students retain the content they've learned and apply it to practice. The courses will be open to recent graduates in pharmaceutical science, as well as the recent and existing workforce in industry who wish to enhance their skills.The institute will soon introducecourses on data integrity and specifications.
About USP
USP is an independent non-profit organization that collaborates with the world's top health and science experts to develop high-quality standards that set the bar for manufacturing and distributing safe and effective medicines, supplements and food around the globe. Two billion people world-wide have access to quality medicines, dietary supplements and food as a result of USP's standards, advocacy and education.