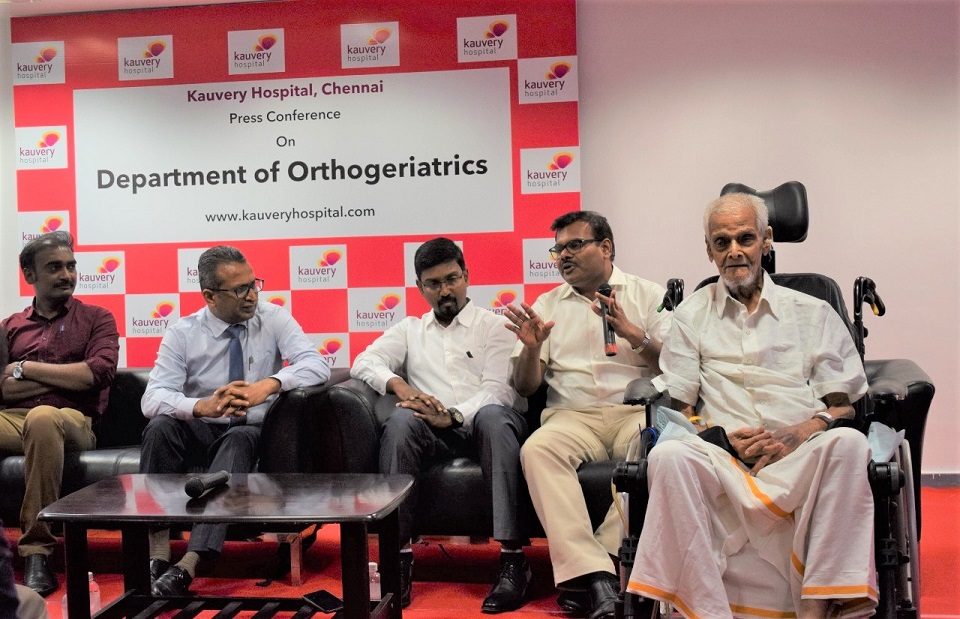 Left to Right: Dr. Velmurugan Deisingh, Anaesthetist; Dr. Aravindan Selvaraj, Executive Director, Kauvery Hospitals; Dr. Lakshmipathy Ramesh, Ortho-geriatrician; Dr. M. Lakshmi Naathan, Ortho Surgeon and Mr. P.R. Srinivasan.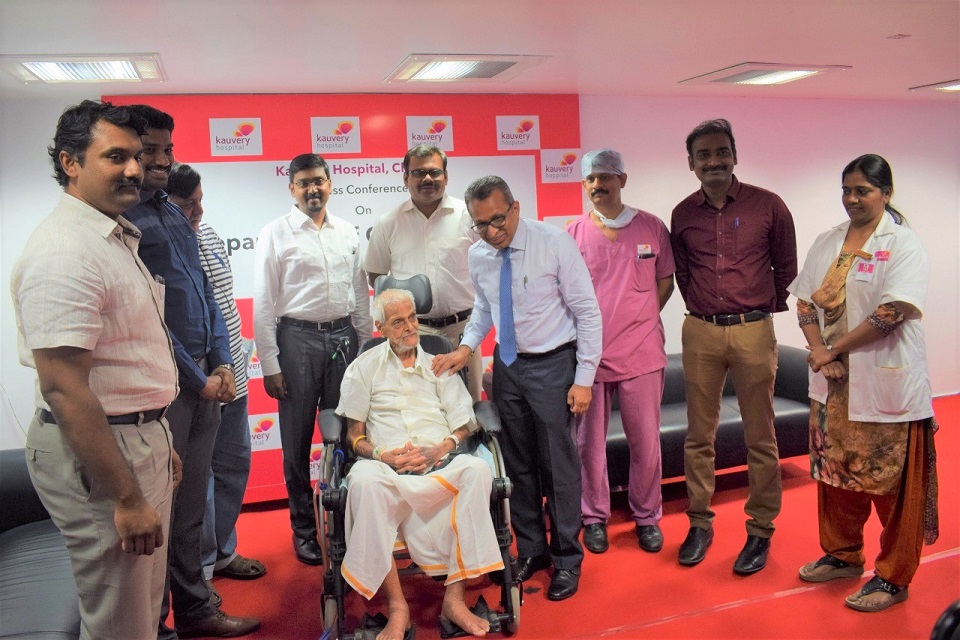 Mr. P.R Srinivasan and the entire Kauvery Hospital team who worked together for his speed recovery.

17th July  2018, Chennai:Kauvery Hospital, a leading multi-specialty and tertiary care hospital chain, successfully performed a complicated hip replacement surgery on a 103-year-old centenarian and an ex-Central Government employee, Mr.Srinivasan, from Chennai.
Doctors at Kauvery hospital saved Mr. Srinivasan from being bedridden for the rest of his life by carrying out a challenging surgery against many odds and in critical circumstances. He was brought to the hospital with a fracture to his left hip joint. With a multi-disciplinary team approach which included a collaborative care of team doctors, nursing care, physical therapist and dietician, holistic treatment was offered to Mr. Srinivasan.  He was evaluated by a team of Orthogeriatric doctors and was suggested for a hip replacement The surgery on Mr. Srinivasan was conducted on 12th July and he was kept in the ICU post operatively and was made to walk the very next day to everyone's astonishment. He was prescribed short-term anti-seizure medication to prevent any post-surgery seizures and, within days, he was discharged.
"The surgery itself was not complicated, but the fact that the patient was 103 years old presented a number of challenges," explained Dr. M. Lakshmi Naathan, the Ortho Surgeon who led the procedure. "The patient's bone was very weak and needed cement fixation of the implant. We had to also keep in mind that the patient's heart functioning was only 60 per cent.The surgery lasted for about 1 ½ hours and, upon recovery from anaesthesia, he regained consciousness immediately and the smile was back on his face."
Dr. Lakshmipathy Ramesh, the Ortho-Geriatrician who took care of Mr. Srinivasan said, "Orthogeriatrics is a new and emerging branch in the field of medicine that specializes in the management of fractures and arthritis in elderly people. It is a holistic treatment approach that involves team of doctors in various specialties in managing elderly patients. With advanced age, the heart, lung and kidney functions are compromised, and the bones get weaker and break easily following a trivial injury. A fracture in these patients used to beconsidered to be a permanent disability as these patients were deemed not fit to undergo surgery. They were mostly bedridden, restricting them to lifetime dependency and early mortality. Fortunately, nowadays, this concept has become a myth with improved healthcare and advanced treatment modalities."
"A 103 year old man with hip fracture walking on the first day of surgery is the dream and hope that the Orthogeriatric department at Kauvery Hospital offers to its elderly patients. This caseis yet another fine example of how Kauvery Hospital is emerging as a preferred destination for geriatric care, particularly for performing complicated surgeries," said Dr. Aravindan Selvaraj, Executive director, Kauvery Hospitals. "The success rate for hip replacements at Kauvery Hospital is on par with global standards and we operate on at least two patients above the age of 70 years on a daily basis. 'Mobility is life' – this is the guiding mantra of the Orthogeriatric Department of Kauvery hospital, which is the first of its kind in India. We aim to help elderly people be more independent and mobile following a fracture or disease and give them a new beginning by helping them to lead a normal and active life."