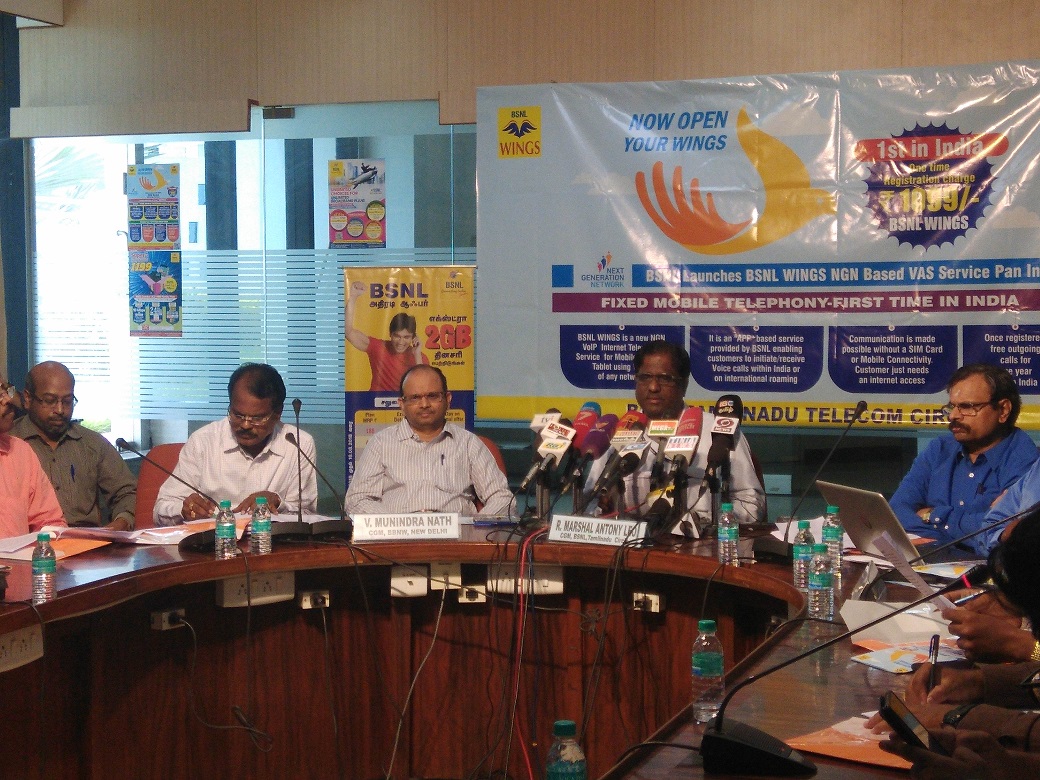 True Globalization is the proliferation of telecommunications. World is fully connected and has become almost "live" in all walks of life. Thanks to the Internet and Telephone for making it affordable to common man.  Now is the internet telephony introduced by Bharat Sanchar Nigam Limited, a Government of India enterprise through the State of the Art Next Generation Network (NGN) by their product named WINGS first time in India.
WINGS:
BSNL WINGS service is a new NGN VoIP service facilitating Internet Telephony service through Mobile/Laptop using any Internet Connection. Wings Fixed Mobile Telephony is an "APP" based voice service provided by BSNL which allows customers to initiate/receive VoIP calls within and outside the BSNL network either from his Laptop/Mobile. It is possible to make calls to any landline, mobile or BSNL Wings number. By using Packet Switching Technology it is made possible to make voice calls over any IP network through Mobile without a SIM card. Registration under Wings services will be commenced by 25h July 2018. Wings can be registered on any device such as PC, laptop or mobile on any network. The service is introduced with attractive minimum annual charges with no fixed monthly charges for free calling to any network in India. One time charge Rs1099/- for one year. Customer can submit a request for a new wings connection either through bsnl.co.in on-line portal or visiting nearby BSNL Customer Service Centre (CSC) for filling up a CAF and paying the annual fee.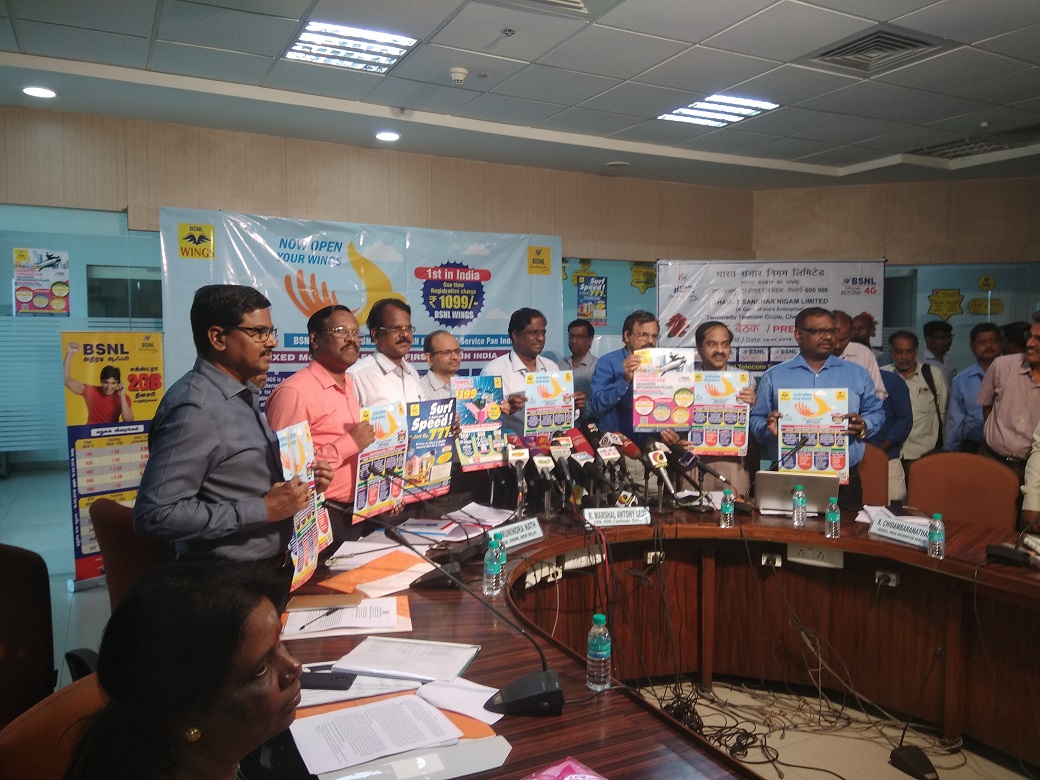 Wings Activation by customer:
A 10 digit unique number is allotted to the each WINGS customer once the CAF is submitted in the Portal/CSC and a 16 digit PIN will be sent to the customer through the registered mail for self-activation. After logging on to portal ngn.bsnl.co.in by clicking the activation link sent through mail, Customer has to enter the 16 digit PIN number and by following the steps given in the link, customer can set the username and password for Wings Number. Now the wings service is activated with username, domain, pass word. Once configured, calls can be made/ received as long as APP is running in the device and having Internet connection (Wi-Fi).  It can work with any private or public Wi-Fi access points. BSNL has approximately 25,000 public Hot spots across India covering all and tourist locations. In Tamilnadu BSNL has put up about 500 public Wi Fi hotspots. Wings can come handy for all internet / leased BB customers who are not having BSNL voice services.
OTHER VALUE ADDED SERVICES (VAS) FROM NGN:
Apart from Wings, four more NGN VAS Services are available:
All India IP Centrex: Form Groups between your friends/family and Business teams and avail unlimited calls within the group for a nominal monthly charges.
MMVC: Multi Media Video Conferencing upto 29 participants and can have non BSNL participants also.
Fixed Mobile Convergence: Converge all your incoming calls from all your devices to one number. Converge upto 8 numbers of BSNL fixed or mobile phone to one specified number.
Prepaid Fixed Telephony: Prepaid facility on fixed phone, no hassle of monthly bills at very nominal top up denominations.
BROADBAND ON OPTICAL FIBRE (FTTH):
BSNL is offering a very high speed data through OFC at an affordable rates. Two fibre Plans are introduced recetly  for 90 days on promotional basis. Fibro Combo ULD 777 with a speed 50Mbps upto 500GB-2Mbps beyond with 24hrs unlimited free calling to any network in India. Fibro Combo ULD 1277 with a speed100Mbps upto 750GB-2Mbps beyond with 24hrs unlimited free calling to any network in India.
PER DAY GB PLANS (BROADBAND):
BSNL has brought out GB plans for wire-line broadband customers. Depending on the required usage data, a customer can select the suitable broadband Plan. These plans are having a speed of 20 Mbps. BBG Combo ULD 45 plan with 1.5GB/day @ Rs99 per month. 5GB/day for Rs199 per month and 10 GB per day for Rs299. 20 GB per day plan comes for Rs491 per month. All these plans are having 24 hrs unlimited voice calling facility also.
Mobile Segment:
Promotional Offers 365 Days COMBO STV 1999
BSNL Tamilnadu Circle has introduced new Special Tariff Voucher STV 1999 for one year, a first of its kind in the telecom market.   The price of the plan is set as Rs 1,999 and comes bundled with 730GB of data for a period of 365 days at the rate of 2GB per day. The plan is also bundled with other benefits such as unlimited voice and 100 SMS per day as a package. With this tariff plan, BSNL takes on all the other operators.
2GB Extra Data offer:
To delight the data customers BSNL has announced 2GB Extra Data over and above the eligible data for the vouchers on select Plan vouchers of denomination Rs.186/429/485/666/999 and Special Tariff Vouchers of denomination and Rs.187/333/349/444/447. This offer is on till 16/08/2018
Unlimited data in Postpaid Plans:
All post paid customers of BSNL have a reason to rejoice with BSNL announcing  Unlimited Data for all post paid plans effective from 01/07/2018.Data Add on Packs , has also been made as unlimited.