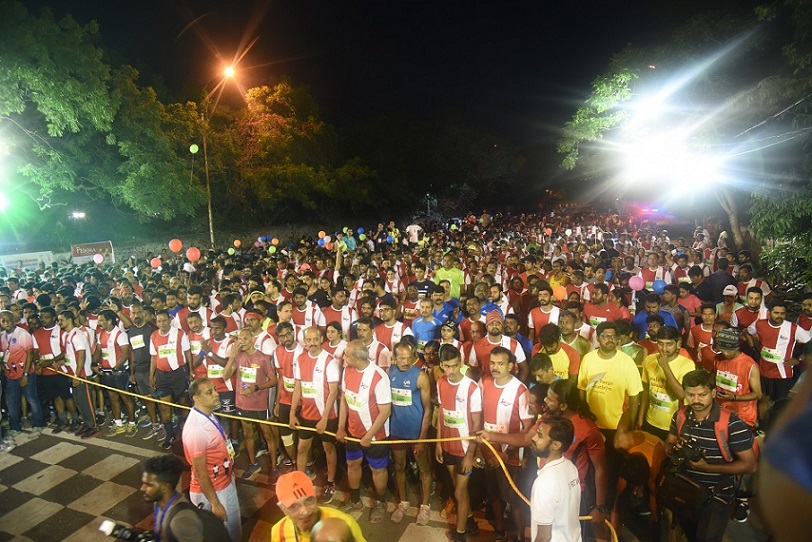 "Run So They Can Walk" Continues As The Driving Force 

Chennai, 22ndJuly 2018: GAVS DRHM 2018, Dream Runners Half Marathon, witnessed participation of an estimated 4000 runners from all over the country.  As in the past 6 editions, the proceeds of the Run will be donated to FREEDOM TRUST for Prosthetic Limbs for the economically challenged sections of the society. The event saw several families running insupport of the cause as in the earlier instances and was flagged off by Shri R Nataraj, Mylapore MLA and former Director General of Police, Tamil Nadu. He was joined by a few other eminent personalities of the city.
With amodest beginning in 2012, GAVS DRHM has now grown to become a signature event on the marathon calendar of Chennai. From a mere 450 runners in the first edition in 2012, GAVS DRHM has grown admirably year after year to about 4000 runners participating in 10kms and 21.1kmscategories. Participants are fromdiverse walks of life, are of varied ages and possess wide, unique capabilities. Women runners constitute about 30% of the participants of the event.
Members from 10 established chapters made up a large contingent, showcasing the positive influence of Dream Runners on the health and lifestyle landscape of the city. Many trainees, who enrolled for the Dream Runners' 'free structured training' program over the past 8 weeks, will enjoy their first 'big event 'experience event.
It's time to sweat to help others walk.
"Run, so they can walk", says the tagline of 7thedition of GAVS DRHM (Dream Runners Half Marathon). The runners will go back a happy lot as theywill be provided valuable merchandise like branded T-shirts, gym bags, and stainless steel water bottles as part of the race kit, in addition to the finisher's medals. An officially timed event using timing chips, podium finishers.
Being the 10th anniversary, Dream Runnders Foundation has come up with new initiatives:
Certified course measurement- Marathon course measurements are actually done by a scientific method. GAVS DRHM2018 has got this year's course measured and certified as per these scientific methods, which is a standard at all major marathon events.
'Go Green' Drive-Marathons have become notorious for the amount of single use plastic and paper waste they generate. In an attempt to reduce this footprint, the event is trying out for the first time, the use of Bagasse(sugar cane fibre-biodegradable) cups and plates to serve beverages at the aid stations and breakfast at venue. Runners are also encouraged to carry their own bottles for refills.
Ploggers- While runners are encouraged to not litter during the run by using provided bins, the event introduces in this edition, 'Ploggers' who will run the course of the vent right behind the participants and pick up any litter that has resulted enroute.
Shri Jayant Murali, Additional Director General of Police is an avid runner and has been running the event since DRHM inception in 2012. He is also championing the cause of organ donation by supporting the Mohan Foundation. He ran the entire course by duct taping his mouth and breathing only through the nose. This is actually a very difficult to do and requires tremendous practice of breathing techniques and control of the mind.
About GAVS DRHM2018: Founded in 2008 by fitness enthusiasts who wanted to change equation of fitness directly from gym to road running. Primarily, it was initiated to create awareness about fitness through running which was followed by the pursuit of goodwill to support causes such as suicide prevention and organ donation. Similar to the past couple of years, this year also DRHM is in association with Freedom Trust, an organization that provides Prosthetic Limbs for people from economically weaker sections of the society, to help with the proceeds of the event.