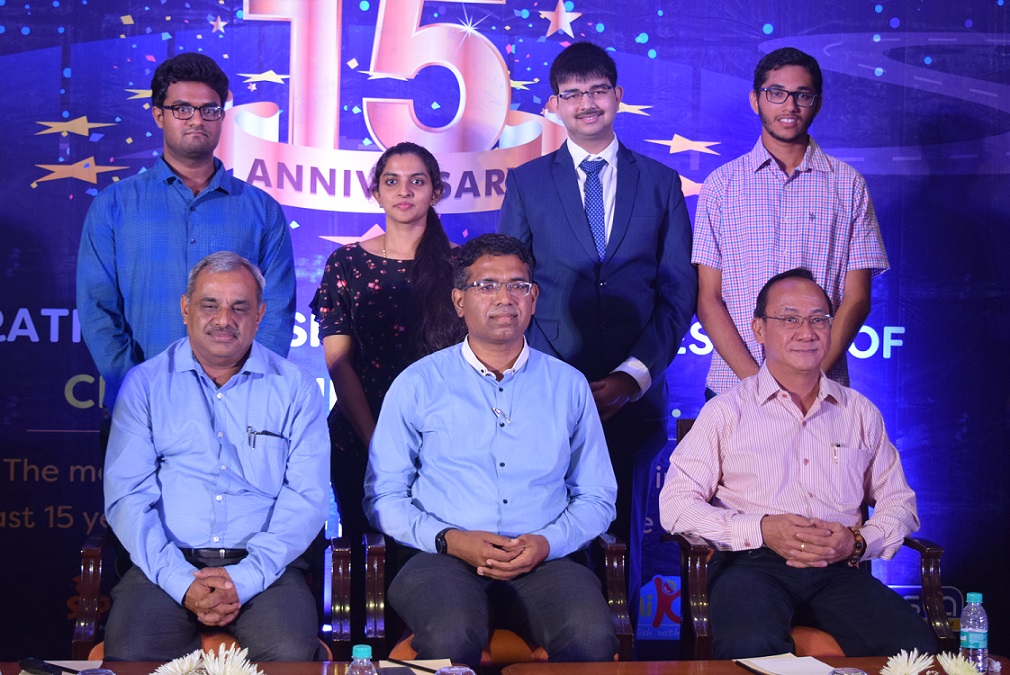 SIP Academy India Celebrates 15 Years in India
6th August 2018 :Over 7.6 lakh (0.76 Million !)children in India have benefited by having their mental faculties enhanced significantly through various programmes of SIP Academy India. Celebrating  their 15th anniversary, SIP Academy India organized a demonstration of various talents by their students which helped the latter excel in their academic pursuits besides instilling creative thinking and enhanced self-confidence. SIP Academy India also utilized this occasion to present several of their alumni who have now risen to significant heights in academic prowess and / or career pursuits. A special souvenir to mark the occasion was also released and several other national initiatives conducted in various parts of India to celebrate the 15th anniversary.
Speaking on the occasion, Mr Dinesh Victor, MD, stated that it was a matter of extreme satisfaction and pride for SIP Academy India in witnessing the success of their students. "We were among the pioneers in the concept of abacus training and creative thinking in children and while the journey has had its share of challenges, the results have been astounding. We believe every child has the potential for brilliance. The capabilities of the brain have always been lauded as infinite.However without a proper system of training most children don't achieve their potential.  SIP Academy India's world class programmes have helped children to achieve significantly more than they would have normally achieved.
While enjoying academic success, children have also been able to benefit from higher self- confidence as a consequence. It is indeed gratifying to note the immense success of several of our alumni, not only in India but in other advanced nations such as UK, USA, Canada, Australia, Singapore among others" said Mr Victor.
In his message congratulating the success of SIP Academy India, Mr Kelvin Tham, Founder of SIP Academy Malaysia stated that the Indian operations have been so very successful that SIPAcademy India have taken over the entire global operations. "SIP Academy India have achieved stupendous and unrivalled growth among the various franchisee nations. Consequently, they have taken over the global operations and emerged as an iconic model for the rest of the nations to follow" said Mr Kelvin Tham.
Founded in 2003 with one programme, 3 employees and a few franchisees largely in Tamil Nadu, SIP Academy India now runs 5 programmes, is present in 300 cities spread over 23 states and operates through 800 centres in collaboration with 300 schools of India. In 2016, SIP Academy India took over the global operations of the Master Franchisor and now the programmes run in 8 countries across the world.
Other national level activities planned to commemorate SIP Academy India's 15th anniversary
As part of its 15th year celebrations, SIP Academy India has planned the following initiatives:
SIP children plant trees to save their future
Across 15 cities, SIP Academy India franchisees, teachers, employees & partners will collaborate with the Government initiative and plant saplings to enrich the environment for our children's healthy future. The tree saplings will be sourced from the local Municipality and planted in the areas identified by the Government. This is planned on4th August 2018. A total of 8500 saplingswere planted in Chennai, Cochin, Hyderabad, Bangalore,Pune, Aurangabad, Jalgaon,Nagpur, Nanded, New Delhi, Kolkata, Patna, Ranchi, Jamshedpur and Bhopal. More than 1000 SIP members participated in this national initiative.
2800 SIP Children rally in prominent cities to create awareness
On 5th August, over 2800 SIP Academy India children undertook a rally across 15 cities to urge children of India to plant trees through the year. The emphasis is to plant 3 types of trees – Mango, Neem and Amla.
NEEM protects our environment in flood control, reduces soil erosion and less salination.AMLA as a tropical tree offers great medicinal properties. MANGO trees help to filter water, combat salinity, clean the air and increase flows into water catchments. They also provide food and shelter not only to humans but also to wildlife.
Awareness Creation Walk was also conducted by children in a few key locations:
Delhi – India Gate – Rajpath
Kolkata – Victoria Memorial Hall
Hyderabad – Necklace road
Bangalore – CubbonPark
Chennai – Besant Nagar Beach.
SIP Academy India have achieved several "firsts" its credit in its journey of 15 years :
It is the only organization of its kind to have enhanced the mental faculties of 7.6 lakh children in India.
It is also the first organization in the country to guarantee a minimum level of success in skill enhancement and development and introduce a "money-back" guarantee in case the same has not been achieved
SIP Academy India is the first company to run programmes to develop creativity in children on such a national scale
It is also the first children skill development company in India to have an online system across over 250 cities connecting all franchisees
It is the ONLY Abacus Company to take over International Operations of the parent
The first company to give a guarantee on reading skill enhancement to schools.
In addition, SIP Academy India has created hundreds of entrepreneurs of which almost 80% are women.
About SIP Academy India
SIP Academy India Pvt Ltd is a company headquartered in Chennai and operates through 800 centres in nearly 300 cities of India. Founded by Dinesh Victor, an IIT Mumbai and IIM Ahmedabadalumnus with a vision of creating a significant impact on the mental potential of children, SIP Academy India has been able to transform the vision into action … as demonstrated by the success of children through our various programs.
Working in tandem with over 300 schools across India, SIP Academy India have created a group of professionals committed to enhance skill development in children much earlier than it became a fashionable statement. SIP Academy India is unique in that it is a "For Profit Organization with a Social Enterprise". SIP Academy India fosters a culture of self-motivation, team spirit, professional freedom and fairness that enhancesorganizational performance.
SIP Abacus:
The arithmetic skills of our children in India are far below satisfactory levels and we are all aware that this is an important skill to be acquired at the primary & secondary school levels. SIP Academy India conducted its "Arithmetic Genius Contest", a competitive initiative targeted at classes 2, 3 & 4 in over 500  schools across India in 2017. Over 2 lakh children participated in this contest and the results of this initiative revealed that only 88,000 children (44%) could score above 25%. Vis-a-vis this grave situation, SIP Academy students confidently solve the complicated arithmetic sums in much shorter time-frame and with much higher degree of accuracy. Over 1 lakh children groomed through SIP Academy India have reported that their arithmetic skills have been enhanced as much as 5 times as compared to their pre-coaching levels.  The key benefitsreported by the parents include significant increase in the child's concentration levels, listening skills and visual memory, which increases their confidence and enhances the learning ability.
MI kids:
A survey conducted by ASER 2014 revealed that 32.5% of Indian school children could not even recognise the letters in their own mother tongue. SIP Academy India partnered with over 400 schools all over India with their MI Kids program, imparting English communication skills. This practice established in 2005 has led to over 62000 children completing all the primary modules of this program, with English reading ability averaging 35 words per minute.
Globalart:
Global Art is a unique programme that nurtures creativity in children using art with a distinctive methodology. The Global Art programme has been running in India since 2005. The systematic and structured curriculum is designed to use optimally the child's inherent love for drawing & colouring to explore ideas, express and translate them on to paper thereby helping them think out-of-the-box. Global Art also enhances the children's observation and concentration. So far, 55,000 children have been trained in the programmeand about 6,000 of them have gone on to do the highest levels, acquiring creative thinking skills and the confidence to excel in school and beyond.
SIP Amal:
SIP Amal is an after-school enrichment programme designed to develop life skills in young children in the 5-6½ years age group. A specialised programme, it is envisioned to make children smarter by making them an independent learner. It is running successfully in 375 centres across 18 states.
Vista Academy:
The Vista Abacus programme is child-focussed in its approach and has been developed after detailed research. It is designed to be part of the school curriculum and has been successfully running in Tamilnadu&Puduchery since 2009. Vista Academy has so far developed the arithmetic skills of over 50,000 school children and presently running in 21 schools covering 6000 children.