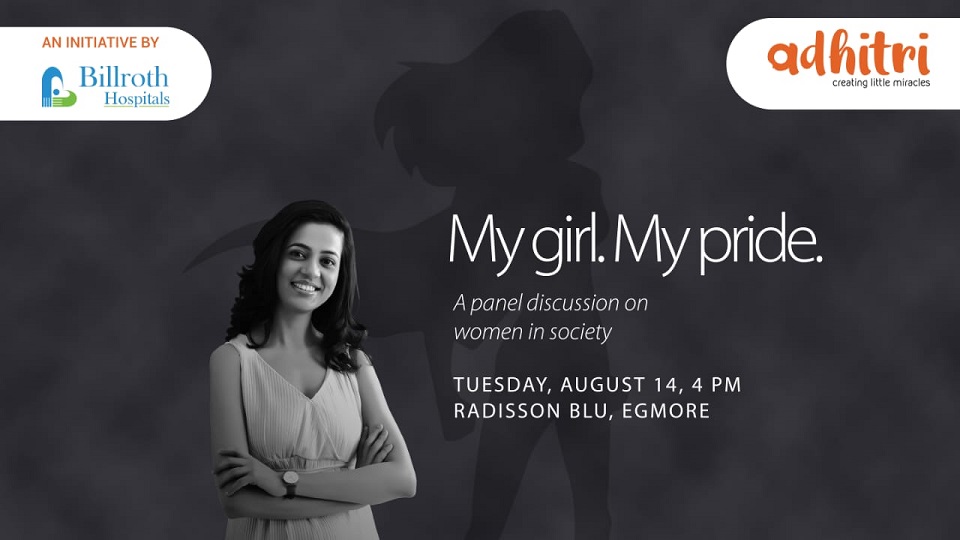 My Girl My Pride is a panel discussion presented by Billroth Hospitals –  Adhitri is one of Chennai's leading fertility centres with over 25 years of experience and one of the highest success rates. With the panel discussion, Adhitri wants to focus on the girl child with an emphasis on the challenges she faces, the opportunities that can be created and the support that she requires. My Girl My Pride will have an esteemed panel to spark ideas, share stories and in turn generates ways to act now to advocate change for the coming generations. From safety to economic disparity, from the difficulty of juggling myriad roles to the economic advantage of having thriving and confident women in society.
With 
My Girl. My Pride, Adhitri 
hopes to take the conversation forward and help create a better 
tomorrow
, for every child.  The panelists include Bhavani Devi – Fencing Champion, Sripriya – Actress, Arivazhagan – Film Director, Dr.V Rajini – Infertility Specialist  and Kirthi Jaykumar – Activist, Artist, Writer and the discussion is being moderated by Anna Isaac – Journalist.
The discussion will be moderated by  Anna Isaac, a journalist with just under a decade of experience working in organisations such as NewsX and CNN-IBN. She has now shifted to digital media and is the Deputy News Editor at The News Minute.