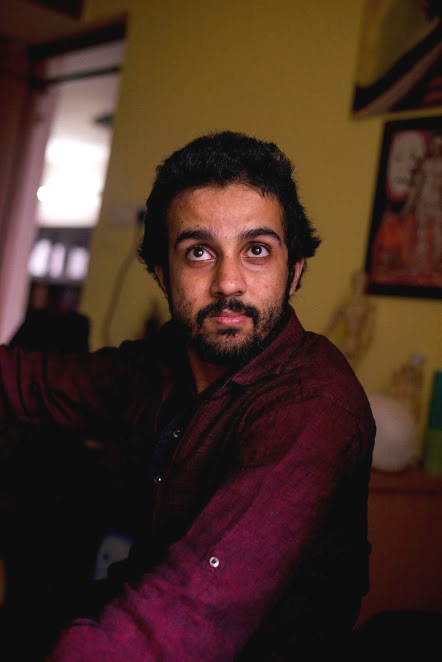 Chennai, 20th August 2018: Shreyas Shankar, a very energetic young artist from Chennai is eagerly awaiting his first ever art exhibition to be held  in the city at CP Art Gallery, Eldams Roads, Alwarpet on 26th August 2018, Sunday.
This art exhibition by Shreyas Shankar is termed "The Spiritual Spiral– An exploration into the language of the soul". It will serve as a showcase of his journey into the spiritual realm. It will also have many of his more conceptual works to kindle the interest of some of the more intellectually curious visitors. The exhibition will be inaugurated by celebrity Photographer and Artist Mr. V.S Anandhakrishna.
Commenting on his first art expo, Shreyas Shankar said, "In the spiritual world, it is believed that whatever we focus on, we will go towards in a spiral. The exhibit is aimed at giving the audience a look into how my spiritual journey has taught me everything I understand about the essential human being".
He has experimented with various techniques, styles and media. He does realistic pencil sketches, spiritual paintings and a lot of conceptual work.
About Shreyas Shankar:
Shreyas has always indulged himself in some form of art since his 11th grade in school. For the last seven years, he's honed his pencil sketching skills regularly. After school, he pursuedgraphic design and did art, martial arts and yoga on the side very seriously. It is after graduating with Graphic design that he took up painting as a profession. In the last one year,since the age of 23,Shreyas has done close to 60 artworks ranging from A3 size to 16sq.ft canvases.
He first got inspired to do martial arts like Kickboxing,Taichi andJiu Jitsu by watching Bruce Lee films. Very soon, he had also begun yoga under the guidance of Mr. Jaigopal from Satyanada yoga centre. Since Shreyas had no guidance for painting, he did whatever he could. He used the experience from his other strengths like meditation and fighting to do art. Various artists like Michelangelo, Da Vinci, Yayoi Kusama and Van Gogh are his inspirations.
Theme:The Spiritual Spiral – An Art Exhibition by Shreyas Shankar
Venue:CP Art Gallery, Eldams Road, Alwarpet, Chennai
Date:   26th August 2018, Sunday
Time:   10.30 AM – 8.30 PM