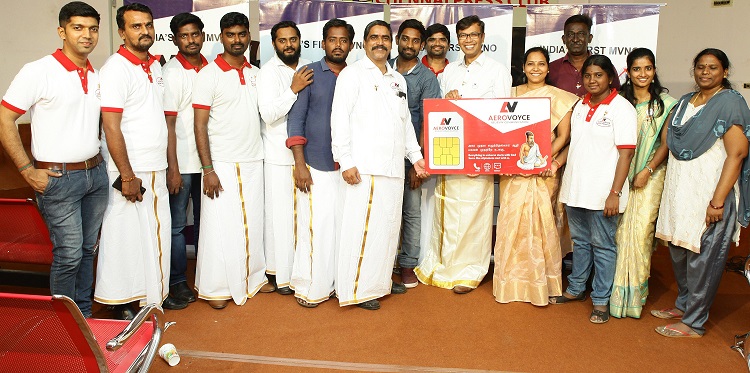 Chennai, August 2018: Our CEO and Founder of AEROVOYCE, Mr. Sivakumar Kuppusamy says,"At present, we take an immense pleasure in mentioning that we have special Independence celebration offer for all the families in and around India.
Our aim is to grow fast and strong by gaining loyal customers base in rural area's as well as tier 2 and tier 3 cities. we are introducing the world's first ever AEROVOYCE Family pack plan for Independence day celebration. As the plan implies, the speciality on providing the customer full unlimited life cycle benefits on subscribing the family pack.
We are in wide range on fast and feasible network era in which we are delighted on providing more efficient network coverage all over the rural, smaller towns, tier2 and tier2 cities of India.
AEROVOYCE Independence day celebration offer details:
Our CEO and Founder of AEROVOYCE, Mr. Sivakumar kuppusamy introduces, The world's first ever "AEROVOYCE Family pack" plan for Independence day celebration!!
As AEROVOYCE is committed to fulfill the communication need of a each and every members of a family with one price. The Main member (Husband or Wife) gets the first SIM which includes FREE 3/2 SIMs for their Wife or Husband and Daughters/Sons. So they can talk to their family as well as the whole AEROVOYCE subscribers for free. The main member enjoys the unlimited calls and 1GB per day data.
Benefits of AEROVOYCE family plan:
Continuous numbers – Family members will get the continuous mobile numbers for their family members (Example: If you choose 9385009911 then your family members get 938500912, 9385009913, 9385009914)
1 Price 4 SIM cards – On buying Family Pack, subscriber gets 1 main SIM card with one active plan, remaining 3 SIM cards are free with AV to AV plan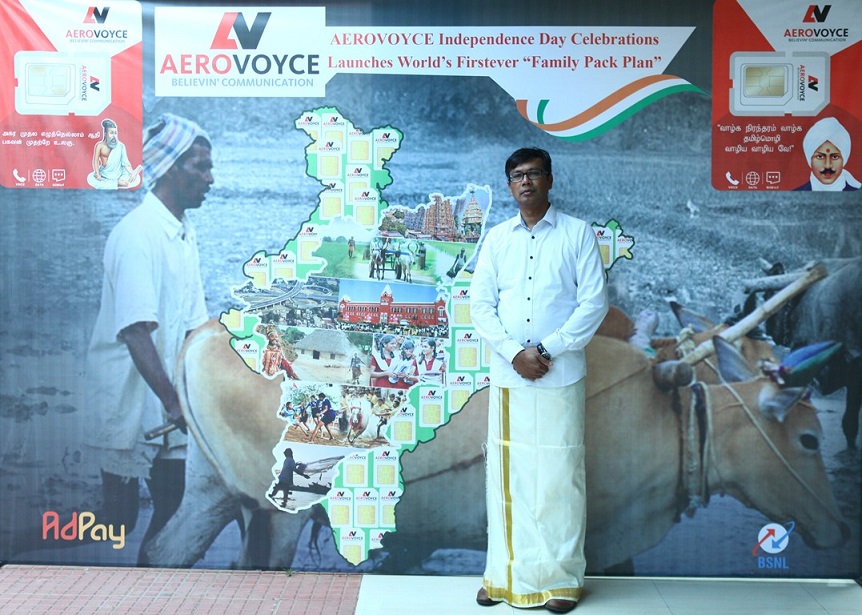 FREE AEROVOYCE Life Coverage Insurance Plan – FREE AEROVOYCE life insuruance coverage plan for customer after the successful activation of each family pack which covers maximum of 5L. A minimum guaranteed basic coverage of Rs.10000 comes FREE with each family plan.
Insurance
The person, who gets the primary number of the family pack, will get an Insurance of Rs.10000. This amount will be increased up to Rs.5 Lacs based upon his consecutive recharges with Family pack of all his primary and secondary numbers.
1). Rs.10000 in his kit if he recharges family pack for first 12 months.
2). For every year, if the user recharges the family pack for all 12 months, 10000 will be added to his previous amount.
3). For eg.
Second year: Rs.20000, Third year: Rs.30000 and so on.
4) 1 Lac will be added to the insurance amount at any time according to the efficient usage of the network by the customer.
Cashback offer – One time cashback of max Rs.5000 will be added when customer produces the bill for any mobile purchased from any shop anywhere in India. This cashback will be given back as equivalent benefit of OffNet voice and Data to the dependant 3 or 2 SIMs in the family pack.
Cashback
If the primary user gets a new mobile handset of any price 100% cashback will be given and Rs.5000 will be max limit of Cashback.
The cashback amount will be split into multiples of 500 and will be given for each family pack recharges for secondary numbers only. This 500 will be given as 3 GB data and 198 Minutes OFFNET calls for the secondary numbers.
3 Secondary numbers Pack: Each 1 GB data+ 60 minutes Offnet calls
2 Secondary numbers Pack: Each 1.5 GB data+ 90 minutes Offnet calls
(Note: Insurance and Cashback applies only to the family packs that are recharged for all consecutive months.)
AEROVOYCE other plans details:
AEROVOYCE's "Royal 1 Month" plan priced Rs 149 is now discounted to Rs 79 and comes with a validity of 28 days. The plan offers Unlimited Minutes for L + N Calls and 2GB Data/Day and 50 SMS for the validity period.
AEROVOYCE's "Royal 2 Month" plan priced Rs 399 is now discounted to Rs 169 and comes with a validity of 56 days. The plan offers Unlimited Minutes for L + N Calls and Unlimited 1 GB Data/Day and 50 SMS for the validity period.
AEROVOYCE's "Royal 3 Month" plan priced Rs 599 is now discounted to Rs 249 and comes with a validity of 84 days. The plan offers Unlimited Minutes for L + N Calls and Unlimited 1 GB Data/Day and 50 SMS for the validity period.
AEROVOYCE's "Master 1 plan" priced Rs 98 is now discounted to Rs 49 and comes with a validity of 28 days.The plan offers Unlimited AV to AV (On-Net) L+N Calls + Unlimited 1 GB Data/Day + 50 SMS for the validity period.
AEROVOYCE's "Master 2 plan" priced Rs 69 is now discounted to Rs 39 and comes with a validity of 28 days. The plan offers Unlimited AV to AV (On-Net) L+N Calls + 50 SMS for the validity period.
AEROVOYCE's best ever M2M/IOT plan priced Rs 29 and comes with a validity of 28 days. The plan offers 30mins voice calls (L+N) + 500mb data + 50 SMS. For any IoT devices like GPS tracking, car devices, this is a best fit. This comes also with e-SIM option.
AEROVOYCE is not in a compulsion to match any offers prevalent in the Telecom market, rather we can plan offers and package according to the market basic needs and newer markets we intended to capture. On availing this family pack offer users are more benefited than they think and we are so privileged on providing more and more offers to the rural, tier 2 and tier 3 city customers.
CEO's Vision and Words
AEROVOYCE to be a No.1 MVNO to taking mobile technology to self sufficient mobile services in Rural market. "Every Rupee should be justified for the services provided to customer" that's the mantra of AEROVOYCE . Our brand motto and tagline is "Believin' Communication" at cheaper and affordable price. We are aiming to give best service and affordability in the industry. AEROVOYCE sees a tougher challenge in the market, But it is ready with their powerful platform, services and attractive offers".
About AdPay and AEROVOYCE
AdPay is a Mobile Payment provider which supports Payment Solution and Mobile Operator's Payment (DCB)/Billing Gateway APIs. "India's First MVNO" in recognition from Department Of Telecom (DoT) under UL-VNO PAN India license in 2016. It was founded by Mr.Sivakumar Kuppusamy as a Swiss based NRI. AdPay Licensed as First VNO for PAN India and it serves as the best service provider and AdPay – BSNL Roll out the India's First MVNO telco service. Big courtesy to DoT (Department Of Telecommunication) and TRAI (Telecom Regulatory Authority of India) for their great support and approving AdPay (AEROVOYCE) as the very first UL-VNO licensee in PAN INDIA.
For further details, please contact:
Sanjay Babu – 94442 44089 / Tilak – 98847 52966
Ethos Public Relations, Chennai
Tel: 044 – 4356 2351