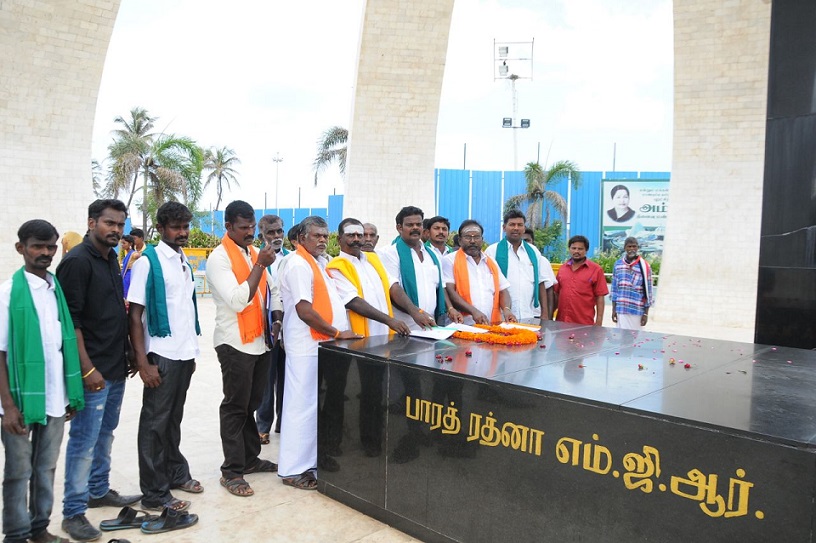 ·
Farmers placed a petition and a garland on the Samadhi of Shri MGR and proceeded on to the secretariat at Fort St. George
Chennai: Sterlite Copper closure has affected the farmers of Udankudi who took it upon themselves to travel to Chennai today (30.8.2018). Udankudi Farmers Associationand Green Revolution and Protection Forum of Udankudi together placed a petition and a garland on the Samadhi of Shri MGR and proceeded on to the secretariat at Fort St. George.
Mr. Dinakaran, President of Udankudi Farmers Association said, "We have submitted a petition appealing to the Chief Minister of Tamil Nadu to declare the Sterlite Copper plant open at an early date as the closure has affected the livelihood of the people of Udankudi and especially the farmers of the locality since the SPIC company which is supplying the fertilizers for farming has stopped supply due to non availability of Sulphuric Acid and Phosphoric Acid due to the closure of the Sterlite plant. In consequence the price of the fertilizers has gone up beyond the reach of poor farmers."
Green Revolution and Protection Forum of Udankudi's Head, Mr. Ganesan said "Despite its closure for four months and remaining sealed by the government for three months, Sterlite in Tuticorin district has started desilting channels in Udankudi region on 28th August 2018 purely on the request of local farmers.
It is important to note the fact that the excess water released from Sri Vaikundam dam can be stored in Udankudi canal after desilting and cleaning. This in turn will improve the livelihood of the people of Udankudi. We are grateful for Sterlite gesture and we request government to re-open the plant for the sake of this good deed which will benefit the farming operations in this area and families."