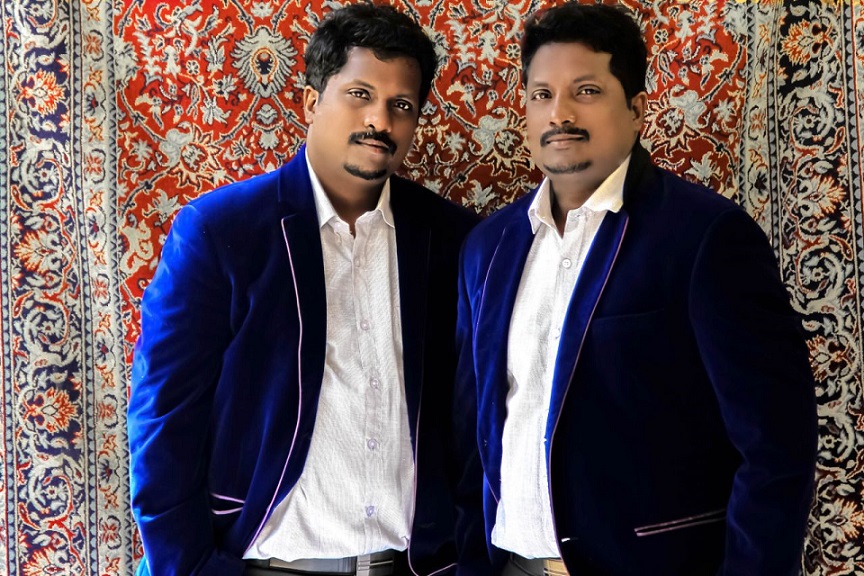 Twin brothers, Anub Ramhan and Arun Ramhan, have successfully established themselves as singer-song writers, music producers, and composers. Known as Twinz Chan, formerly Twinz Tunes, they are noted for their beautiful work in integrating Eastern Classical music with traditional orchestral instruments. In 2004, with the album 'Bodhi' being a major hit, Twinz Chan started gaining recognition from all parts of the country. This album was composed for the Indian cricketer Sreeshanth, celebrating his inclusion in the Indian Cricket World Cup. 'Bodhi'  includes eight songs, both in English and Malayalam,in which the song 'Sree Sree Thilakam Nee' gained popularity. With the twins' infectious enthusiasm, the big break in their career came in 2008. The song 'En Khalbiloru' from the Malayalam movie 'One Way Ticket' was the hard work of the twins' composing and direction skills. This debut song of theirs went on to be a number one hit song for a significant time.  The twins' splendid debut in the film industry set forth to various opportunities in the advertising industry. Twinz Chan went on to create many successful advertisements in Bangalore, Cochin and Mumbai.
To add more to the twins' venture, they helped to create a signature song for a Canadian based FM company, making them more exposed to the world.  The most successful of their triumphs was in 2012, with their breathtaking work of two songs in the movie, 'Puthu Mughangal Thevai', directed by Maneesh Babu and Audio released by Sony Music. The songs 'Karuvizhi' and 'En Uyiril' were transformed into beautiful melodies, certainly a milestone in their career. Sung by Haricharan and Shwetha Mohan, 'Karuvizhi' was produced by Winner Bulls Films. The songs were launched by the legendary tamil cinematographer Balu Mahendra, leading tamil industry directors Venkat Prabhu and Cheran, along with tamil industry fame Jayam Ravi.
Twinz Chan further established their mark in the music industry with the composition of 'Kavyadalangal', a lyrical masterpiece by Malayalam film industry fame, Kavya Madhavan. With 'Kavyadalangal', the twins were able to prove their composing and directing skills to a greater extent. The album consists of a song sung by Kavya Madhavan herself, for which the twins have done a wonderful work in incorporating the lyrics with their own music. Other artists who have worked along with the twins are Jyolsana, K.S Chitra, Vidhu Prathap, Rimi Tomy, Sujatha Mohan, Shwetha Mohan and Suchith Sureshan. This album was released by none other than Padmasree Mammootty and the legendary writer, O.N.V Kurup. The twins once again successfully gained recognition internationally by creating the IDSFFK signature song for the international film festival. In 2016, the twins worked their magic in the Malayalam comedy movie 'Popcorn', directed by Aneesh Upasana, starring Shine Tom and Soubin Sahir.
Presently, Twinz Chan are taking up projects, both in the advertising field as well as the film industry. A highly appreciated advertisement done by them was the Beevis Pickles advertisement in Kerala.  One of the most grand projects awaiting the twins is a Hollywood movie , which would surely help them get noticed widely. Apart from composing sound tracks, Twinz Chan is also known as one of the finest background-score composers in India. The reason why they stand out is because of the use of subtle orchestration and ambient sounds. The twins have composed background-scores for various documentaries for the Discovery Channel.
God's own country is recovering slowly after the devastating floods, It is very difficult to express the remorse each Malayali feels after enduring a disaster of such magnitude, All these unsaid word have been converted into a thought-provoking song dedicated to the strength and resilience of each and every Malayali. said Twinz Chan.(Anub Ramhan &Arun Ramhan) song Lyrics and Composed by Twinz Chan, and sung By Anub Ramhan.
In spite of success and fame having found the twins pretty early along their career graph, they continue to remain grounded and are busy with various upcoming projects in the South Indian film industry. All the achievements the twins have garnered so far are a result of their dedication ,hard work and the quality of their work. Anub and Arun have already begun to set their mark in the music world and soon enough, their music is going to be recognized worldwide.