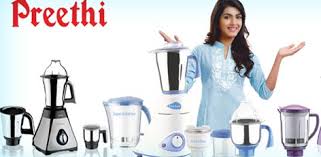 ~100% Free Service and Spare Parts~
Kerala, September 4, 2018: Preethi Kitchen Appliances extends its hand to help rebuild the flood-affected homes of Kerala. The flood relief service camp will continue till 11th September, 2018 and is for all Preethi consumers in Kerala.
Consumers can visit any Preethi Customer Care Centre or Authorised Service Centre to avail the free service. They will not be charged for any services and spare parts (including motors, PCBs and heating units). The free service is applicable to all Preethi consumers irrespective of the product warranty period. Every product will go through a comprehensive check-up to identify any flood related damages which will be repaired immediately.
The company has deployed a dedicated team of service technicians for the Free Service Camp. As a responsible corporate, Preethi has always been in the forefront of providing support to their consumers in distressing times. This initiative has helped Preethi express their gratitude for the support and love Preethi has received from the people of Kerala over the years.
To know the nearest Free Service Camp consumers can give a call or simply send a WhatsApp message to Preethi's One Call Assistance Number: +91 99400 00005.
About Preethi Kitchen Appliances Pvt. Ltd.
Preethi is India's largest Mixer Grinder brand and a leading Kitchen Appliances company present in over 15 Million homes in India and abroad. Its wide range of kitchen appliances include Mixer Grinder, Gas Stove, Auto Cooker/Warmer, Table Top Grinder, Induction Cooktop, Coffee Maker, Electric Pressure Cooker, Electric Kettle, Chopper, Hand Blender, Health Juicer and Electric Iron amongst others. Founded in 1978, Preethi has been known for its three pillars of growth which are also its core competencies-innovation, quality and service. Preethi has been a pioneer in the industry with innovations like 750W powerful motor, first of a kind silent motor, removable drip tray and extendable legs for gas stoves etc. The emphasis on quality is proved by the 215 quality tests that are performed on mixer grinders. Preethi has three state-of-the-art manufacturing facilities in Himachal Pradesh and Tamil Nadu along with an R&D facility to ensure consumers get innovative and technically advanced products. Furthermore, the importance placed on service is quite evident in the brand promise of lifelong free service. Preethi has 96 dedicated service centres to cater to customer queries. The "CII Award for Customer Engagement" is a proof of the importance of customers for Preethi. In fact, for every one sales-person, it has two service technicians. Preethi was also honored with the prestigious "Make in India" Excellence Award. It was the only brand to receive the award in Kitchen appliances category. Additionally, a Brand Attractiveness survey conducted by TRA Research Pvt. Ltd. adjudged as the "Most Attractive Brand" in the kitchen appliances category.