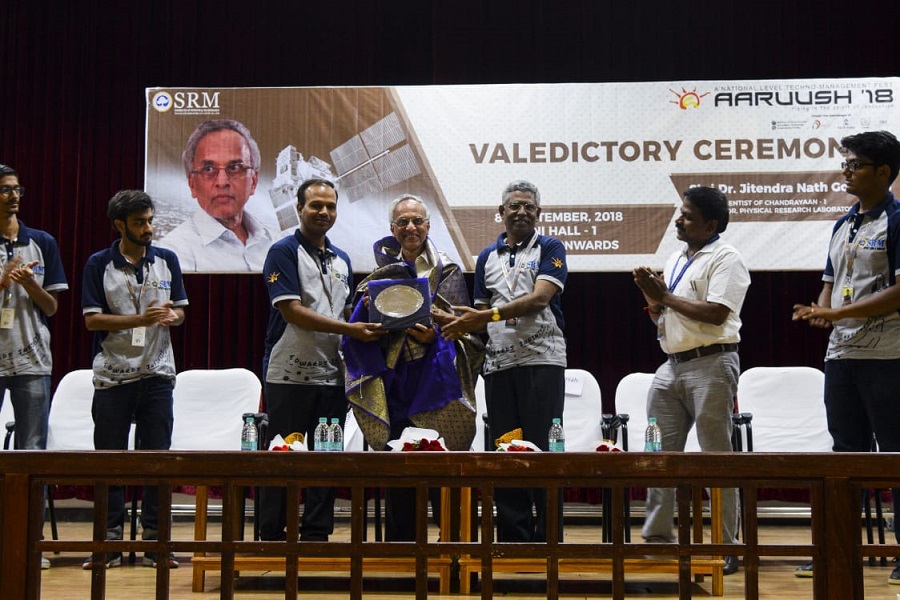 The four days of the glorious techno-management fest drew to a close after four days of ardor on the 8th of the September with the Valedictory Ceremony. The ceremony was held at Mini Hall 1 and began at 4:00pm.
The Chief Guest of the evening was Dr. Jitendra Nath Goswami who was felicitated by the Convenor of Aaruush, Mr. A. Ratinam. The ceremony was moderated by emcees.
The evening began with the welcome address by the organiser of the domain Architecture / Events Mr. Noah De Horta Rebeiro. The speech was directed towards extending immense gratitude towards all the participants, faculty head and the organizing committee who worked tirelessly to make the four days go by effortlessly. They spoke of their experience as a member of the core team of the 12th edition of Aaruush and how they hope to have done justice to the legacy of Aaruush and look forward to seeing the flag flying higher in the future editions.
This was followed by a speech by the organiser of Sponsorship and Marketing, Mr. Raton Arora who delivered the Aaruush report. He overviewed the four days of the fest as well as the pre-Aaruush events and gave the audience an insight on how successful the event has been and summarized the events, guest lectures, workshops, and expos held through the course of the fest.
This was followed by the emcee calling on the Chief Guest, Shri Dr. Jitendra Nath Goswami to deliver a speech who addressed the gathering and spoke of his field of work and mentioned the various indigenous efforts made to actualise the Indian vision of space exploration. He eve played a video about the Mars Orbiter Mission, for the audience. Thisleft the attendees immensely inspired.
After this Financial Advisor of Aaruush and the Dean of Marketting took to the stage who extended thanks to the patrons of Aaruush and the driving forces behind the fest. He emphasized on the vision of Aaruush and the need to touch greater heights with every edition.
The Valedictory came to a close with the Vote of Thanks delivered by the *name* and expressed gratitude towards the chief guest of the day, the patrons Dr.V.M.Ponniah, Dr.C.Muthamizchelvan, Mr.VThirumurugan, and Dr.ARathinam for their undying support and guidance, the media partners *name* , the support staff who were the silent task force behind making the event a success and lastly the audience for being patient, enthusiastic and  the constant reason for motivation of the organizing work force. The constant hardwork of the college and the students was appreciated and applauded.
ThePROofAaruush'18,YagneshChauhanthankedtheChief Guest and the facultiesforgravingtheeventwiththeirpresence.Healso thanked the whole Aaruush'18 team for their constant effort and help to takethis edition of Aaruush to a whole new level of success.
The Event ended by paying respect to the National Anthem.
Aaruush'18 was announced  officially closed.