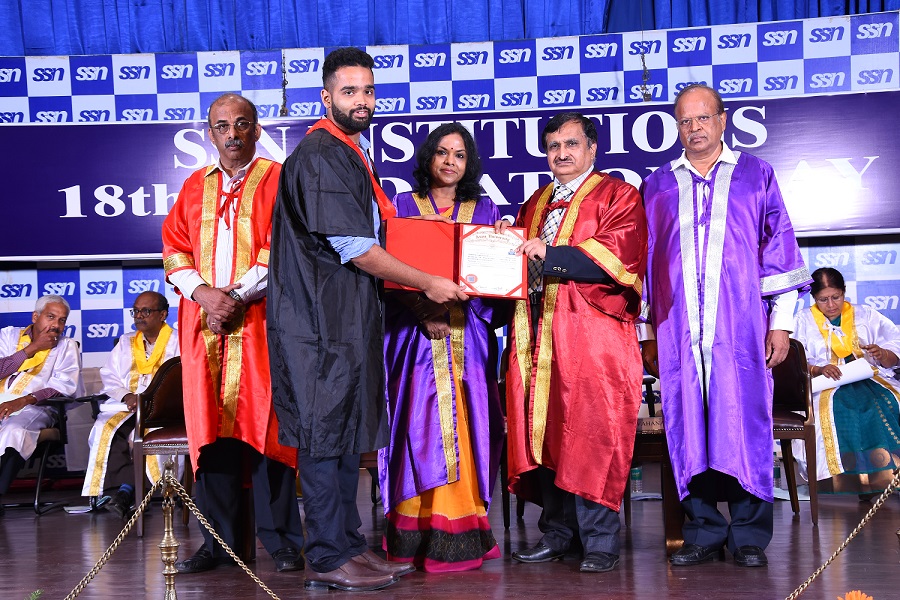 "Engineers of today face real time challenges and problems" –Dr. MK Surappa, Vice Chancellor, Anna University at Eighteenth Graduation Day of SSN College of Engineering.

Chennai, September, 2018:"With the era of growth and liberalization the new generation of engineers of today are facing newer challenges." said Dr. MK Surappa while giving away medals and certificates to the graduating students at Eighteenth Graduation Day of SSN College of Engineering held recently at its campus at OMR. A total of 1180students were conferred the degrees. Of these 832 were undergraduate students and 348 were post graduate students. A total of 192 students received first class with distinction.
Mrs. Kala Vijayakumar, President; Dr. S. Salivahanan, Principal and Mr. B. Srinivasan, DeanManagement werealso present on the occasion.
In his Graduation Day Address, the Chief Guest added"The engineers of today face diverse challenges and problems such as calamities induced by climate change, ecological destruction and water. The engineers of today are fortunate to be living in this era of technology and have far bigger opportunities. Today colleges like SSN are at par with top institutes and the engineers should make use of these opportunities and try to serve the country."
In 2017,over 150top notch companies visited the campus and rolled out around 1400 offers to SSN students. The prominent companies that visited the campus includedAmazon,Goldman Sachs, SAP labs, Dell, NationStar Mortgage, Global analytics, Dow Chemicals,  L&T,MuSigma,CTS, Infosys,Accenture,HCL,and Wipro.
Amazon made the highest offer of 27LPA (in terms of CTC) to twelve students of SSN.It is to be noted that the college has secured a placement record of more than 93% during the last 10 years and around 25% of students are pursuing higher education abroad in renowned Universities such as Harvard University, Standford, London School of Economics, Carnegie Mellon, Georgia Institute of Technology,  Arizona State University among others.
Speaking on the occasion, Ms. Kala Vijayakumar said that it was very satisfying to see the students placed in various meritorious positions across a wide spectrum of engineering, manufacturing, and IT industries. She added that the graduates have much to look forward to as they have acquired good grounding in academics and holistic development from the exposure to various extra-curricular activities and sports from the institution. They have a lot to be proud of as they step out of the college as world class socially responsible citizens of tomorrow's India.
About SSN Institutions
SSN Institutions is located on Old Mahabalipuram Road, the 'Cyber Corridor' of Chennai. The campus is spread over 250 acres with a built-up area of over 1.9 million sqft and is equipped with state-of-the-art infrastructure for learning that includes computers and Internet facilities networked by optic fibre links, modern workshops & labs, seminar halls, auditorium, libraries, gymnasium, a sports complex and separate hostels for men and women. The entire campus is wi-fi enabled and 24×7 internet access is available to all students and faculty. The total students' strength is 4200. SSN has one of the highest percentages of PhD holders in its faculty amongst all private educational institutions. SSN Institutions currently comprises College of Engineering, School of Management, School of Advanced Software Engineering and the Research Center.
Driven by the vision of its founder Dr Shiv Nadar, Chairman HCL Technologies, SSN Institutions stand out as a premier centre for higher learning with a mission of pursuing excellence in education and research.