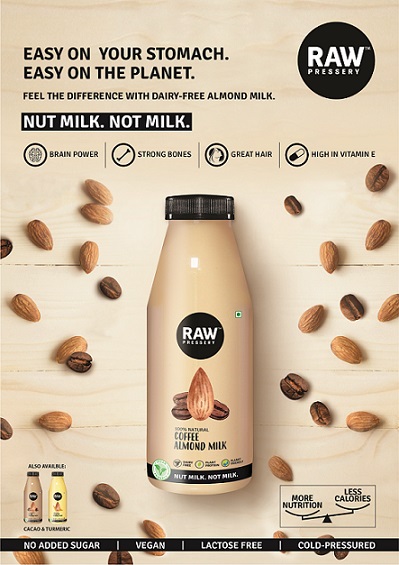 To drink is a necessity, but to drink intelligently is an art. Raw Pressery welcomes this festive season with an exciting range of almond milk products in order to help balance the loads of junk that will be lavished this season. Along with the celebrations and joy this season opt for the healthier option to double the celebration.
As it is said, let food be thy medicine and let medicine be thy food, the nut milk range is the best option to lead a healthier life. It is also an amazing alternative for vegans and people who are lactose intolerant. With no added preservatives, colour, chemicals or sugar the Raw Pressery nut milk
collection helps you give a healthier kick-start to the day.
Almond nut milk comes with high fiber, essential protein, vitamins and calcium. It's available in three delicious flavours – Cacao, Coffee and Turmeric. The all-so-healthy almond has grown from  being a snack-on-the-go to now being a cold-pressed milk.
So this festive season celebrate yourself by springing into the healthy way of living by keeping it raw and natural, because you must own your beauty inside out.
We would be happy to share additional information about the product along with some product samples if you could like to try some.