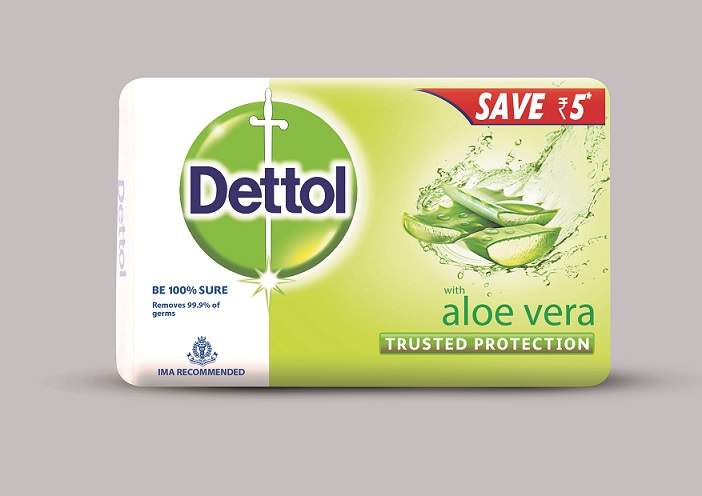 ~Provides 99.9% protection against germs& also takes care of your skin~

India / Chennai, 11September 2018: Dettol, the leaderin antiseptic soap category,today launched 'Germs ka Filter', Dettol Aloe Verasoap, enriched with soothing Aloe Vera that keeps your skin protected from germs. External environmental elements like pollution and dust carry various germs and results in skin problems.The new Dettol with soothing Aloe Verasoap promisesto provideProtection from 99.9% germs.
Pankaj Duhan, Chief Marketing Officer, RB South Asia Health, "Dettol is the No. 1 trusted partner for health and we constantly thrive to innovate and create solutions based on consumer insights.We realise that skin problems are on a rise and one of the prime reasons for this is germs. With decades of proven expertise in germ kill, Dettol has now introduced the same trusted protection with soothing Aloe Vera to take care your skin. With this launch we are connecting with discerning consumers who are seeking protection from germs andlooking fornatural ingredients in a product that is gentle on the skin. We are hopeful to create a positive market response with this new launch."
Dettol Aloe Vera soap is suitable for all skin typesthat comes in single pack of 100 gm at INR Rs. 39and 100 gm multipack of 3; at INR 112. It is available across, grocery stores departmental stores, pharmacists in India and leading e-commerce websites.
Please view the advertisement of the new Dettol Aloe Vera with the link below:
https://www.youtube.com/watch?v=pSHOWCzQBb0
https://www.youtube.com/watch?v=W56ltRPu5II
About RB:
RB* is the global leading consumer health and hygiene company. Driven by a purpose to build healthier lives and happier homes, RB has operations in over 60 countries. From the foundations of wellness and infant nutrition, to the fundamentals of a hygienic home, its global brands help people live healthier, happier lives. RB has world leading Powerbrands which include household names such as Dettol, Harpic, Lizol, Veet, Durex, Strepsils, Mortein, Vanish, Air Wick, Enfamil, Nutramigen, Nurofen, Strepsils, Gaviscon, Mucinex, Scholl, Clearasil, Finish, Calgon, Woolite. RB's unique culture is at the heart of its success. Its drive to achieve, passion to outperform and commitment to quality and scientific excellence are manifested in the work of over 40,000 RB employees worldwide.
For more information visit https://www.rb.com/