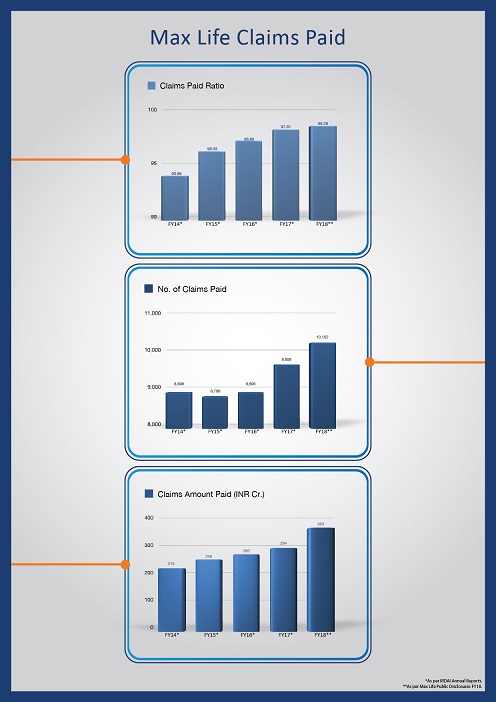 Paid 10,152 death claims amounting to Rs. 353 Crore in FY 17-18*
New Delhi, 17 September, 2018:Max Life Insurance Co. Ltd, one of the leading life insurance companiesin India, announced that the company has paid 10,152 individual death claims amounting to Rs. 353 crores, thus achieving claims paid ratio of 98.26%in FY 17-18. This is a further increase over FY 16-17, when the company paid 97.81% of thetotal individual death claims received.In FY 17-18, only 178 death claims were rejected and at the end of the financial year only 2 cases were pending for closure.
As per IRDAI annual report for FY 2016-17 released in Jan'18, Max Life Insurance has superior individual death claims paid ratio during the said fiscal year, thus making it a company thathas maintaineda strong claims paid ratioconsistently for the past 4 years i.e. from FY 14-15 to FY 17-18.
Talking about the achievement, Mr. V. Viswanand, Senior Director and COO, Max LifeInsurancesaid, "In line with Max Life Insurance's vision, mission and values we have aimed atour claims philosophy to be the "fairest, fastest and friendliest" as an importantpillar of TCF – Treat Customer Fairly.Through a dedicated claims officer, we also provide guidance to help claimantsthroughhassle-freeclaims process. In a country which has low protection penetration, high claims paid ratio provides the assurance to life insurance customers that their families will be safe in case of any eventuality and thus encourages them to opt for pure protection products".
Over the years, Max Life Insurance has consistently improved its claims paid ratio without compromising onits efficient underwriting controls and robust fraud management. This has been made possible using both analytical and technology interventions. The Company has introduced predictiveanalytical models, robust checks at the time of policy solicitation in high-risk geographies and geo-tag enabled field or video verificationsof customers through its Risk Management Unit.
*basis Max Life Public Disclosures 2017-18
About Max Life Insurance Co. Ltd. (www.maxlifeinsurance.com)
Max Life Insurance, one of the leading life insurers in India, is a joint venture between Max Financial Services Ltd. and Mitsui Sumitomo Insurance Co. Ltd. Max Financial Services Ltd. is a part of the Max group, which is a leading Indian multi-business corporation, while Mitsui Sumitomo Insurance is a member of MS&AD Insurance group, which is amongst the leading insurers in the world. Max Life Insurance has a vision to be the most admired life insurance company by securing the financial future of its customers. Max Life Insurance offers comprehensive long term savings, protection and retirement solutions through its high quality agency distribution and multi-channel distribution partners. A financially stable company with a strong track record over the last 18 years, Max Life Insurance offers superior investment expertise. The company has a strong customer-centric approach focused on need-based sales and quality service delivered through its superior human capital.
During the financial year 2017-18, Max Life Insurance achieved gross written premiumof Rs. 12,501 crore and had sum assured in force of Rs. 5,11,541 Crore. As on 31st March 2018, the Company had Rs. 52,237 crore of assets under management (AUM) and a share capital including reserves and surplus of Rs. 2,689 crore. The Company has more than 32 lakh customers serviced by its 10,226 employees and 54,791 agent advisors through 210 offices across the country.