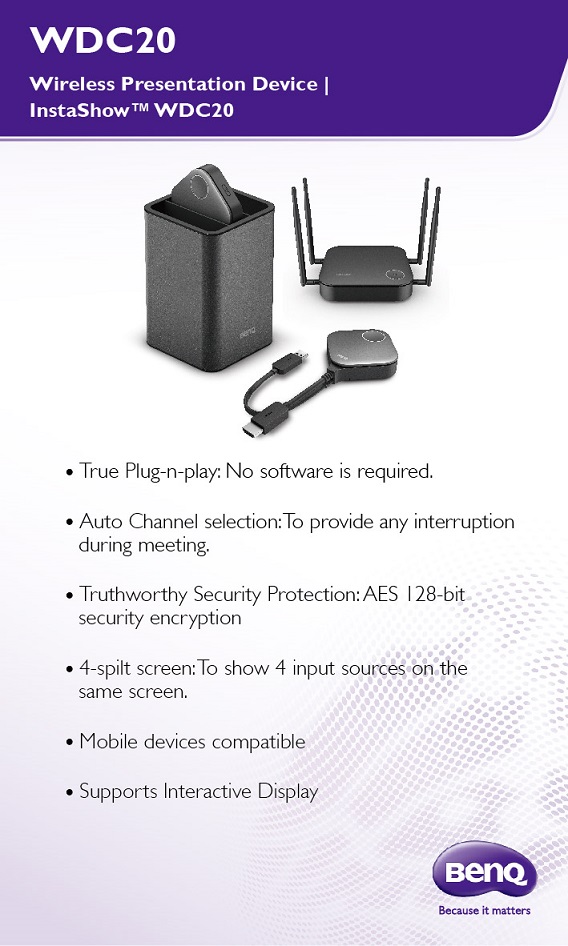 Introduces InstaShow WDC20 a wireless meeting collaboration system for corporate boardrooms

National, 19 September 2018 – BenQ, an  internationally renowned provider of visual display solutions, unveiled its pioneering product range of solutions today including latest range of laser projectors, digital signages and interactive flat panels for various segments such as business, home and retail.
Continuing its focus on collaboration, BenQ launched WDC20 a plug-and-play presentation system that wirelessly connects a user's computer to a central display or projector. InstaShow WDC20 is the latest addition to the wireless meeting collaboration system solutions by BenQ. A plug-and-play presentation system that wirelessly connects a user's computer to a central display or projector.
Addition to this, BenQ also unveiled its new LU951ST BlueCore laser projector for Flexible Short Throw Installations which is the latest addition to its BlueCore range projectors. BenQ LU951ST delivers breath-taking WUXGA images with pristine DLP picture quality, with 20,000 hours of guaranteed maintenance-free high brightness output from its BlueCore laser light source. Featuring just-right installation flexibility of highly adjustable horizontal and vertical lens shift, big zoom, 360o projection, and digital image resizing with memory, LU951ST transforms compact venues into immersive exhibitions with short throw projection. And with HDMI out, LU951ST is perfect for multiple screen displays and unique applications.
BenQ, the No.1 player in the Indian Projector Market with a market share of 29% in H1 2018 (Futuresource Consulting) also unveiled its latest laser projector BenQ LK990, which is designed for fixed installation environment with high ambient light to display high quality visual entertainment contents. The only fixed lens laser 6000 lumens in projector offers true 4KHDR, creating true-to-life details and vivid color for audience.
Talking about the new solutions, Rajeev Singh, BenQ India Managing Director, stated, "BenQ will remain to employ extensive resources and proven expertise in product design, visual display with the hope to delight the world, offering a diverse range of products, services and solutions from digital projectors, professional monitors, interactive large-format displays, imaging solutions, mobile computing devices, to LED lighting solutions. BenQ always strives to create remarkable and innovative leading technologies. This new range of BenQ products are curated with innovation and creativity offering the best of experiences to the business as well as the retail sector."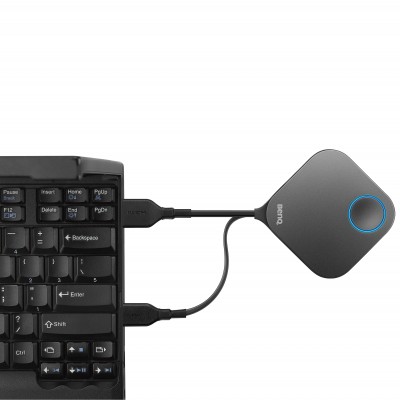 Key features of the new products include:
Polymer Dispersed Liquid Crystal (Patterned Smart Optical Film/Glass)
PDLC are designed to maintain privacy and see through capability. A PDLC offers both clear projection effect and translucent projection effect. Ideal to use for meeting room-partition-wall to provide the all-in one function of privacy, see-through and projection screen. The products can instantly change from opaque to transparent mode by simply switching the power on and is able to bring the benefits of privacy protection, UV block, and heat block.
By engraving logo or pattern on PDLC films, PDLC products can be widely applied for diverse commercial applications. Retailers can show the open / closed message in an environmental-friendly way. The bakery can show its tasty bread image to attract customers. The application also can be used for the hospital. A window / glass not only can provide patients or staff with personal privacy but also enables to offer simple information. Instant change between opaque and transparent modes to provide flexible privacy protection as well as see-through capability by simple and convenient power on/off switch. The function of electric-curtain is also available to reduce the cost and maintenance of traditional curtains or blinds. A PDLC as well as a projection screen to offer both clear projection effect and translucent projection effect. Ideal to use for meeting room-partition-wall to provide the all-in one function of privacy, see-through and projection screen.
For more features, please visit – http://www.benqmaterials.com/en-ww/product/film_detail.php?SID=14
WUXGA Installation Laser Projector with 5000 Lumens | LU951ST
With an impressive WUXGA (1920 x 1200) native resolution that far exceeds Full HD 1080p, BenQ LU951ST BlueCore laser projector offers greater details and stunning image clarity when projecting high resolution images. LU951ST laser projector creates strikingly clear images with stratospherically high 100,000:1 native contrast ratio for true deep blacks, vivid rich colors and fine subtle details. LU951ST also features spontaneous response, requiring no wait to turn on or resume from blanking in true black for flexible performance capability. BenQ laser projectors are based on the absolute reliability of the 1-chip DLP design. The highly durable DLP chip can last over 100,000 hours without degradation, ensuring true-to-life colors and pristinely legible text over countless uses.
For more information, visit –
https://business-display.benq.com/en/findproduct/projector/installation-projectors/lu951st.html
InstaShow WDC20 – Wireless Presentation Solution Scalability: One Button to Start Full HD Wireless Presentations
Enhancing corporate efficiency and agility, the InstaShow WDC20 is compatible with all mobile devices along with operating systems, and any display with an HDMI® port including BenQ's projectors, interactive flat panels and monitors, making it an ideal presentation solution for any meeting room or collaboration space. Featuring True Plug-n-play and AES 128-bitsecurity encryption, the new InstaShow WDC20 is a wireless presentation device that ushers opportunities in network collaboration without additional facility investment or training. The new InstaShow WDC20 supports mobile devices and up to four different split screens. The new feature greatly improves working efficiency between colleagues. It will be available from November 2018.
*Compatibility requirements: USB/HDMI ports on source laptop and HDMI input on display device.
These new range of products and solutions are exclusively being showcased for the first time in India at the Infocomm 2018, in Mumbai from September 18- 20, 2018 at Bombay Exhibition Centre (Stall no E25)
To know more about this exciting product, follow BenQ India on Facebook & Twitter
n  About BenQ Corporation
Founded on the corporate vision of "Bringing Enjoyment 'N' Quality to Life", BenQ Corporation is a world-leading human technology and solutions provider aiming to elevate and enrich every aspect of consumers' lives. To realize this vision, the company focuses on the aspects that matter most to people today – lifestyle, business, healthcare and education – with the hope of providing people with the means to live better, increase efficiency, feel healthier and enhance learning. Such means include a delightful broad portfolio of people-driven products and embedded technologies spanning digital projectors, monitors, interactive large-format displays, audio products, cloud consumer products, mobile communications and lifestyle lighting. Because it matters.
n  About BenQ Group
The BenQ Group is a $22+ billion powerhouse comprised of nearly 20 independent companies operating in over 30 countries across numerous industries with a combined workforce of over 100,000 employees.  Each Group member is a recognized leader in its own field, contributing to the BenQ Group's vast resources, broad R&D, and distinct strategic strengths.  By leveraging each company's vertical specialization to create true scale across horizontal markets, the BenQ Group controls a highly efficient value chain with the unrivaled ability to deliver critical components and world-class solutions in the following industries: TFT-LCD, green energy, fine chemicals and advanced materials, lighting, IC design, precision components, system integration, branded business, and service.  The Group is committed to profitable and sustainable businesses that share its long-standing vision of Bringing Enjoyment 'N' Quality to Life.
The BenQ Group companies are:  BenQ Corporation, AU Optronics Corporation (world's top manufacturer of large-size TFT-LCD panels), Qisda Corporation, Darfon Electronics Corporation, BenQ ESCO Corp., BenQ Materials Corp., BenQ Guru Corp., BenQ Medical Center, BenQ Medical Technology Corp., BenQ AB DentCare Corp., Daxin Materials Corp., Dazzo Technology Corp., Darwin Precisions Corp., Lextar Electronics Corp., LILY Medical Corp. and Raydium Semiconductor Corp.