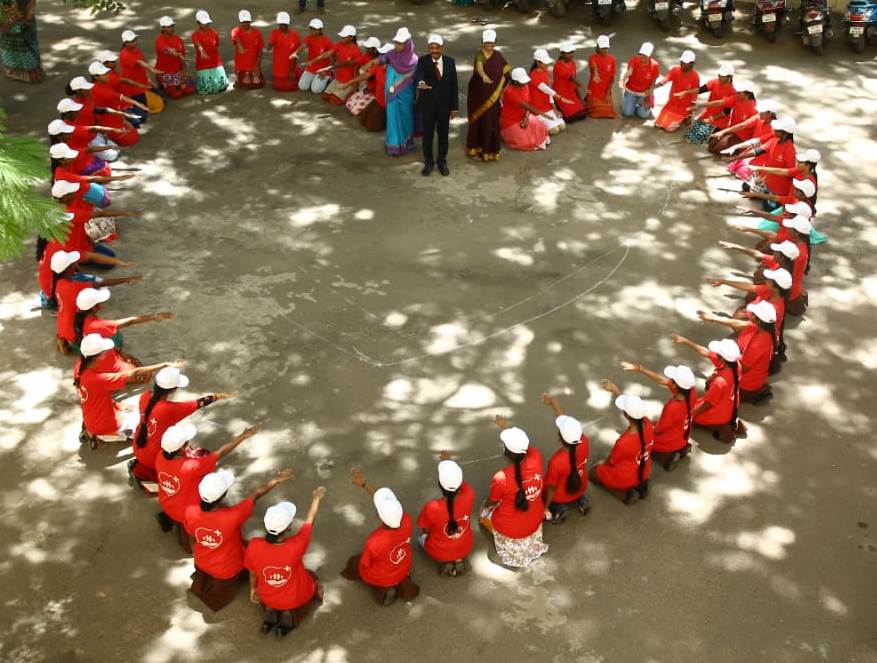 Venkataeswara Hospitals in Collaboration with The Department of Biochemistry , Justice Basheer Ahmed Sayeed College for Women (S.I. E.T)
conducted an  Awareness Drive in commemoration of World Heart Day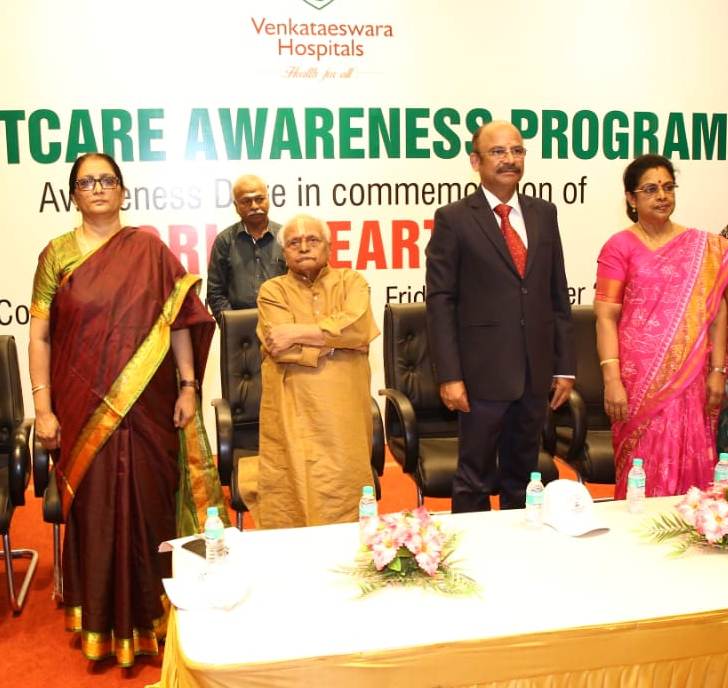 (L-R) 
Dr Shanaz Ahmed, Principal, J.B.A.S College for Women;
Dr SuThillaiVallal, Managing Director, Venktaeswara Hospitals; 
Dr.Selvarani Mohan, Medical superintendent, Venkataeswara Hospitals, 

Chennai, September, 2018:
Venkataeswara Hospitals has been organising far reaching awareness campaigns for World Heart Day to combat the steady rise of heart disease. Our health is constantly being undermined by our changing lifestyle with its unhealthy diet, lack of exercise, less than optimum sleep etc. This leads to increase in diseases, mainly lifestyle diseases.
Among all the lifestyle diseases heart attack is the most deadly disease.
Heart Attack is the easiest lifestyle disease to prevent.
Contrary to common myths heart attack is the most predictable and preventable disease. Even after an occurrence it is easy to treat it with proper medication and lifestyle changes. Another common myth is that women are not prone to heart attacks. But in fact it is the most common cause of death among women and even ahead of breast cancer.
On an average, heart attacks in India occurs about 10-15 years earlier than the world average. Though this may be worrisome, the heartening fact is that 80% heart attacks can be avoided with proper lifestyle and the remaining can be avoided with medications. So it is nearly totally preventable. A yearly heart health check over 30 years goes a long way in preventing heart attacks.
Promise to protect heart this World Heart Day.
Each person should promise to protect his/her heart by eating healthy, exercising regularly and not smoking,. He/ She should also promise to protect family's heart by inspiring them to exercise regularly and providing healthy meals.
The importance of the number 100
As in education 100 is a significant number in health too. The normal BP is 120/80, average being 100. Fasting sugar should be less than 100. Among the 5 types of Cholesterol, LDL, is the most important one that should be controlled and it should be less than 100. Ideal weight is calculated by subtracting 100 from one's height in centimeters. Taking this connection further, Venkataeswara Hospitals is conducting awareness campaign in SIET College for Women.
Awareness programmes for students: Students are the future of India. Converting them to a healthier lifestyle and creating awareness among them is the surest way of motivating the entire society. Venkataeswara Hospital's event at SIET College aims to impress upon the impressionable minds the necessity for good heart care and the lifestyle conducive for heart health.
The awareness campaign was held on September 28th 2018 between 11.00 am and 1.00 pm at College Auditorium, Justice Basheer Ahmed Sayeed College for Women (S.I.E.T), Teynampet, Chennai – 600018.
During the program, Dr. Su. Thillai Vallal – Chairman Venkataeswara Hospitals said, "Heart diseases can be prevented. Even the slightest lifestyle modification can make a huge difference. We have got only one heart in this life. Let's be aware and stay healthy. We are here to help you."
Mridhanga Vidhvan Dr. T. K. Murthy, Mr. Faizur Rahman Sayeed, Correspondent of J.B.A.S College for Women and Dr. Shanaz Ahamed, Principal, J.B.A.S College for Women were the other dignitaries present.
Additional events conducted:
Free Heart camps at popular parks like Natesan Park, Jeeva Park, Nageshwara Rao Park and Turn Bulls Park in Chennai on September 29th 2018.
Free Cardiac Consultations & unbelievable Special discounted packages for various investigations from Sep 23rd to Oct 6th 2018.
Together let's promise to protect our hearts.