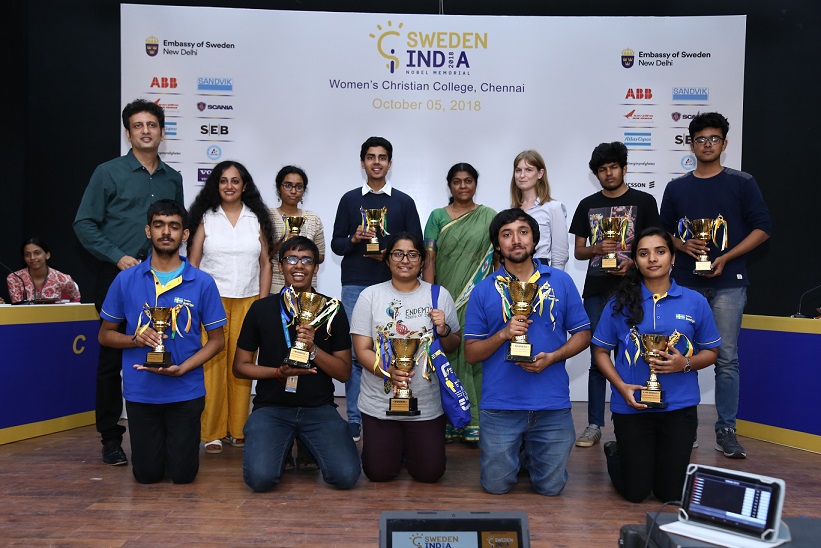 Team SRM Institute of Science & Technology now will represent city at the Grand Finale in Delhi on November 2018

Chennai: October, 2018  SRM Institute of Science & Technology  won the Chennai qualifying round of The Sweden India Nobel Memorial Quiz 2018 held today at Women's Christian College
The winning team members Ms Varsha Suresh, Venkat Lakshmanan and Arvind Srinivas did their institute proud by answering the brain-teasers posed by Quiz master Kunal Savarkar.
Helena Frid, Second Secretary, Embassy of Sweden handed out the prizes at the Inter-Collegiate quiz competition which saw avid quizzers from across reputed colleges and technical institutes of the city and from nearby areas.
The SRM Institute of Science & Technology team will now represent the city at the National Finals which will be held at New Delhi on 1st November 2018.
The competition will now proceed to the remaining rounds to be held in Hyderabad and finally in New Delhi.
Launched in 2008, this much awaited annual quiz has grown exponentially over the years and is a unique medium to test student's knowledge on the Nobel Prize, Nobel Laureates and their achievements along with Sweden, its people, culture, Swedish innovations and inventions. Organized by the Embassy of Sweden in collaboration with leading Swedish companies in India and other partners as well as the Consulate General of Sweden in Mumbai, it forms part of the Sweden India Nobel Memorial programme.Bottom of Form
The quiz is open to all Indian students currently enrolled at a college/university in India. Students are required to form teams of 3 members, all from the same institution. Each team must comprise at least one male and one female student, unless the institution is gender-restricted. The winning team from each city will qualify for the grand finale to be held in Delhi on 1st November 2018.
The prize for National quiz champions will be an all-expenses paid trip to Sweden. The awardees will get to visit the headquarters of the partnering companies, Swedish universities and the Nobel Museum. All participants got the certificates and many of them also won exciting audience prizes.
This year the Sweden India Nobel Memorial Quiz puts an extra emphasis on increasing the female participation. As an attempt to bridge the gap, the quiz rules for participation has been revised to encourage more equal participation.
Partners in the Sweden India Nobel Memorial programme 2018: ABB, Air India, Atlas Copco, Ericsson, IKEA, Oriflame, SAAB, Sandvik, Scania, SEB, Swedish Energy Agency, Tetra Pak, Volvo Group, Business Sweden and Swedish Chamber of Commerce India.