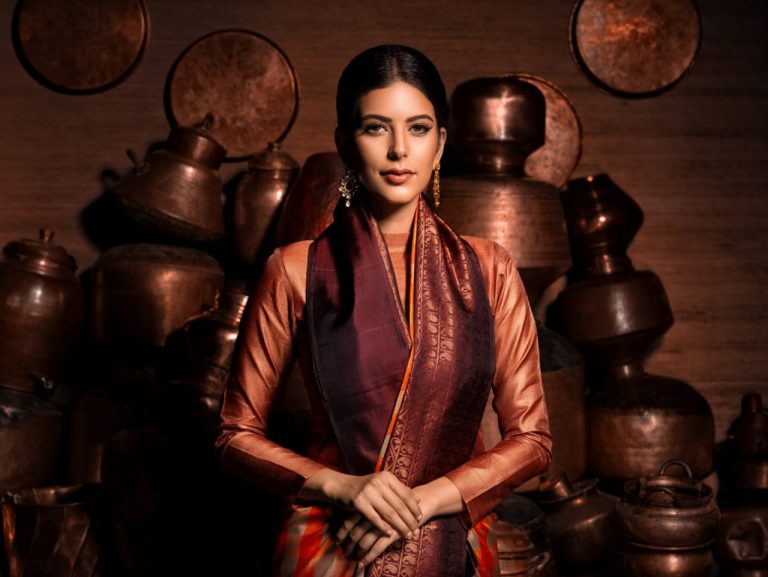 1) Copper Glow – Pure Kanchipuram silk saree with Copper Zari
2) Pochampattu – Pure Kanchipiram silk saree with Pochampalli Border
3) Too Jute – Pure Kanchipuram silk sarees with jute Bhuttas  and Jute Border
4) Kanchipuram silk Dupattas in pure zari
1) Copper Glow – Pure Kanchipuram silk saree with Copper Zari
For the first time ever, Sri Palam Silks are launching a range of Kanchipuram silk sarees with copper zari instead of silver or gold zari. This is the first ever experiment with copper zari in Kanchipuram. Sarees range between Rs 10,000 to Rs 30,000 in this collection. The zari is pure silver zari and it is copper plated. The sheen of the saree is unlike any other kanchipuram silk saree woven in gold zari. Kanchipuram silk saree is one with our heritage and the copper zari throws a very antique look to it – making the attire look regal like Indian Royals. Sri Palam Silks have experimented copper zari with an array of design palates – without borders, fancy borders, checks and traditional borders.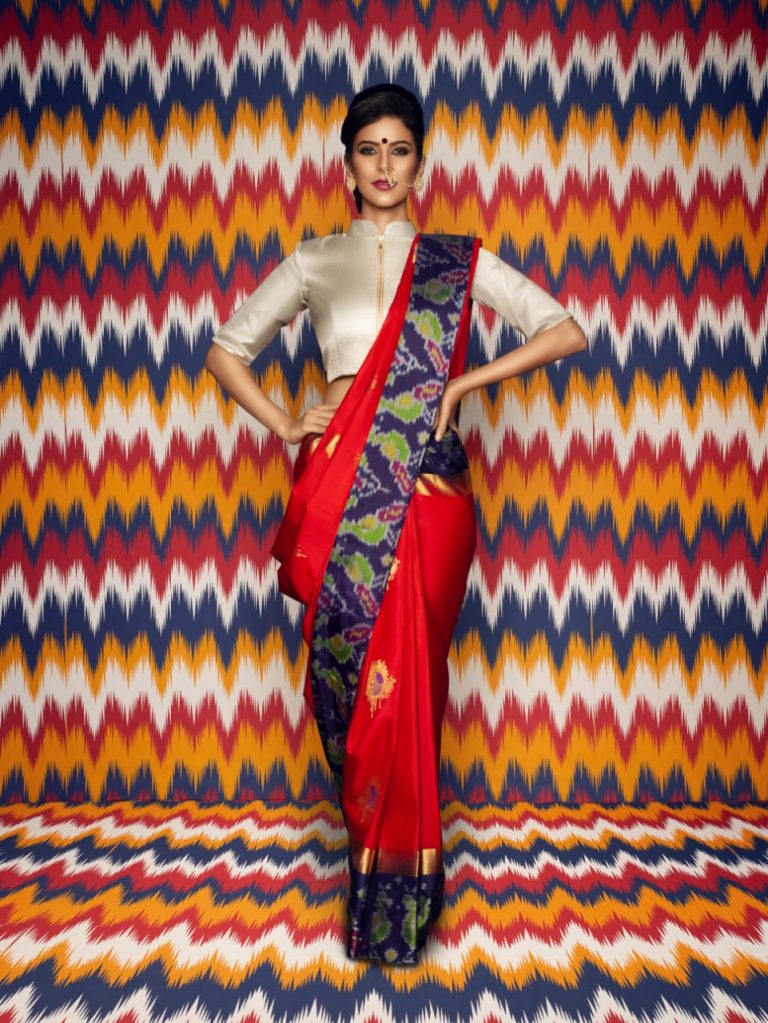 2) Pochampattu – Pure Kanchipiram silk saree with Pochampalli Border
Ikhat is one other Indian design that is extremely popular in the South and predominantly in Andhra Pradesh. Ikhat designs have been re-created on several fabrics including silk cottons, soft silk, semi silk cottons and Uppada. However, Ikhat Kanchipuram is designed in such a way where charm of a Kanchipuram is fused with Ikhat. The Body and pallu of the silk saree is every woman's dream of a traditional Kanchipuram design and Ikhat design has been re-created only on the border in an array of popular Pochampalli patterns. We have launched this collection in more than 10 colours and designs.
3) Too Jute – Pure Kanchipuram silk sarees with jute Bhuttas  and Jute Border
This is an experiment where we have fused jute silk threads in a Kanchipuram. Jute mix is a very common concept on soft silk sarees where the saree carries a rugged jute finish overlaying silk. However, this is the first ever experiment where jute threads are woven in the same loom as silk. In this collection, you will find beautiful kanchipuram silk sarees with a striking jute border and jute thread bhuttas.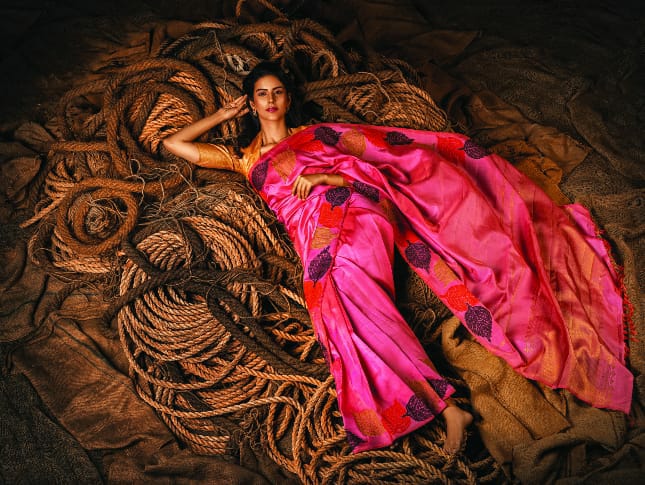 4) Kanchipuram Silk Dupattas in pure zari
Sri Palam Silks very first initiative in 15 years! For the very first time, Kanchipuram silk takes the form of a dupatta and speciality of the dupatta is, it is woven with pure zari only. Though silk dupattas are common, we have come up with a design line that is unlike traditional dupattas with border and pallu. Here they have experimented dupattas with one sided borders, big bhuttas, no-pallu and without borders. They have designed the dupattas in the same way as of silk sarees – unusual and edgy. They will almost depict an actual saree. You can comfort with western tops, lehengas, kurtas which can change simple attire to an eye-turner. They will also be lining up koradupattas for this season.
Collections are available in all the 3 branches Mylapore, T Nagar & Anna Nagar