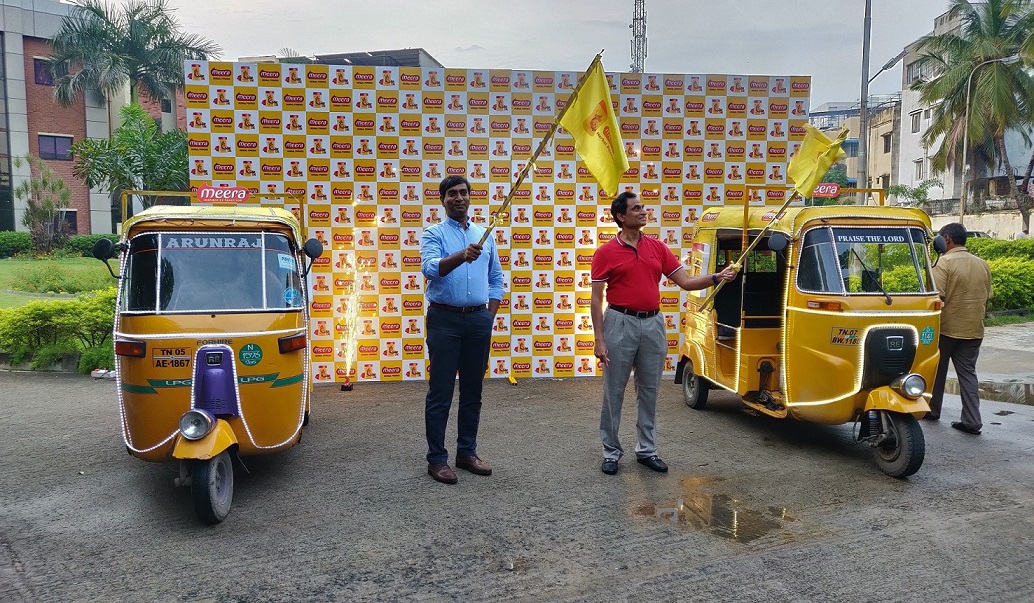 (Left to Right) : Mr. Venkatesh Vijayaraghavan, Brand Manager of Meera  and Mr. CK Ranganathan – Chairman & Managing Director of CavinKare during the flag off of the campaign.

Chennai, October, 2018: Festive season is one the busiest time of the year: getting the house ready, hosting parties and shopping for gifts.  It's also a magical time wherein most of us as feel overwhelmed with the celebrations and festivities around us. Keeping in line with one of its core brand strengths – innovation, Meera, the herbal hair care brand from CavinKare today announced its yet another innovative Diwali campaign for Chennaiites by associating with a few Auto Rickshaws.
Launched with an objective to remind people about the significance of traditional way of Diwali celebrations, Meera has associated with a few autos in the city that are designed specifically to carry the mood of Diwali celebrations early. "Autos are always been the most preferred and simplest commuting option for many of us and we are extremely excited about this unique campaign where we have been able to effectively convert a preferred transport medium into a dynamic festival celebration for the people in the city." said Mr. Venkatesh, brand manager of Meera.
The household name of South India, Meera is one of the flagship brands of CavinKare which is in its 27th year of delivering strong and healthy hair. Since its inspection, Meera Herbal Powder Diwali campaigns have become a firm example of innovation and have effectively helped the brand win millions.
Meera Herbal Powder is a healthy and traditional method of looking after your hair. The Powder is made from natural ingredients which nurture and protect the hair making it soft and healthy. Meera herbal powder is a blend of flowers and herbs such as shikakai, green gram, tulsi, vetiver and reetha which cleanse the hair, leaving it fresh and shiny. The powder also contains Hibiscus and Fenugreek which act as deep conditioners and strengthen each strand of hair from the root to the tip. Meera Herbal Powder promises its consumers "Healthy Hair for Years".
Diwali, India's widely celebrated festival of lights earmarks auspicious beginnings. Drawing parallel to this, Meera's Diwali Saravadi campaign is an effort to showcase the spirit of Diwali by giving the autos a brand new, well-lit avatar to celebrate the festival season. Meera will also be running a special Diwali Saravadi online campaign across its social media handles wherein people stand a chance to win exciting prizes.
About Meera: Meera is one of the flagship brands of CavinKare which is in its 27th year of delivering strong and healthy hair. Meera boasts of a portfolio like Shampoo, Herbal Powder, Coconut Oil, Herbal Oil, Conditioner and Hair Wash Paste, stressing on wholesome health for hair. The brand derives its strengths from deep understanding of traditional Indian practices and giving it to consumer in easy-to-use contemporary formats. The brand 'MEERA' evokes immense respect from both consumers and retailers which only a few other brands can claim and is one of the trusted household brands of South India.
About CavinKare Pvt. Ltd: CavinKare is a diversified FMCG major with business interest in personal care, professional care, dairy, snacks, foods, beverages & salons. The brand portfolio consists of Shampoos (Chik, Meera, Karthika and Nyle), Hair Wash Powders (Meera&Karthika), Coconut Oil (Meera), Fairness creams (Fairever), Deodorant & Talc (Spinz), Pickles & Snacks (Ruchi, Chinni's&; Garden), Hair Colours (Indica), Retail Salon Products (Raaga Professional), Beverages (Maa), Dairy (Cavin's), and Beauty Salons (Green Trends & Limelite). Most of the brands are clear winners in their respective product categories. A dedicated R&D center equipped with latest equipment and technologies constantly supports the divisions in their endeavor. Today, with a turnover of over Rs. 1600 crore, CavinKare has achieved significant milestones and a competitive edge with sound understanding of mass marketing dynamics and has established a firm foothold in the national market. CavinKare's success is based on it being firmly grounded to its corporate mission 'we shall achieve growth by continuously offering unique products and services that would give customers utmost satisfaction and thereby be a role model'.