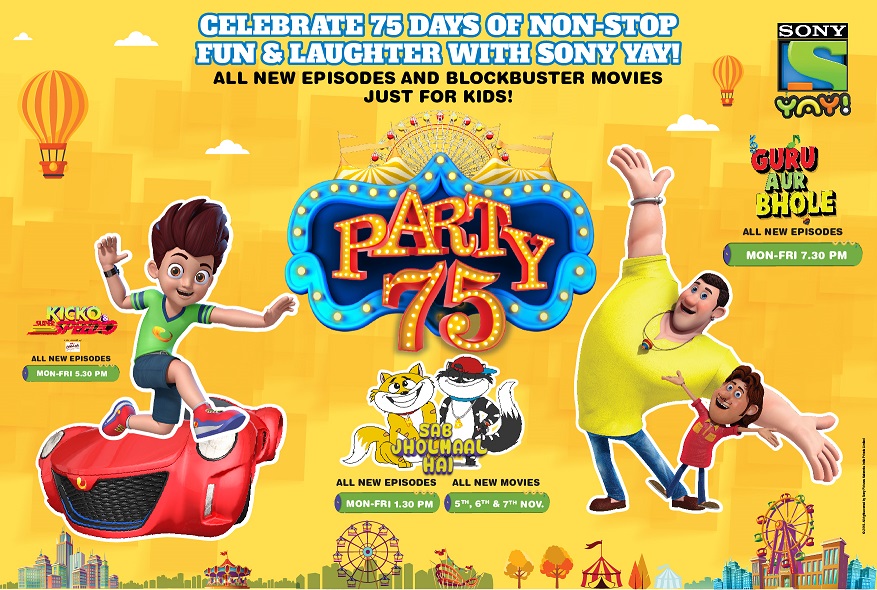 ~ 75 days of new episodes, fresh movies and nationwide on-ground activities for kids to spice up their holidays ~
Sony YAY!the Ultimate Destination of Happiness for kids has already entrenched its position as one of the favourite TV channels for kids.To rejoice in the happy and celebratory months that the festive season rings in, the channel is bringing a bundle of special gifts for all their little fans to look forward to!  'Party 75' – a party on TV, that unveils all new episodes and movies until new year- giving kids a total of 75 days of non-stop party and unlimited entertainment! Having kicked-off on 15th October, the festivities will carry on with the party spirit till January 1.
The channel aims to add a dash of fun to the upcoming festivals i.e.Diwali, Christmas and the New Year and make them more memorable for kids.Party 75, will bring in new episodes of the popular show KickO and Super Speedo, where Kick O will continue with his fight for the right with new deadly villains. The Musical Jodi,Guru AurBhole, is here to bring more music and dance with their latest episodes. The banter between Honey Bunny and their gang is crazier with the new episodes of Sab Jholmaalhai.The party doesn't stop here, the much-loved duo Honey Bunny are ready to raise excitement with three brand new movies, each being more exciting than the other. Kids will learn a kick or two with Honey Bunny in the Kung Fu Challenge, while Honey Bunny in Haunted House will provide a nail-biting experience,. Moreover, the word, 'team' is all set to get a new meaning with Honey Bunny as Super Team X. Each one of these new episodes and films will make TV watching a super YAY!experience for the kids.
While the Party is on full swing on TV,the party mood is equally exciting on-ground. Sony YAY!took the Party 75 van to 83 cities, where kids got to experience the party on wheels with exciting show specific games and gifts that is successfully engaging with kids across the entire country.Sony YAY! makes it a point to be at every place where kids are and hence being part of all festivals, Carnivals and region centric interactions enables the kids to meet their favourite toons – bringing alive their TV experience. The virtual interaction with Sony YAY!across its social platforms too is dipped in the Party 75 theme. The exciting Party 75 'Move to Groove' contest prompts kids to dawn their party attire and groove with the Sony YAY! characters with a party step. Kids can also catch their cool dance moves that they have shared on Sony YAY! Digitally, Kids are encouraged to send their "party ready" pictures which can win them a chance to party and meet their favourite toons.
Sony YAY! believes in delivering happiness and making memories with kids through this festive season. Party 75 aims at fulfilling the channel's belief, where kids get to see new avatars of their favourite toons non-stop for 75 days!
Comments: Leena Lele Dutta, Business Head, Sony Pictures Networks India, Kids Genre
"We have always focused on giving the best of the best to the kids in form of our offerings. The festive season is the favourite time of the year for every kid. And what better way to contribute to their excitement than giving them fresh content of their favourite shows and fresh movies. I wish every viewer and their family a fun-filled holiday season and with Party 75, hope that our offerings will bring a smile on their faces.