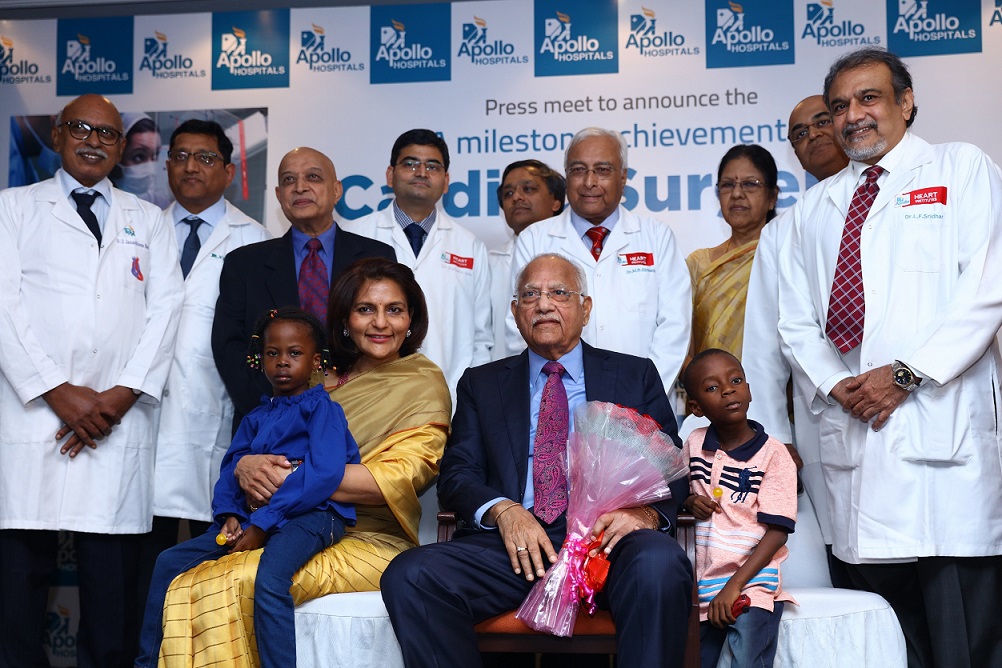 ~Superior outcomes at par with international standards~
Chennai, December, 2018: Apollo Hospitals Enterprise Ltd. (AHEL) (BSE: 508869/ NSE: APOLLOHOSP), Asia's largest and most trusted multi-specialty chain of hospitals, today announced the successful completion of more than 50,000 cardiac surgeries at the Chennai flagship hospital. This new milestone in Cardiac Surgery was achieved with superior outcomes on par with international standards. The over 50,000 cardiac surgeries include complex procedures like Bypass, Valve replacements, Pediatric cardiac procedures, Transplants and Minimally invasive procedures.
Leading the fight against the epidemic of non-communicable diseases of which heart disease is among the most deadly, Dr Prathap C Reddy, Executive Chairman, Apollo Hospitals Group said, "Non-Communicable diseases are the greatest healthcare challenges facing us today, of which cardiac disease is among the most devastating. Globally, an estimated 17 million people die of cardiovascular disease every year. India paints a grim picture with the death rate due to cardiovascular disease showing a significant increase over the last few decades. It is imperative that we meet this challenge with greater awareness about early detection and the importance of regular health checks. At Apollo, we have been a pioneer in the field of cardiac care and this milestone is indeed a proud moment for us!"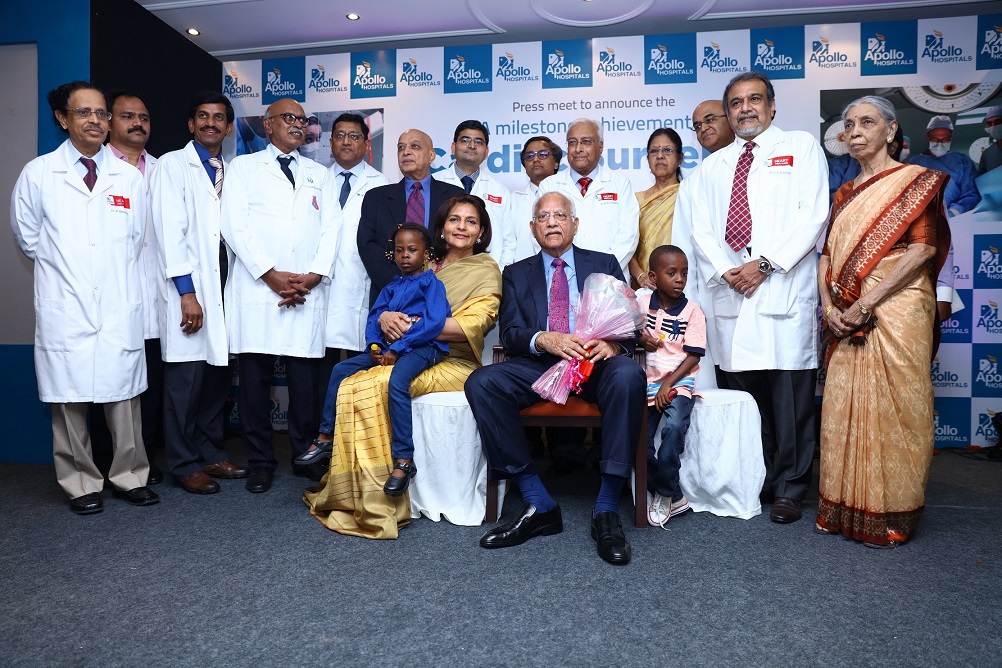 Apollo Hospitals pioneered open heart surgery and cardiac catheterization in the early 80s and since then has brought the latest medical and diagnostic tools to lead the way in cardiac care to give patients accurate diagnosis and effective treatment. From the 320 slice CT Scanner, 64 Slice CT Angiography, Transoesophageal Echocardiography (TEE), Stress Echocardiography and Electrophysiology (EP) Study to an advanced infrastructure that includes third generation Cath Labs, Cardiac Critical Care Units and Intensive Care Units, Apollo Hospitals has been at the vanguard in heart care. After milestones with advanced procedures such as the first Coronary Artery Stenting, first keyhole multiple bypass surgery, and first heart transplant in India, this milestone of over 50,000 cardiac surgeries at Apollo Hospitals Chennai is another feather in the cap for the group.
Dr. M.R. Girinath, Chief Cardiovascular Surgeon, Apollo Hospitals Group said, "Apollo Hospitals with a dedicated and qualified team of highly experienced cardiologists and cardiothoracic surgeons provide care that is at the cutting edge of medical science and at par with internationally-recognized standards. After treating patients for around four decades and successfully treating complex heart conditions, I believe that awareness on avoiding heart diseases is most important. People have to choose a healthy diet and lifestyle to enable us to tackle the epidemic of non-communicable diseases."
The pioneering work done at the hospital in the prevention and treatment of cardiac diseases has led to better outcomes and improved quality of life for thousands of cardiac patients. At the same time, Apollo Hospitals has also been working to prevent heart disease through preventive health checks.
Highlighting the importance of preventive healthcare, Ms. Preetha Reddy, Vice Chairperson, Apollo Hospitals Group said "Cardiovascular diseases are showing an escalation among the Indian and unheeded, this can result in India losing its productive population on account of mortality and morbidity. The need of the hour is to closely monitor the prevalence of disease for management of risk factors and timely intervention and management of heart disease. This is where the Apollo Hospitals' Healthy Heart program empowers individuals in managing their heart conditions."
The Apollo Healthy Heart Program is India's first Heart Disease Prevention and Reversal program. An evidence-based scientific program, it helps to identify the risks and equips every individual to lead a healthy lifestyle.