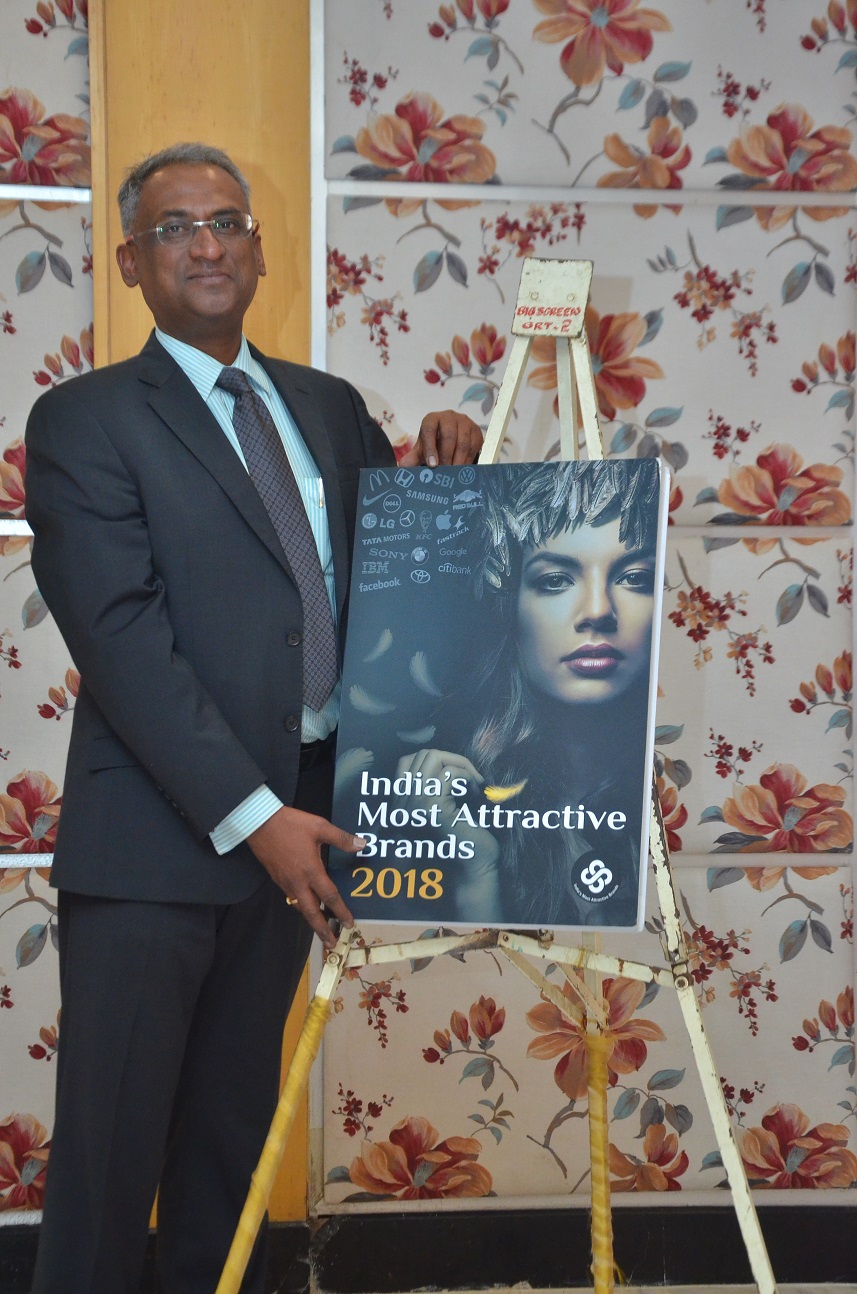 Chennai is starkly different from India: 333 brands rise by an average of 300+ ranks, and 195 brands fall by 120 ranks compared to All-India
Chennai, India, December, 2018: India's Most Attractive Brands Report 2018 (MAB 2018), in its fifth edition, has listed the country's Most Attractive 1000 brands by consumer choices, based on TRA's proprietary model of Brand Attractiveness. The study is an annual syndicated primary research conducted with 2500 consumer-influencers across 16 Indian cities. Much like the All-India list, consumers of Chennai rank TVS two-wheelers as the Most Attractive brand in the city. The Chennai based brand was ranked 67th in All-India ranks. This is followed by ITC (All-India rank 85th), and LG Televisions at 3rd (All-India rank 5th), at 2nd and 3rd places respectively. TRA Research has been scientifically measuring Buying Propensity conducting syndicated research on its' proprietary matrices of Brand Trust and Brand Attractiveness since 2010.
Right from the very first-ranked the city chooses very differently from India, or even the rest-of-South. Continuing the city ranks, Reliance Jio is 4th ranked (All-India rank 4th), Tata Motors in four-wheelers ranked 5th (All-India rank 2nd), Sony Televisions is 6th (All-India rank 13th), Hyundai is 7th(All-India rank 18th), LIC is 8th (All-India rank 16th), Samsung in Consumer Durables is 9th (All-India rank 6th) and LG in Consumer Durables is ranked 10th (All-India rank 43rd). The other brands which surge ahead in city compared to All-India ranks – ITC (+83 ranks), Apple Macbook (+77 ranks), TVS (+66 ranks) & Britannia (+50 ranks) .
Chandramouli, CEO, TRA Research, emphasizing the unique differences in each of the cities said, "Choices of consumers based on attractiveness show their desire quotient for brands, and in turn reflect the city's personality. The Most Attractive Brands brands chosen in Chennai are completely different from that of the All-India ranks, showing that the Chennaite thinks and acts differently. Not knowing such nuances consumer behaviour is different cities can mean the difference between success and failure of brands."
Brands which score very low by Chennai as compared to All-India ranks are Dabur Real, Limca, Amul, Philips, Apple among many others. "The consumer of this city behaves and acts differently as different cultural, environmental, political, social and terrain they encounter. Temple in the morning and the pub in the evening are not contradictions in Chennai, they are a reality. Having been culturally cloistered till just two decades ago, their brand-consumer compatibility is quite low at -20%, They take to new brands, but cautiously. New is good, yet almost universally, they like their thayir- saadam to finish every meal", Chandramouli added.
About India's Most Attractive Brands – 2018
India's Most Attractive Brands 2018, the fifth in the Report series, is the result of primary research based on the proprietary 36 Attributes of Attractiveness that have been studied and identified by TRA Research. This year's research was conducted among 2,474 consumer-influencers across 16 cities and generated nearly 5 million data points and 5,000 unique brand mentions, out of which the top 1000 brands have been listed in this year's Report. The 176-page, hardbound report is available for Rs.14,000/-.
In the 2018 edition, Samsung leads the All-India list, followed by Tata Motors at 2nd, up from 181st rank last year. Apple iPhone is ranked 3rd this year All-India, with a rise from 92nd rank in 2017. Reliance Jio, ranks 4rd among India's Most Attractive Brands and Maruti Suzuki is ranked the 5th Most Attractive brand in India, up two ranks over last year. The next five ranks among the top ten are Samsung (Consumer Electronics) at 6th, Dell (Laptops) at 7th, SBI (Bank – PSU) at 8th, Nike (Sportswear) at 9th and Honda (Four-Wheeler) at 10th.
The 2018 report lists 286 Categories under 34 Super-Categories. The other Category leaders in this report are Levi's (Casual wear), Biba (Ethnic wear-Women),  Siyaram (Fabrics), Allen Solly (Formalwear), MRF (Tyres), ICICI Bank (Bank-Private), SBI (Bank-PSU), HSBC (Bank-Foreign), Visa (Credit /Debit card), Fastrack (Branded Fashion), Gucci (Luxury Fashion), Kenstar (Consumer Appliances), Samsung (Consumer Electronics), Symphony (Air Coolers), LG (Refrigerators), Samsung (Washing Machines), Philips (Lighting), Odonil (Air Fresheners), Himalaya (Baby Products), Nippo (Batteries),Coca-Cola (Aerated Beverages),    Kit Kat (Chocolate Bar), Canon (Cameras), Patanjali (Ayurvedic Products), Moov (Pain Balm), Prestige (Cookware),Roca (Bath Fixtures/Sanitaryware), Taj Hotels (Hotels – Premium), Google (Internet Search), Amazon (Online Retail), Ola (Taxi Aggregation), ACC(Cement), Hero (Cycles), Nike (Sportswear), Titan (Watches),  DLF (Real Estate), FBB (Fashion Retail), Nataraj (Writing Accessories), Dell (Laptops),Hewlett Packard (Personal Technology) and Jet Airways (Airline – Private).