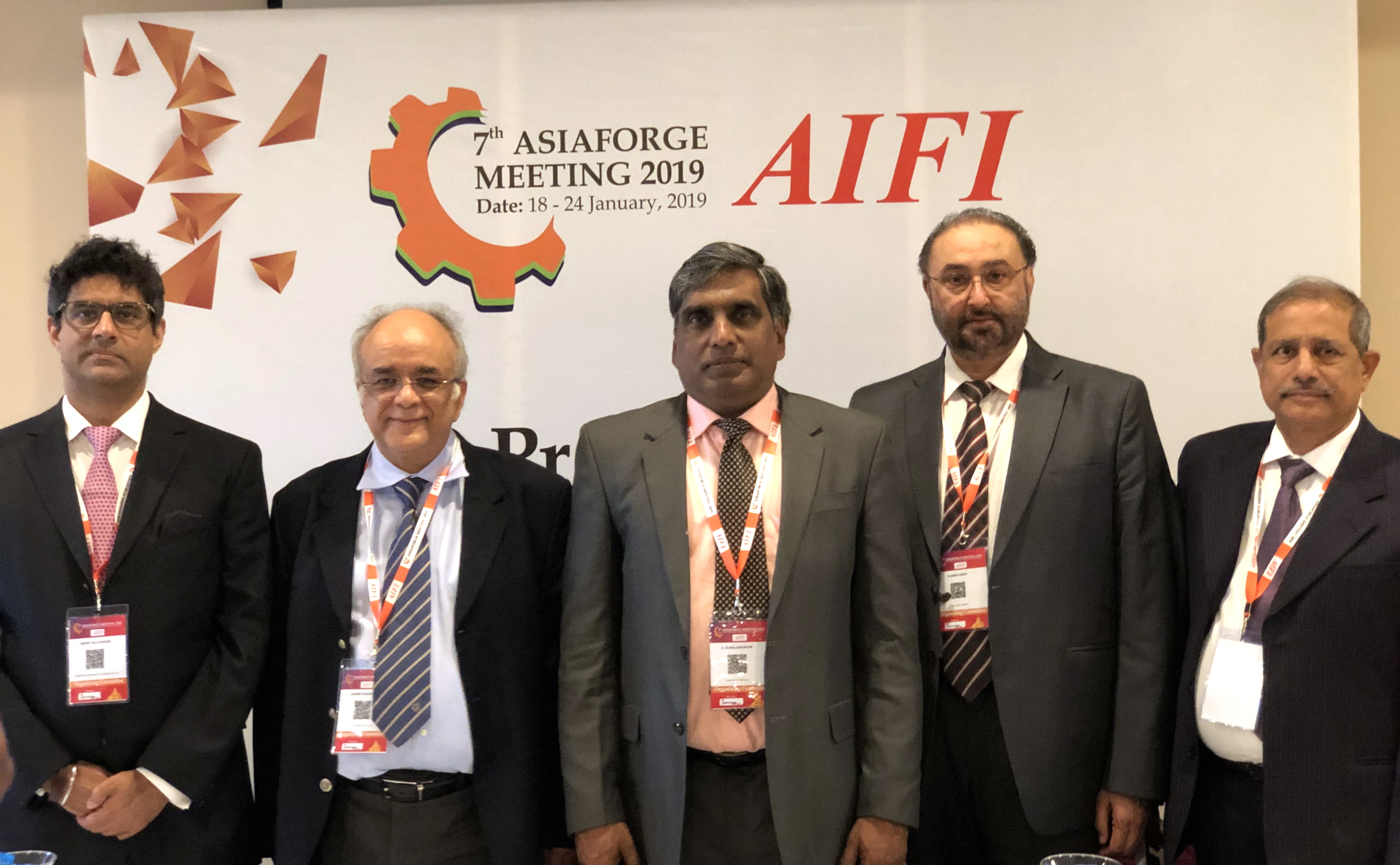 Association of Indian Forging Industry (AIFI) hosts the 7 
th
ASIAFORGE 2019 to focus on global opportunities and challenges facing the forging industry
January 2019, Chennai :
| | |
| --- | --- |
| | Association of Indian Forging Industry (AIFI) the apex body of the Indian Forging Industry kickstarted the 7th ASIAFORGE 2019 at Chennai today. The two-day long ASIAFORGE was inaugurated by |
Mr. Sajjan Jindal – Chairman  & MD, JSW group and Dr. Ashok Jhunjhunwala, Prof. IIT Madras delivered the key note address
Also present on the occasion were the  host of ASIAFORGE 2019, the Association of Indian Forging Industry (
AIFI ), represented by Mr. S Muralishankar, President, Association of Indian Forging Industry ( AIFI
, Mr. R. Sivaparasad Reddy, Vice President, Association of Indian Forging Industry ( AIFI ), Mr.Abhay Raj Kapoor, Convenor  Asia Forge 2019 & Mr.Vikas Bajaj,Co-convenor, along with the Managing Committee members. 
Speaking on the occasion Mr. S Muralishankar 
, President- 
AIFI
ASIAFORGE in India, after over 10 years, is a truly momentous occasion for the Indian forging industry. Our decision to host the event was to facilitate our industry, to acquaint ourselves with the latest trends and technologies in the global forging industry with the expectation of bench marking some of the best practices and displaying India's technological prowess and engineering capabilities to the global experts. The Indian forging industry is faced with some truly interesting and challenging years ahead and the ASIAFORGE platform will help us to be prepared for future opportunities."
The forging meet hosts a range of interesting and in-depth technical and business programs for its participants, covering topics ranging from tooling to automation, including overviews of the forging industry in different countries in Asia. More than 14 countries will be represented at the ASIAFORGE 2019 including China, Japan, Taiwan, Korea, Germany, Italy, France, Belgium etc Additionally, it will also witness an exhibition which will see 75 companies displaying their products and services. 
The Indian forging industry is looking at ASIAFORGE  2019 and the experience of global experts therein, for answers on evolution, modernization, technologies and cost rationalization, to meet the growing demands in the years ahead. Other key areas that will be discussed over the next few days are – coping with the lack of skilled manpower, optimal utilization of raw material in order to meet the challenges on competitiveness. All of these are expected to be discussed threadbare, with innovative solutions being sought for all. 
Sharing his thoughts Mr. R. Sivaparasad Reddy, Vice President,
said, "We believe that the ASIAFORGE 2019 will play a critical role in strengthening the bonds amongst Global Forging Associations. These meetings have always played an important role in the evolution of the forging industry across the world and shall continue to do so by providing collaborative platforms to address the challenges faced by the industry. This is also a recognition of the Indian forging industry's strong management, engineering and technical capabilities, that have helped  us to  become established suppliers to the global automotive and other key industries. We now could build on this strong foundation and further consolidate our position."