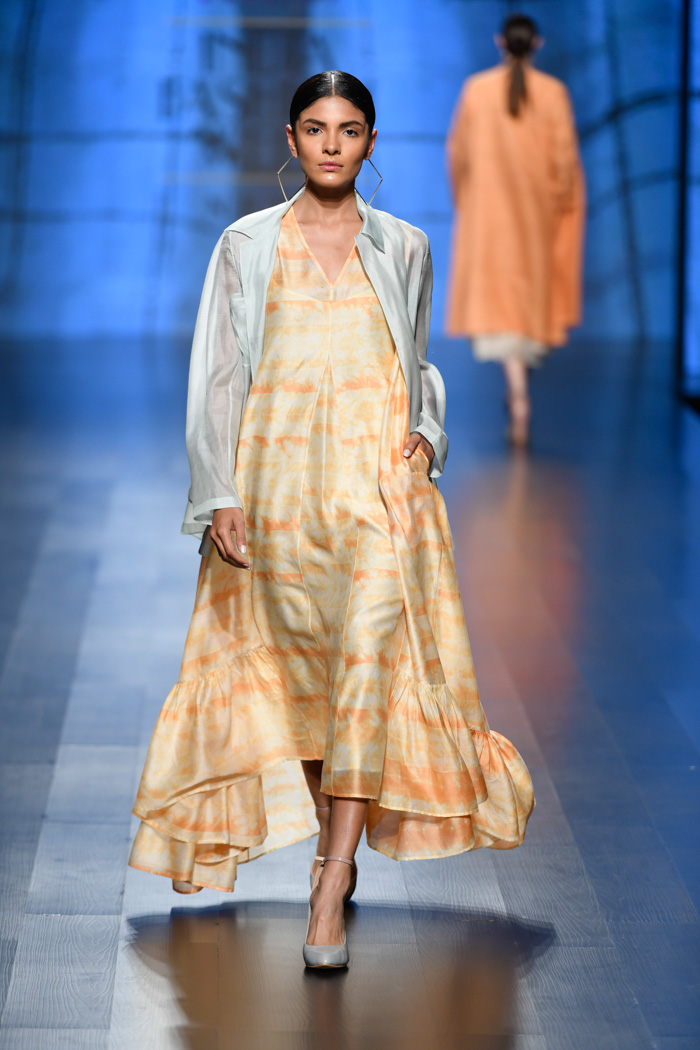 Collage to showcase 11.11, Soutache and Amrich, taking a step forward in promoting sustainable luxury.
Collage is proud to be showcasing Indian luxury apparel brands which exclusivelyvouches for homespun and sustainable clothing and a continuous quest for mastery.
11.11/eleven eleven sings about using the body as a field of expression while opening a dialogue on a range of dualisms such as modernity and pre-modernity / urban and natural based in the tradition of Khadi.
The fresh line of kalamkari-bandhani garments being launched this season is the fruit of an intervention to integrate two traditional crafts of India, one from the south and the other from the west. The result is a range of exquisite pieces, original and unconventional in their thought and making, designed to bring the age old craft techniques into the contemporary lifestyle through the artwork and silhouettes. The collection presents a range of dresses, shirts, scarves, tops and sarees.  Each piece is one of its kind, handled one at a time by different artisans as they transform it into a work of art.
The collection is supported by the brand's classic bandhani pieces as well as chambray khadi cotton stripes, yarn dyed in natural indigo, which add a fresh and soothing balance to one's spring summer wardrobe. Mirrorwork, delicate pieces of mirror create a motif of scattered stars across a selection of 200 count handspun hand woven khadi / these nearly sheer garments are perfect for shinning through any season.
Line Soutache is inspired by soft pastels of an English Garden for the day and scented honeysuckle tones for the evening, the look evokes memories of a bygone era. The design philosophy is soft pastels, floral and abstract prints combined delicate hand embroidery, catering to an international clientele. Soutache designs and fabrics evoke the romance of a bygone era and cater to women of all ages and silhouettes. The brand caters to an über luxury clientele. It uses pure hand woven and hand embroidered sustainable fabrics.
Amrich offers clothing for the woman who recognizes and values the understated appeal of true luxury; which comes from a confluence of fine natural fabrics, elegant cuts and precise finishes with an essence of tradition to create a distinct look.
For spring summer 2019, Amrich delves into their archives to take inspiration for a
collection of chic separates comprising ofexquisite hand-made textiles in hand-spun cottons, silks and silk cotton blends. Making use of age-old textile techniques like hand-loom extra weft, ikat and shibori and embroidery the label offers a line of elegant shapes for the discerning women of today.
Drop in at Collage to explore marvellous collections…!!!
Date :  8th March 2019
Address: Collage, 153, Greams Road, Thousand Lights, Chennai.
For further details, contact 044 2829144