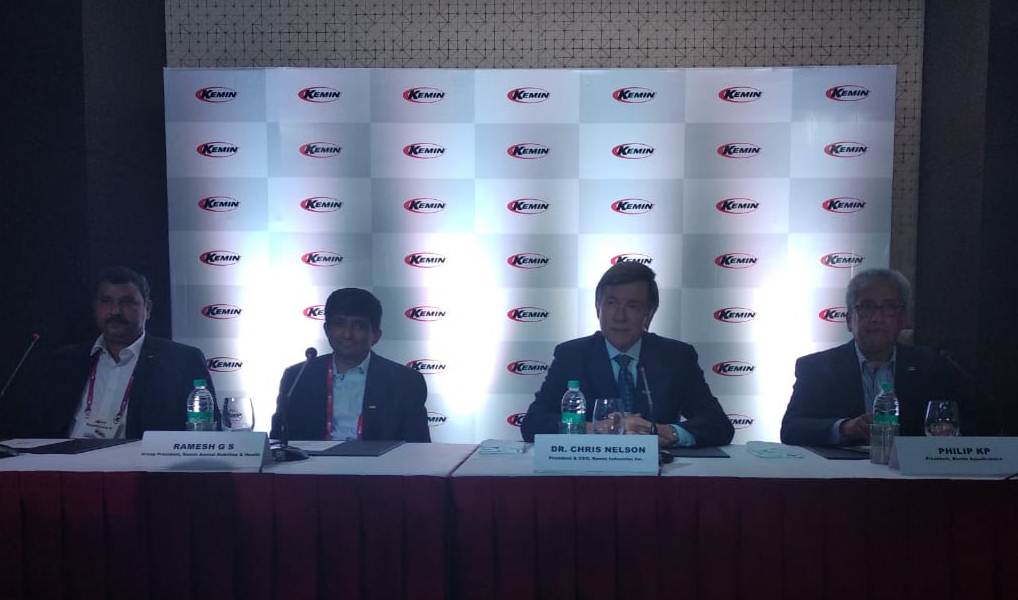 Kemin has invested 8Mn USD at Chennai Plant- Unit II expansion with an aim to touch more than 3.8 billion global population with quality and safe food through our product and services
Chennai, 25th March 2019: Kemin Industries, a global nutritional ingredient company that uses science to create solutions and products to touch half of the world's population, announced today the expansion of its South Asian manufacturing facility based at India.
The new facility for the Kemin Industries South Asia Pvt Ltd, is located in the SIPCOT industrial estate, Gummidipundi, Tamil Nadu, India. The additional capacity is designed to serve the growing demand for specialized nutritional ingredients to address the needs of the rapidly growing South Asian animal protein industry.
Dr Chris Nelson, President and CEO of Kemin Industries, said "South Asia is a very important animal feed market in the world producing more than 35 million tons of compound feed. The overall demand of animal protein is also increasing in the region due to rapid economic growth of India, Bangladesh, Sri Lanka and Nepal. To address the rapid growth in the demand of animal protein coupled with the objective of better customer service we decided to invest in the additional capacity of our existing Gummudipundi plant in Chennai. "Kemin is always aggressively pursuing expansions to cater customers' needs regionally to provide high-quality products and solutions. The additional capacity in Chennai facility is an example of how Kemin put its customer needs first and this will also help Kemin to increase its footprint in South Asian feed
industry." With regional headquarters in Chennai, India, Kemin has been serving South Asian animal protein industry since 1998. The current setup includes a full-fledged manufacturing facility coupled with Quality control labs, Research and developed farms with a small pellet feed mill. The additional facility is a part of the global expansion plan of Kemin. The new state of the art facility is one of the most sophisticated plant in global Kemin portfolio to produce Metal Propionate Trace minerals. The new facility "Integrated Organic Mineral Production System (IOMPS) "ensures highly efficacious Organic Trace Minerals for animals in different combinations. The liquid products production facility has also improved significantly in the new facility.
"For more than 20 years, Kemin has established a strong footprint in South Asian feed production. As the demand for meat production increases in South Asia, the need for our value-added products is growing tremendously," said Mr G S Ramesh, Group President of Kemin Animal Nutrition and Health. "The additional capacity will equip us to cater ever increasing demands of Kemin's high quality feed ingredients. We are aiming to work closely with our customers with the new products coming out of this new facility for a collective purpose of improving animal production efficiency."
The new food and manufacturing certifications for the Kemin Food Technologies – Asia business unit include the following:
• ISO 9001:2015 – Development, manufacture, marketing and supply of feed and food additives.
• ISO 22000:2005 – Manufacturing (processing, blending and packaging) of animal feed additives and food additives packed in bulk and retail packs.
• FSSC 22000: 2005 – Manufacturing (processing, blending and packaging) of animal feed additives and food additives packed in bulk and retail packs.
• HALAL India and KOSHER Certificate – Manufacturing endorsement.
• Export Inspection Council Approval – To process and pack food additives for export to NON-EU countries.
Dr R Sureshkumar, President Kemin India commented: "We are excited to bring new technologies in to our production facility so that our customers can take maximum benefits out of our products. I am very glad that we have added additional capacity to meet the growing regional expectations."
Kemin India has strong R&D facility to serve the need of India Market. Across the globe market share is 8 – 25% depends on the sectors serving and also the Indian market share varies from 25 – 50% depending on the sectors serving. We are exporting from Indian facility to APAC countries and the human food ingredients also manufactured from Chennai facility. We are expecting Animal Feed market size 100mn ton by 2020.
We are having 10 years of experience in aqua foods and we are expecting strong growth in the coming years as aqua food consumption.