̴ First issue to hit the stands in Chennai on 12th Sept 2015 ̴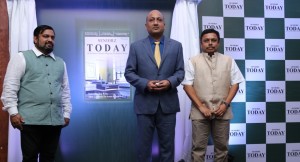 Chennai, September 9, 2015:  SENIORZ TODAY, an exclusive lifestyle magazine for senior citizens which is being published and printed by Vedaanta Senior Living has been unveiled at the auspicious hands of the Dewan to the Prince of Arcot, Mr. Mohammed Asif Ali in the presence of Mr. P. B. Anandapadmanabhan, Founder & Chairman, Vedaanta Senior Living and Mr. Ashwin Kumar Iyer, Editor, SENIORZ TODAY & Chief Executive Officer, Vedaanta Senior Living. The first copy of the magazine was presented to Mr. P. B. Anandapadmanabhan by Mr. Mohammed Asif Ali.
SENIORZ TODAY was created to become the journal of choice for excellent information, commercial and an engaging platform pertaining to an active elderly lifestyle. Priced at Rs. 30/- per issue, the first issue of the magazine will hit the stands in Chennai on 12th Sept 2015.
Speaking on the occasion, Mr. Ashwin Kumar Iyer said, "We strongly believe that senior citizens must live life on the front-foot, rather than just surviving through it. We therefore aim for SENIORZ TODAY to bring about an enhancement in the awareness about the importance and techniques of senior care. Through this magazine, we also want to encourage youngsters to engage with and be inspired by seniors; and last but not the least to empower the elderly towards active living, happy wellness and healthy retirement."
The Prince of Arcot lauded the SENIORZ TODAY team's efforts in helping the elderly sustain their sense of pride and self-esteem, and instilling greater confidence in them.
SENIORZ TODAY's editorial content will range from practical to spiritual covering all aspects of a senior citizen's life from health to finance, yoga and spirituality to recreation. "The tone of SENIORZ TODAY is positive, motivational and upbeat and the magazine would have columns by experts from various fields," adds Mr. P. B. Anandapadmanabhan.
The inaugural issue has a variety of info-commentaries such as guidelines to convert one's home senior-friendly, specialist columns, culture articles, money matters, travel tips, event information and also a dedicated section on job opportunities for senior citizens.