An Iftar fasting as a sign of the opening ceremony with unity of all religious in Chennai  held yesterday.
The event is organized on behalf of the LakshmiVilas Bank in Chennai Clarion President Hotel
At the ceremony held in the month of Ramadan,  Saravanan Shastri Hindu, Christian, Fr. Peter Thomas Pastor , Tamil Nadu chief Haji Mohammad Salaudeen of salvation took the lead. .
LakshmiVilas Bank's Chief Executive Director Parthasarathy Mukherjee, Hon'ble Supreme Court judge Justice KN. Pasha, Malaysian High Commissioner to South Indian Ambassador Haji  Ahamat Pajarajam, President Hotel, Abu Bakkar, President and Chairman of the Haj Committee of India, the Reserve Bank's Regional Director Dr. K. Bharat. Sathakathulla, attended by Hon'ble Justice Akbar were grace  the opening ceremony was held.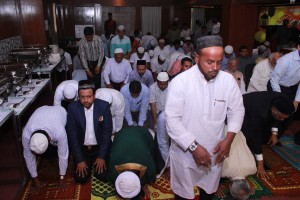 Speaking on the occasion Indian Haj Committee Chairman Abu Bakkar, "This is the holy month of Ramadan in the unity of all religious symbolized Lakshmi Vilas Bank, the Iftar event for Outstanding arranging. Lakshmi Vilas Bank exclusively for Tamils ​​running  advancing the Bank's Managing Director Parthasarathy Mukherjee thank them do not have words. In this Good thing for organizing society on behalf of all Muslims thankedfor this social unity of our country is an example of the bottle.
Example of religious harmony and social harmony in the beginning of the program to identify the presence of the Imam of the mosque in Mecca to take up a role within three religions were better.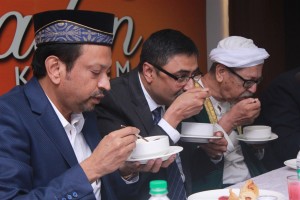 South of the Malaysian High Commisioner Haji Ahamat Pajarajam. Tamil ruled the country from independence of the Malaysian Peninsula Malaysian Prime Minister Tatho Najib  There are no words to appreciate them. Eight Crores on behalf of Tamils ​​at heart full of gratitude to him and his government.
Indian prime Minister of India with their Motherhood 2016 from the King of Saudi Arabia for the Hajj pilgrimage quota of 5 percent of passengers are asked to be secure. Saudi king to get this permission request on behalf of 126 million people are Muslim.
Lakshmi Vilas Bank  humanitarian service aimed at humans driven bank. We humans humanely without relying on computers running the bank papers.
You are servants of Allah, the Bank established the service grow and be established in the state of economic revolution. Brothers and all my holy Ramadan Jamath  community wishes to convey. "He said.
Lakshmi Vilas Bank provided to the Muslims who attended the Iftar program filled with unity was completely secular identity.