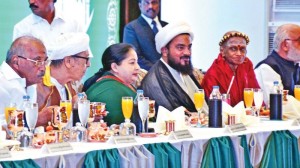 Dwelling on the values emphasised by Islam, Chief Minister and AIADMK supremo J. Jayalalithaa asserted that love and humaneness will banish poverty and stimulate overall development. Pointing out that the Prophet not only sermonised virtues but also lived by them, Ms. Jayalalithaa while presiding over an Iftar party hosted by AIADMK in the city on Saturday said the holy month of Ramadan brought out the faith on god and also reaffirmed the belief that god would protect those who seek shelter in him. To the followers of the Prophet, fasting bestowed spiritual grace and divine blessings.
Religion, especially Islam stressed unity, brotherhood, endowment, courtesy, benevolence and restraint. "Where there is love there is humaneness. Where there is compassion, there is unity, poverty will vanish and development will prevail," she said recalling the rich virtues of the Prophet at a huge gathering at the Chennai Trade Centre here.
"As followers of the Prophet, I am sure you are leading an exemplary life of love and compassion," Ms Jayalalithaa said. "Faith in God, prayer, fasting, righteousness and Haj are the five chief virtues of Islam," she stressed. The ruling AIADMK had announced that it would host the Iftar party here and accordingly the party supremo and CM Ms. Jayalalithaa took part and presided over it. The party has been organising the Iftar parties for the past several years.