Tamil Nadu Union Of Journalists ( TUJ ) Celebrated Ramzan festival evening in Imperial Fiaz Mahal, Egmore, Chennai, On 15th July 2016 at 5 pm owards.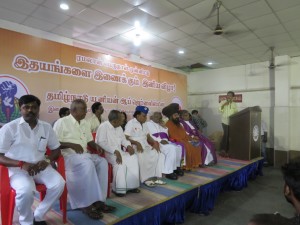 TUJ State President host the Ramzan event to strengthen the unity with all religious. In this event Hindu, Muslim, Chistian, Journalists, Politician from all the parties, Cinema familiars, Celebrities, Business Heads. and more than 500 people were participated in this occasion.
Actor & Director K.Bakyaraj, Faceinews.com Editor & Publisher MATHIOLIRAJAA, D.S.R.Sasikaladevi, Kamalhasan Raveendradoss, TUJ State Secretary K.Venkatraman, TUJ State Treasurer M.D.Stalin, Tamizhan TV  Managing Director Kalaikottudhyam, Prof. Khader Mohideen State President, Indian Union Muslim Leaque, Fr. M.Esra Sargunam, Founder-President Indian Social Justice Movement, Dr. Srimath Kumarasamy Thambiran Swamyji, Dharmapuram Aadhinam, M.Thamim Ansari M.L.A., General Secretary Manithaneya Makkal Katchi, S.A.N.Vasigaran, Tamilnadu Convenor Aam Aadmi Party, Advocate Dr.Dhana.Sivasankaran, TUJ Legal Advisor – National Executive Member IJU, Comrade Tha.Pandiyan, Indian Communist Party, J.M.H.Hasan Harron, North Chennai, Tamilnadu Congress Committee, Porur Press Kumar, CMPA Dr.Venkatraj, Thiruvalluar Dist. PRO Padi.Pa.Karthik, People Today Sathyanarayana, Karuda Paarvai Anantharaman, Reporter Flash G.Balaji, TUJ State Co-Ordinator Megaraj, TUJ Ramnadhapuram Dist. PRO S.Gunalan, Kazhugu Rajendran, L.Shanawaz Khan,Managing Director Moon TV, Sengam Jabbaar, K.R.Nandhakumar, S.M.Bakkar, Thehlan Bhagavi, MGK Nijamudeen, Thaimeeyaa, Singharachennai Ranganathan, Vasan Paarvai Chellapandiyan, Genious Reporter K.Sankar-I.Kesavan-A,Murugesh, City Post  A.V.Shankar, Producer – Director Sivakumar Rajprabhu, Chennai Sai Ramalingam, Chennai Nanban Aboobakkar and more media people and celebrities gave their valuable presence and grace the function. This event came well with huge success.