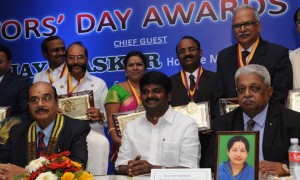 Indian Medical Association Doctor's Day Awards Function 2016 held in Savera Hotel,Chennai on 22.07.2016 at 6pm.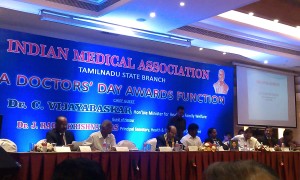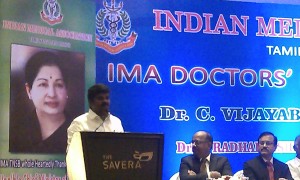 Dr. C. Vijaya baskar, Honorable Minister for Health & Family Welfare, Government of Tamil Nadu the Chief Guest and Presented the awards to IMA Doctor's Day Awardees.
Dr. J. Radhakrishnan, IAS., Principal Secretary, Health and Family Welfare Department, Government of Tamil Nadu consented the Guest of Honour.
The Function started with Tamil Thai Vazhthu and IMA Prayer presented by Dr. M. Govalan.
Welcome Address presented by Dr. N.Muthurajan, Hony. State Secretary, Presidential Address presented by Dr. S. Damodaran, State President. Vote of Thanks given by Dr. K. Rajasekar, Hony. Finance Secretary.
IMA Doctor's Day Award received by Dr. T. Nirmal Fredrick, Managing Director, Nirmals' Eye Hospital, West Tambaram, Chennai for Leadership.
Ln. Dr. S. Balakrishnan, Pattukottai for Senior Citizen and other 13 Awardees were received IMA Doctors' Day
Dr. B.C. Roy Awards.